2014 Fantasy Baseball Daily Fix: May 22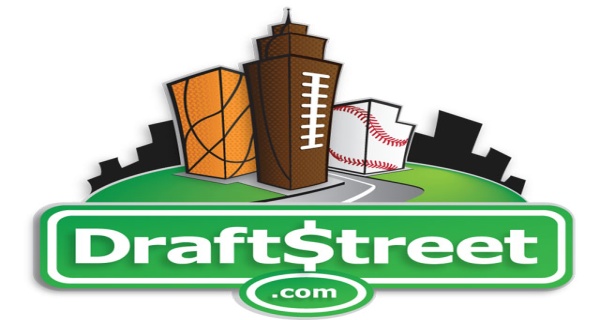 Welcome back to the Daily Fix here at the Fantasy Fix. And welcome to DraftStreet. For those who aren't yet Daily Fantasy baseball players at DraftStreet head over there via this link and join. You can pick up a 100% deposit bonus up to $200 on your first deposit.
I am again skipping the early games (to give our West Coast friends a chance to get in on the fun) and will focus on the games from 7:05pm Eastern onward
Follow me on Twitter with any changes as lineups roll in.
Draft Street gives you $100,000 to draft a starting nine along with a utility player and three pitchers. DraftStreet features the following scoring settings for its daily fantasy baseball games: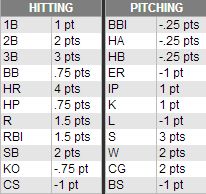 DraftStreet Team of the Day
As of the time this was written, there was no confirmation on the Cleveland Indians' starter after Josh Tomlin pitched in relief on Wednesday against the Orioles. The speculation was on AAA pitcher Travis Banwart (a 28 year old righty who would be making his major league debut) or Kyle Davies (also a righty) but nothing is official. For purposes of this column, I am going to assume the Indians put a righty on the mound on Thursday.
Pitcher
Jon Niese | LHP | Mets | $16,459 – The Dodgers have a fantastic offense….against righties. They rank 28th in wOBA against lefties. Niese struggled in his last outing, but otherwise has been solid over the course of the year.
Jake Arrieta | RHP | Cubs | $12,633 – The Padres are the worst hitting team against righties in the league. Arrieta isn't Cy Young, but it's not like the Pads have Babe Ruth in their lineup anywhere.
Wade Miley | LHP | Diamondbacks | $12,074 – There is some risk here as Miley isn't great, but he's pitched well in spots and the Cards are below average against left handed pitching. The key will be control for Miley.
Alternative: Zack Greinke ($23,116) has a fantastic matchup against a struggling Mets' offense that is terrible against righties even when all cylinders are firing. Lance Lynn ($16,722) is also an option as he faces a D'backs lneup that isn't great on the road.
Catcher
Mike Zunino | Mariners | $4,330 – Zunino gets lefty Jared Cosart and he's put up a healthy .360 wOBA against them this season.
Alternatives: Not a lot else excites me – I say go cheap if you don't like Zunino. We might see Tony Cruz ($3,928) get a start with the extra innings game the Cards played Wednesday night.
First baseman
Freddie Freeman | Braves | $8,390 – Freeman mashes righties (.399 wOBA this season) and gets Matt Garza who hasn't exactly been great in his last few outings.
Alternative: Chris Davis ($8,252) made some mechanical adjustments to his swing this week.  Then he went out and hit three HRs that night. He followed that up with a couple of other hits on Wednesday night. He's locked in at the plate and should be in your lineup.
Second baseman
Jose Altuve | Astros | $7,683 – Altuve's .436 wOBA against lefties rates him first overall in all qualified second basemen in the majors this year.
Alternative: Neil Walker ($6,507) gets a righthander, has solid power against them and bats in the middle of the order.
Third baseman
Matt Dominguez | Astros | $5,203 – Dominguez has a solid .367 wOBA against lefties this year, but perhaps more importantly his K% is only 10.07 against lefties. He faces off against Roenis Elias who has teetered on the edge all year long with less than optimal control.
Mike Olt | Cubs | $5,767 – Olt's .439 wOBA against left handed pitching puts him second on the list of qualified third basemen in all of MLB behind only David Wright.
Shortstop
Asdrubal Cabrera | Indians | $6,092 – The Indians are the worst hitting team in MLB against left handed pitching. However, they do have a couple of shining stars including Cabrera. He's usually at the top of the order against lefties so he's my guy today at short.
Alternative: Much like catcher, I don't see a ton of value here – Chris Owings ($4,364) has had a couple of solid games over the last week, hits righties relatively well, and has been batting up in the order so I'd take a chance on him.  
Outfielder
Andrew McCutchen | Pirates | $7,214 – Cutch has a gleaming .376 wOBA against righties this year and he faces recent callup Blake Treinen.
Dexter Fowler | Astros | $6,514 – Fowler has been fantastic since his move to the three hole in the Astros lineup (or the turn of the calendar to May or some other reason). Whatever the reason, Fowler has enjoyed his recent time in the lineup. He also gets a left hander and he's got a .349 wOBA against them this season and .361 for his career.
Nick Markakis | Orioles | $5,097 – Markakis has been seen as a disappointment by many, but he's a solid player and in the leadoff position gets a lot of opportunities to score runs with his single/double approach. He gets some right handed pitcher and should be good for a couple of times on base and at least one run scored.
Alternatives: Denard Span ($5,488) looks to be entering one of his rare hot streaks and gets Edinson Volquez who looks to be turning back into a pumpkin. Seth Smith ($6,347) also gets a nod based on his matchup and his general hotness at the plate over the recent few days. If you are sneaking Greinke into your lineup, you might like to have Scott Van Slyke ($4,674), noted lefty killer in your lineup.
Stacking options
I like the Astros against a lefty and the Orioles against whatever unnamed righty takes the mound against them.
Good luck on DraftStreet today!