2014 Fantasy Golf Daily Fix: Arnold Palmer Invitational – Bay Hill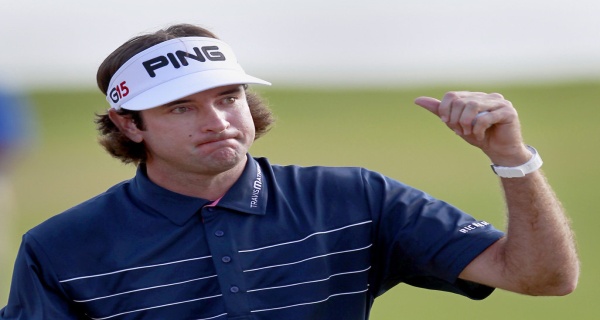 We are back this week with another edition of the Fantasy Fix's Daily Fantasy golf picks. I'm also happy to join DraftStreet and their Daily Fantasy golf game.  This week's Daily Fantasy picks for the Arnold Palmer Invitational at Bay Hill are below.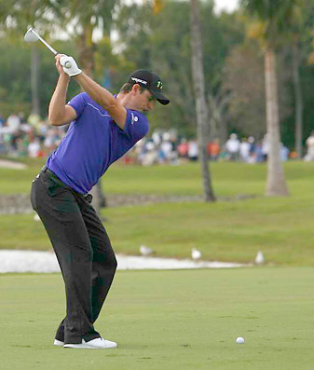 Tour Stop
We are still in Florida this week and for those of us stationed north of there, the sun sure is inviting. This week we stop at the Bay Hill Club and Lodge in Orlando for the Arnold Palmer Invitational. Bermuda grass covers the greens again this week on this 7,419 yard par 72 course.
If you are looking for past results, this tournament was called the Bay Hill Invitational until 2007 when Arnie took over. This course has hosted the championship for years, but was redesigned in 2009 and moved to par 72 from par 71 at that time. This course used to be one of, if not the, hardest course on the Florida swing. However, as other courses have been revamped, it has begun to move back a bit. It's still a challenging track, but gives a little respite from the last two courses.
We have 22 of the top 50 in the World Golf Rankings so a few more stars to choose from including the biggest star around.
Players
Charl Schwartzel is out for this week as his wife is expecting a baby any day. Jason Day has withdrawn with a thumb injury. John Huh has also withdrawn, but his absence may be more performance-related than injury. Spencer Levin, James Driscoll and Roberto Castro are also no longer in the field though they were in the original listing.
Here is the top 10 from 2013's tournament at Bay Hill: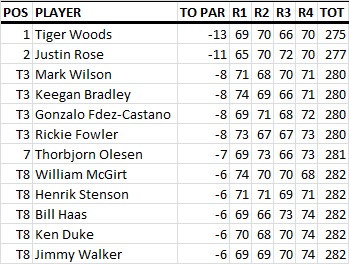 Let's look at a few options this week for DraftStreet:
Sang-moon Bae | $13,171 – The first time I saw Bae was at Congressional a couple of years ago. He was in a group that was close to a group we were following.  He didn't look like much, but his entourage was the best. Each of them was wearing a white hat with neon letters spelling TEAM BAE. Need I say more? Ok, fine – he's been top 15 in his last two tourneys in 2013. He finished 40th here last year.
Ken Duke | $9,348– Duke isn't a stud (117 th in the world rankings). He's just a grinder who makes cut after cut. He's made nine out of ten cuts so far this year and he's priced like a player who is probably a 50/50 chance to make a cut.  You need to make it to the weekend in Daily Fantasy golf and Duke is a near lock to do so each week.  Add him to your squad and you have a ton of flexibility. Oh, he also finished in a tie for eighth here last year.
Matt Every | $16,351 – Every is from Florida so he's familiar with the greens.  He's got nine cuts made in 10 tourneys this season with his only miss at Pebble Beach. He was eighth last week and is another solid option who won't blow you away, but he'll see the weekend.
Graeme McDowell | $21,551 – McDowell is one of the top five players on tour right now. He's just playing lights out golf on any course he sees.  He's played five stroke play events this year and has four top 10 finishes.  He does have a second place finish at Bay Hill, but prior to that he did struggle to make the cut at Bay Hill. This choice is about current form and not course history.
William McGirt | $12,286 – McGirt is eight for 12 this year and has been up and down over the last month. However, he finished in a tie for eighth here last year and improved as the week went along with a final round 68. He's a deep sleeper, but the price is right.
Kevin Na | $18,174 – Who is this guy? Na has never been the most consistent player, but he's got four top 10 finishes on tour this season. His last three tournaments have been a fourth, missed cut and second.  He has a fabulous record herewith a second in 2010 and a fourth in 2012.
Seung-yul Noh | $11,461 – As I was scrolling through the bottom half of the players, I stumbled upon Noh. Noh is just 22, but the youngster has made nine cuts in ten tournaments this year. He hasn't played the toughest tourneys this season, but he's performed wherever he's gone this season. And, in 2012 Noh finished 20th at Bay Hill.
Ian Poulter | $16,166 – Poulter is close to home. No, not England, but Orlando. He plays in the area regularly and knows the greens inside and out (you may see this somewhere later on in my picks). He hasn't been great in 2014 as he finished 52nd at Doral and 59th at Riviera. He finished 21 st last year at Bay Hill, but blew up with a 75 in the final round. He's priced attractively for a golfer with his track record.
Justin Rose | $25,376 – Rose seems to be over his shoulder injury as he was able to finish in a tie for eighth last week on a tough course. Rose has success at Bay Hill with a tie for second last year and top 15 finishes in the prior two years here.
Henrik Stenson | $20,760 – If you want to take a step down from players like Rose, take our good friend Henrik Stenson as he's close to home. No, not Sweden, but Orlando. He plays in the area regularly and has two top 15 finishes in his last two starts at Bay Hill and has made the cut each year since 2009.
Bubba Watson | $24,926 – Watson has made six cuts in seven events this season. And how is this for finishes – 3, 23, 2, 1, 9, 2? Those are Watson's finishes in his six tourneys.  Is there anyone playing better right now than Watson? This course is made for big bombers and it doesn't have too much in the way of punitive rough around the course, so Watson should be cozy at Bay Hill.
Tiger Woods | $28,850 – He's out for this week so scratch him off the board. And scratch him until he's fully healthy – make him show you in at least one full tournament that he can make it through four rounds.  Ok. The big man. What to do with him? I'm not taking Tiger on DraftStreet. He's the most expensive player by far and his history suggests he should be. He's won at Bay Hill eight times. Eight! However, he is not in form currently and his back injury scares me away. If you are spending big money in DFS, you want a guarantee of a cut made and a solid score. Woods can provide neither at this point. Stay away.
If you want to go cheap for any reason, there could be some value in Tyrone Van Aswegen ($7,787) who has made eight of ten cuts this year or Chad Campbell ($8,060) who hasn't exactly been great (made only three of seven cuts this year and ranked #359 in the world), but hasn't missed a cut in 11 tries at Bay Hill. He even won the tourney in 2004.  And our loyal friend Michael Putnam ($8,599) has made nine cuts in 12 matches this year.  He won't light up the scoreboard, but he seems to make it to the weekend.
Good luck this week over at DraftStreet!
DraftStreet Scoring
Roster size: 6 Golfers
Points Scoring
ALBA*   4.5 pts
EAG       2 pts
BRD        1 pt
PAR        0.2 pts
BGY        -0.6 pts
2BGY+   -1.6 pts
*ALBA = Albatross or double eagle
PLACE
1st          8 pts
2nd        5 pts
3rd         4 pts
4th-10th               3 pts
11th-25th            2 pts
26th-50th            1 pt
Round Bonuses
BFR*      1 pt
LROD**                2 pts
*BFR = Bogey-free round
*LROD = Low round
Note :
1. Ties will not affect "PLACE" bonus. For example, if three players tie for 2nd they will all receive the 5 point bonus for 2nd place.
2. Playoff holes will not count towards scoring but can impact the place a golfer finishes.
3. Golfers who withdraw or are disqualified in the middle of a round will receive 0 fantasy points for that round.
4. If multiple golfers tie for low round of the day, full bonus points will be awarded to all of them.