Daily Fantasy Golf Strategy: AT&T Pebble Beach Pro-Am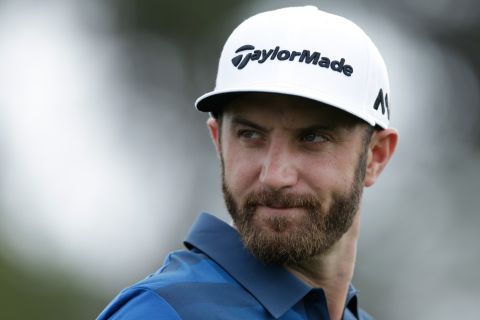 What an excellent finish to a fantastic tournament last week as Hideki Matsuyama pulled it out on the fourth playoff hole over a dismayed Rickie Fowler. Both young guns will be around for a while competing at the top of leaderboards.
We leave the desert to head back to the California coast for the AT&T Pebble Beach Pro-Am. It's a tournament with a long history and a course (Pebble Beach Golf Links) that has hosted five U.S. Opens (including 2010) and will host one again in 2019. Our friends at DraftKings continue to roll out some fantastic contests. And I'm here to help you win some dough.
It's a great week to check out DraftKings as they have some top notch contests. And it's a great way to try out DraftKings' PGA games as every player makes the cut this week. You don't have to sweat the cut line.
Come on over and take a look.
Tour Stop
We have another multi-course even this week for the AT&T Pebble Beach National Pro-Am. The first three rounds are played on three courses. The best known course is the Pebble Beach Golf Links course which plays at 6,816 yards and is a par 72. The other two courses are Spyglass Hill, a par-72, 6,953 yard course and the Monterey Peninsula Country Club Shore Course a par-71, 6,867 yard course just along the ocean.
The cut is made after three rounds and then the final round is played on Pebble Beach. With a cut after three rounds, you can take a few more risks this week as you are guaranteed three rounds from all golfers. Finally, it's a Pro-Am so the groups get to play with an amateur player for all four rounds. The tournament will be a bit longer than normal as the amateurs try to stay out of the ocean.
The weather looks like it should be OK with the wind picking up a bit on Saturday afternoon, but with no rain and cool temperatures throughout. This is one of the tournaments where weather can wreak havoc so check back frequently to see if there are changes especially once tee times are announced. Make sure you check back Wednesday to see if any changes have come along.
Scorecard breakdown: Two par 72s and a par 71 which means one course (and one round with one fewer par 5s than normal, but three rounds on par 72s which have four par 3s, four par 5s and 10 par 4s.
Field
It's a pretty solid field this week with Jordan Spieth and Jason Day returning. We also have Justin Rose making his tournament debut this year. Bubba Watson returns for the first time since 2007, Luke Donald for the first time since 2010. It's also another short field with only 132 golfers teeing it up. And no, you can't pick an amateur in DraftKings.
The full field can be found here.
Also, thanks to GolfOdds.com for the odds this week. If you'd like to see a second set of odds, check out the Betting Zone's odds here – just click on this week's tournament on the left hand pane.
Past Tournament Results
This has been a Tour stop since 1947 so we have oodles of course history from which to choose. However, Monterey is relatively new to the course rotation having been added in 2010 to replace Poppy Hills. So, we won't go back beyond 2010 (and we don't usually focus too much on results that old).
So, here is the top 20 for the last three years: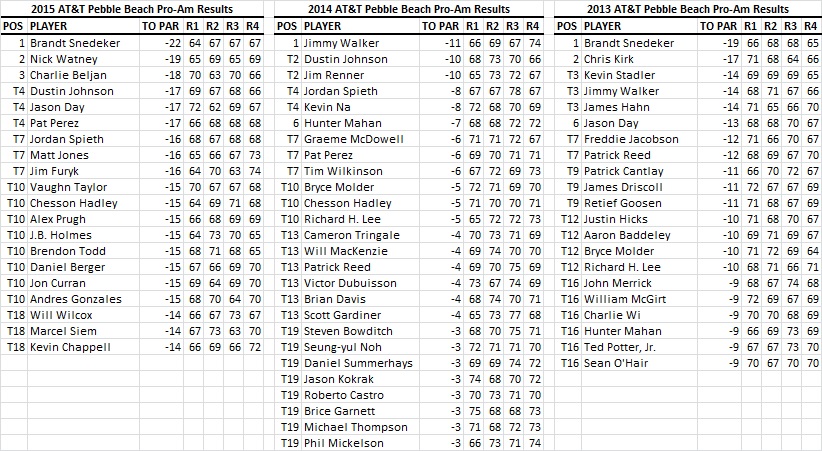 Statistical Review
I promise you'll see different stats to focus on as we go along this year, but it's going to be another simple week with familiar stats. We've got a couple of key stats to focus on (we're still using 2015 stats, but will also peak at 2016's results as many golfers have a few tourneys under their belt by now). We will use 2016 stats to see if we can see some changes in players even though the sample size isn't huge.
Driving Distance (DD) – Again this week we'll want long hitters. The courses are short and when you get in trouble, you're just much closer to the green than the shorter hitters. Again, like last week, you can do well without being a bomber, but length helps.
Birdie or Better Percentage (BOB%) – Yup, this one again too. Brandt Snedeker won here last year with a score of 22-under. There were 17 golfers at 15-under or better. Nearly 30 golfers had 20 or more birdies. Score, score, score.
Par 5 Scoring Average (P5) – We'll also take par 5 scoring into account. With two par 72s, we'll have a lot of par 5s. You can do well here scoring on par 4s as well (see Snedeker, Brandt last year), but we will give a bit of an advantage to the par 5 scorers.
And each week, we'll look at Strokes Gained: Putting (SG:P) and Strokes Gained: Tee to Green (SG:T2G).
DraftKings Expert Picks
Jordan Spieth | $12,300 – He's the best player in the world so he's priced accordingly. He's on a run of seven straight top seven finishes worldwide. He's probably only a GPP option, but he's a solid one as he's finished in the top 10 in back to back years at Pebble.
Jason Day | $11,800 – And then we have Day who has a profile that works everywhere. He finished T64 here two years ago, so he can stumble here which we haven't seen out of Spieth. He has four top 15 finishes here and like Spieth you'll need to be smart about picking guys down the salary range.
Dustin Johnson | $11,400 – It's a pro-am and DJ gets to play with his father-in-law Wayne Gretzky so it will feel like a home game. He's won here twice (2009 and 2010 and has six top ten finishes in eight trips overall. He's going to be a core player for me this week.
Brandt Snedeker | $11,100 – If you want to fade Snedeker based on his disappointing T33 last week, that's fine. I probably won't fade him as he's won here two out of the last three years here. Yes, he missed the cut in between those wins, but he wasn't fully healthy. I'll probably be on him more than you and I'm OK with that.
Bubba Watson | $10,900 – Bubba's statistical profile is the best based on my weights this week. But, he hasn't played here since 2007 and it's not clear why he's here. Maybe it's a sponsor again. Of course, he seemed bored and bothered last week and still put up a T14 so his prodigious skills can overcome a lot.
Jimmy Walker | $10,700 – Walker profiles as a top contender this week. His worst finish in his last five trips here is last year's T21. He won here two years ago and as you can see from the prior results there are a lot of multiple winners. Perhaps he wins again building off his T4 at Farmers.
Phil Mickelson | $10,300 – I fade him every week and this week is no different. He finished T11 last week which was great until you see he only scored 84 points and missed the mark he needed to hit for full value. There is too much public money baked into his odds to make him viable week in and week out.
Justin Rose | $10,000 – He's a stud priced at the bottom end of the stud range, but I just can't recommend this week on his debut. He's game has been a bit all over the place to start this season and I'd like to see a bit more consistency with him before paying up.
J.B. Holmes | $9,800 – Holmes has made the cut in eight of nine trips to Pebble Beach with two top 10 finishes (last year and in 2010). His results here have been volatile (four top 20s, but five finishes at 50th or worst). However, his current form isn't volatile as he's been in the top 25 in his first three 2016 events with back to back T6s.
Patrick Reed | $9,600 – Reed withdrew at the Farmers in his last time out, but there was no mention of an injury. I assume he didn't want to play in a hurricane. He's played Pebble three times and has two top 15 finishes. His results are generally volatile and for this week he'll be in GPPs only for me.
Brooks Koepka | $9,500 – This should be a course that Koepka handles, but his T41 spooks me a bit more than perhaps it should. He makes his debut here which shouldn't be an issue as others have done well in their first time out. There is just something I don't like about Brooks this week and I'll be off him.
Kevin Na | $9,200 – It used to be that you started Na in every tournament on the West Coast Swing. That West Coast Swing has been broken up a bit, but Na's work here should still be heeded. He missed the cut last year at Pebble, but had made the cut the three years' prior including two top 5 finishes. He hasn't missed a cut since the PGA Championship and has five top 10s in those 11 tournaments. He can win here and he's at the low end of those players who can do so. He seems like a bargain this week.
Shane Lowry | $8,900 – Lowry is one of those guys who some of the statistical-heavy DFS analysts miss because he spends so much time on the European Tour where the statistical records aren't as robust. Lowry finished T6 last week and has finished in the top 15 in back to back weeks on the PGA Tour. Being Irish, he was born as a solid links player. And if the wind kicks up Saturday, then he gets an even bigger advantage.
Jason Dufner | $8,800 – Dufner's profile works quite nicely here so it's a surprise to see he hasn't teed it up at Pebble since 2011. And he's never finished better than T55. His run of three top 10s (including a win) ended with his missed cut at the WMO last week. I see Duf-man bouncing back this week.
Ryan Moore | $8,600 – Moore hasn't played Pebble since 2012 (T20 finish). He's seen Sunday at this even in three of his four starts here. He opened 2016 with a T11 last week and his profile works outside of his length off the tee.
Ryan Palmer | $8,500 – Palmer has made six of 10 cuts at Pebble, but never finished in the top 10. He actually only has one finish in the top 25 (T23 in 2006). But, he's playing well as he's finished in the top 25 in his last four events. And his profile fits the course pretty well so it's a bit of mystery as to why Palmer hasn't done better.
Danny Lee | $8,400 – Lee's missed the cut here the last two years. But, his ability to score gives him a chance to see Sunday this week. He comes in flying high from his solo fourth last week where he led for part of the tournament. His course history concerns me enough to only recommend him as a GPP option.
David Lingmerth | $8,300 – Lingmerth missed the cut last week, but had strung together four straight top 15 finishes prior to that stumble. His profile says he should be able to succeed here, but he's only played twice making the cut for the first time last year and finishing T41. If you like his current form, he makes an excellent play in any lineup.
Bill Haas | $8,200 – Haas has played here just once (in 2006) and missed the cut. He's middle of the pack in driving, but can score on par 5s and is a fantastic tee to green player. I don't have a good read on him this week so I'll probably be complete off and let others take the risk.
Fredrik Jacobson | $8,100 – Jacobson has two top 15 finishes in his three cuts made in five trips to Pebble. He finished T5 at the Farmers two weeks ago so he should be ready to go here this week. I might even sneak him into a cash lineup.
Russell Knox | $8,000 – Knox didn't play at Pebble last year, but finished T28 and T27 the two years prior at this tournament. He's been playing some solid golf with four top 25s in his last seven events including a win and second place finish.
K.J. Choi | $7,900 – Choi looks to be in excellent form with back to back top 20 finishes including a solo second at the Farmers in California two weeks ago. He's made eight of 11 cuts at Pebble, but his recent history isn't as good. He's only played here once in the last four years and that was a missed cut in 2014. But, he generally does well on poa annua greens. He's not a sexy choice, but he should see Sunday.
Luke Donald | $7,900 – Donald hasn't played here since 2010 when he finished T16. I'm not sure why he's back, but his profile doesn't look great. Pass.
Hunter Mahan | $7,800 – Mahan has owned this course in recent years with four straight top 10s before stumbling last year to a T54. He missed the cut last week on Tour as well so he's a great contrarian play this week as recency bias will cloud the judgement of some DK players.
Matt Jones | $7,800 – Jones has excellent course history, an excellent profile and is playing quite well coming in to Pebble. He finished T7 last year to extend his record to seven cuts made in eight trips. He's also made six straight cuts worldwide including a win. The Aussie is primed for another solid week.
Bryce Molder | $7,700 – Molder's ownership percentage could go through the roof (for him) and at $7,700 he seems like an odd choice. But, his course history is good (six of ten in cuts made with three top 10 finishes all in the last six years). And he's in off an excellent T6 at the WMO.
Ian Poulter | $7,700 – Poulter shook off the rust last week with a missed cut at the WMO – his first miss since the Barlclays near the end of the 2015 season. He's only played here twice, making the cut once (last year) and finishing 50th. His profile is….meh….I just don't have a lot of excitement around Poulter this week.
Jason Bohn | $7,700 – Bohn's best finish here in 10 attempts is a T23. And I still like him this week. His tee to green game is great and he can score well though not necessarily on par 5s. He'll need to take advantage of the par 4s and hold serve on the longer holes to have a good week. He's a pivot for me from Molder if you don't want to go that way.
Nick Watney | $7,600 – Withdrew.
Russell Henley | $7,600 – After closing out calendar year 2015 nicely, Henley has struggled in the early part of 2016. He played here once two years ago and finished T52. The profile fits nicely, but I'm not sure his current form will allow him to unlock those skills.
Daniel Summerhays | $7,500 – Summerhays hasn't missed a cut since the Quicken Loans National last summer. He's trending the wrong way though with his last three starts showing finishes of T13, T42 and T67. He's made four of five cuts at Pebble with only one top 20 finish. So, he seems pretty safe, but I'm not sure there is a lot of upside.
James Hahn | $7,500 – Hahn is playing very well right now so he can't be ignored as he's made six of six cuts to open the new season. He's finished T3 at Pebble in his debut in 2013 so he can go low and his current form says he might have it in him.
Will Wilcox | $7,500 – DFS darling Wilcox is back. He fired the low round of the day Sunday at the WMO to finish in tie for sixth. He could be 50% owned (kidding), but I think he's safe to use in cash games this week as he's worked hard to bring his game around and it looks like everything is clicking. He finished T18 here last year.
Aaron Baddeley | $7,400 – I think the clock has probably struck midnight on Baddeley for the year. He missed the cut last week with a 77 on Saturday. He had a run of three straight top 15s here from 2011 to 2013 so he's had some serious success. His profile works pretty well here so you could take a flyer.
Brendon Todd | $7,400 – Does Todd making the cut last week (after missing six straight) mean he's turned his game around? He's played Pebble five times, made the cut three of those times and finished inside the top 10 twice. His poor current form, but top 10 upside means he's a GPP option.
William McGirt | $7,400 – McGirt has made three of five cuts alternating made and missed cuts in those five years here. He finished last year at T21 and his best finish is a T16. He's certainly an option again this week off his T24 at the WMO last week.
Andrew Loupe | $7,400 – Loupe is two for two in cuts made here with a T27 two years ago and a T60 last year. He's made both cuts in 2016 including a T3 at the CareerBuilder. He's a bomber and can score on par 5s so he's got a chance to contend this week.
Si Woo Kim | $7,400 – Kim struggled last week as I imagined he would. So that makes it a perfect time to jump back on him this week.
Kevin Streelman | $7,300 – Streelman is four of eight in cuts made here with his lone top 10 back in 2012. His profile doesn't seem to work here, but he missed the cut on the number last week after a T11 and solo third coming in to the WMO. There isn't much to hang your hat on so he'll likely be low owned and could be a GPP option if last week was just a hiccup.
Colt Knost | $7,300 – For a short hitter, Knost is actually pretty good on par 5s and as such has a puncher's chance this week. He hasn't missed a cut since the Barclays and has three straight top 25 finishes in the last three weeks. He finally made the cut here last year after five attempts and finished T41. He's not an exciting play, but in cash games offers a solid floor.
Kevin Chappell | $7,300 – Chappell's made five of seven cuts at Pebble with one top 10 (his 2009 debut). He finished T18 last year but has struggled to start 2016. His profile fits pretty nicely so if you can ignore his start to 2016 you can see how he might offer some value.
Jon Curran | $7,300 – Curran comes in off a shiny T11 last week at the WMO. And he finished T10 here last year in his debut. And he had no form coming into that T10 last year at Pebble having missed six of seven cuts before it. He has nothing in his profile that screams use him this week so you have to hang your hat on last year's performance here to roster him.
Paul Dunne | $7,300 – Like his fellow countryman Lowry, Dunne is a solid links and wind player (he led the British last year after 54 holes as an amateur). He doesn't yet have Lowry's experience and I wouldn't use him in cash, but he offers another option if the wind forecast kicks up.
Vijay Singh | $7,200 – Singh's profile from last year is actually kind of solid. He scorched par 5s last year and finished 24th in SG:T2G. He started 2016 with a T50 at the Sony Open. His record at Pebble is great, but looking more recently it's not quite as sunny. Since 2010, he's made five of six cuts with his best finish a T25 in 2012. Not a lot of upside here.
Jhonattan Vegas | $7,200 – I think Vegas is another sneaky play. He strikes me a bit like Gary Woodland where we're seeing something different from him in his 2016 stats than we have in the past. He's kept his length off the tee, but married it with a solid tee to green game. He has the skillset to succeed here in his debut.
Jonas Blixt | $7,200 – Blixt is one for two in cuts made at this event. And he's been a bit all over the place in 2016. He's missed two cuts, made two cuts and finished T6 in one of those weekends. That T6 at the Farmers started with a 77, then followed by back to back 66s and ended with a 77.
Chesson Hadley | $7,200 – Hadley has finished T10 in back to back years. I don't know that any other information really matters even though he's playing quite poorly. Course history says play him. Current form says run away.
Zac Blair | $7,200 – Blair's profile doesn't fit at all and he missed the cut last year in his debut. No thanks.
Jerry Kelly | $7,100 – I usually like him as he's a pretty safe play in cash games, but he's not played here much recently and when he has he's missed the cut. He hasn't made a cut here since 2004. He's made seven straight cuts, but that streak could be in jeopardy this week.
Stewart Cink | $7,100 – Pass. He last teed it up here in 2000 and has missed the cut in his last two tourneys.
Padraig Harrington | $7,100 – Since 2010, Paddy's made four of six cuts here with two top 20 finishes. Now, those two missed cuts have been in the last three years and he missed the cut last week at the WMO. The profile doesn't look great so there isn't much to go on.
Jason Gore | $7,100 – Gore has only made three cuts in 10 trips to Pebble Beach so he doesn't have much that excites me this week. He's started 2016 with two cuts made and one top 20 finish in there. Like Vijay Singh, there isn't a ton of upside here.
Sean O'Hair | $7,100 – O'Hair's made the cut at Pebble seven straight years. And that's enough for me to consider him in cash lineups this week. He drives the ball far enough and can score well (usually on par 4s) to give him a solid chance of extending that streak to eight straight years. He won't be in the top 20, but he should see Sunday yet again.
Jonathan Byrd | $7,100 – Nope. Four of 10 in cuts made here and not much to write home about with his current form even if he finished T5 at the Panama Claro Championship a couple of weeks ago. He should be somewhere in the mid to low $6,000s.
David Hearn | $7,100 – Hearn has missed the cut in his first three events of 2016 and has very limited history here (one made cut in three trips with a T21 last year being that breakthrough). He can score, but he usually does his damage on par 3s which probably won't be that helpful this week.
Peter Malnati | $7,100 – Malnati is my Will Wilcox from last week. I want to be on him a week early and not a week late. He posted on his blog that he felt good last week even if his results weren't there. He can score as he showed on the Web.Com Tour last year so sneak him into a GPP or two.
Cameron Smith | $7,100 – You know me I love me some Cam Smith, but he's really struggling right now. It's hard to recommend him and he's a better option on some of the par-70s down the road.
Michael Kim | $7,100 – Withdrew
Steve Stricker | $7,000 – The old man certainly is playing in more tournaments than in years past. But, the results aren't there as he's missed the first two cuts of 2016. He hasn't teed it up here since 2006. No thanks.
Pat Perez | $7,000 – Horrific current form, but excellent course history. You choose. He won't be too heavily owned I don't think because he is playing so poorly. But, he's made 11 of 13 cuts here and has back to back top 10 finishes at Pebble.
Ricky Barnes | $7,000 – Too Short. No, not that one…too short off the tee. He somehow finished solo third here once. I don't know how.
Jason Kokrak | $7,000 – Kokrak's profile fits very nicely this week so he should succeed. And he has with two top 20s in his four starts at Pebble. He's missed the cut in his other two attempts. He comes in playing well and not well with six starts, three missed cuts and three top 25s.
Luke Guthrie | $7,000 – Guthrie is struggling coming in, but he did finish T26 in his only trip to Pebble Beach in 2013.
David Toms | $6,900 – Three of eight in cuts made here. Pass.
Tyrone Van Aswegen | $6,700 – Van Aswegen has made 12 of 13 cuts on the PGA and Web.com Tours over the last two years. Really. I know, I don't believe it either. He's missed the cut here in his only two trips to Pebble the last two years. If you roster him, you believe his current form trumps all the indicators which say to stay away.
Tim Wilkinson | $6,600 – Finished T7 here in 2014, but missed the cut last year. He's made five of six cuts on Tour in the new season and missed his first cut of the year at the Farmers a couple of weeks ago.
Matt Every | $6,600 – Withdrew. But he always does.
Alex Prugh | $6,600 – Prugh has a good record here. Bet you didn't know that! He's made three of four cuts with one top 10 (last year). And his profile works as well as he finished last year 49th in Driving Distance and 28th in par 5 scoring. He's struggled on the PGA Tour, but he's always found his way around this course. An intriguing option for a stars and scrubs lineup.
Michael Thompson | $6,600 – Thompson has made three straight cuts on Tour with his best finish a T28 at the CareerBuilder. He's made two of four cuts at Pebble with a T19 two years ago. He's not great tee to green, but the rest of his profile could allow him to see Sunday.
Alex Cejka | $6,500 – Cejka withdrew last week with a neck injury. He says he's fine, but the risk isn't worth it when we're guaranteed three rounds from all healthy golfers.
Greg Owen | $6,500 – I think Owen will be one of the more owned guys down here in this range though he was owned in less than one percent of lineups in the $3 GPP last week. Owen is excellent tee to green and is a relatively long driver, but he just doesn't score well because he can't putt. His history here looks good at first blush, but recently he's only seen the top 10 once (in 2012) and he's trending in the wrong direction (T9, T30, T56 and MC in his last four here).
Richard H. Lee | $6,500 – Lee has struggled mightily in recent weeks. He's missed back to back cuts on the Web.com Tour! But…..he's NEVER finished outside of the top 15 at Pebble in three starts. It will take some guts to roster Lee, but the reward could be mighty.
Whee Kim | $6,500 – Kim finished T21 in his debut at Pebble Beach last year. He's in pretty poor form having made four cuts in his last eight with a top finish of T56 last week at the WMO.
Steven Bowditch | $6,400 – Bowditch will be in a couple of GPP lineups for me as he's probably the only golfer down here who could win. He's made three of seven cuts here overall, but three of his last five with all three cuts made finishing in the top 20. His profile also fits pretty well as he finished last year 67th in SG:T2G, 18th in Driving Distance, 59th in BOB% and 61st in Par 5 scoring average. I know he's playing poorly currently, but that's how the Eyebrow works. He's bad, bad, bad and then a top 10 arrives.
David Duval | $6,300 – Well hello there, sailor. Nice to see you around these parts. Hope you have a good time.
Will MacKenzie | $6,000 – Has missed four straight cuts on Tour, but finished T13 here two years ago.
Andres Gonzales | $6,000 – Gonzales finished T10 here last year after missing the cut in his first two starts here. He's missed seven of his last 10 cuts across two seasons coming into this week. He has enough length off the tee to be dangerous, but he's really struggling right now.
Charlie Beljan | $5,900 – Bomber. Scores well on par 5s. Misses cuts as frequently as most folks change underwear. Missed the cut at Pebble in his first three trips and then finished solo third last year.
Mark Hubbard | $5,900 – To say I'm surprised to see Hubbard down here would be selling surprise short. Sure, he hasn't exactly lit it up in his last two tourneys, but he still has made eight of nine cuts on the season. He debuted at Pebble last year and missed the cut, but it's a new Hubbard and could help you get some of the big guys into your lineup.
Mike Weir | $5,600 – Back on the PGA Tour after being out with personal issues since July. He hasn't made a cut a T21 at the CIMB Classic in 2014. Yeesh.
Good luck this week! Head over to DraftKings to choose your squad for this week.
DraftKings Scoring
Roster size: 6 Golfers
POINT SCORING
Golfers on each team will accumulate points as follows:
Per Hole Scoring

Double Eagle (DBL EAG): +20 PTs
Eagle (EAG): +8 PTs
Birdie (BIR): +3 PTs
Par (PAR): +0.5 PTs
Bogey (BOG): -0.5 PTs
Double Bogey (DBL BOG): -1 PT
Worse than Double Bogey (WORSE DBL BOG): -1 PT

Tournament Finish Scoring

1st: 30 PTs
2nd: 20 PTs
3rd: 18 PTs
4th: 16 PTs
5th: 14 PTs
6th: 12 PTs
7th: 10 PTs
8th: 9 PTs
9th: 8 PTs
10th: 7 PTs
11th–15th: 6 PTs
16th–20th: 5 PTs
21st–25th: 4 PTs
26th–30th: 3 PTs
31st–40th: 2 PTs
41st-50th: 1 PTs

Streaks and Bonuses

Streak of 3 Birdies of Better (MAX 1 Per Round) (3+ BIR STRK): +3 PTs
Bogey Free Round (BOG FREE RD): +3 PTs
All 4 Rounds Under 70 Strokes (ALL 4 RDS UND 70): +5 PTs
Hole in One (HOLE IN ONE): +10 PTs
Scoring Notes: Ties for a finishing position will not reduce or average down points. For example, if 2 golfers tie for 3rd place, each will receive the 18 fantasy points for the 3rd place finish result. Playoff Holes will not count towards final scoring, with the exception of the "finishing position" scoring. For example, the golfer who wins the tournament will receive the sole award of 1st place points, but will not accrue points for their scoring result in the individual playoff holes.
Player Lock Notes: All golfers lock at the time the first golfer tees off on day 1 of an event.
Full rules are located here for DraftKings Daily Fantasy golf.