2013 Fantasy Baseball Daily Fix: June 22nd 2013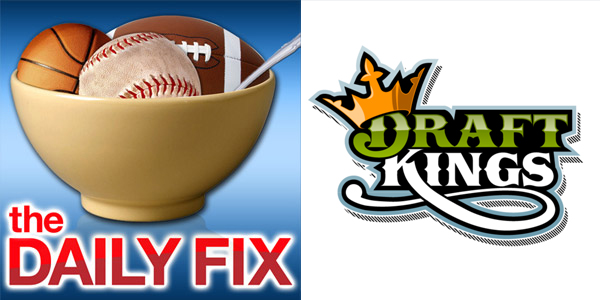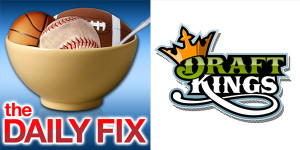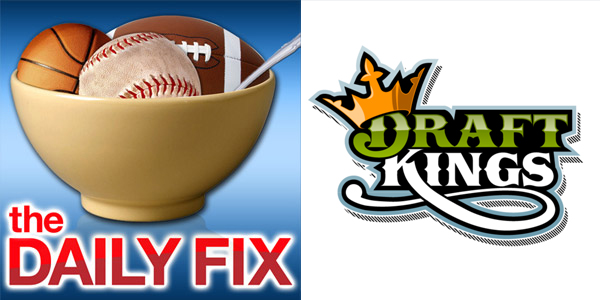 Today I will be playing the Daily Dollar (great for beginners) If you are new to @DraftKings Daily Fantasy Baseball, you can claim your Deposit Bonus here!
Before I get into my @DraftKings team of the day, here are some weather notes for tomorrow's games. –Note rain percentages aren't definitive and are best used as a reminder to check the weather status again on game-day before selecting a player from that game.
Potential Rain Concerns:
BOS @ DET: Scattered thunderstorms are expected all day long Saturday for this game, between 40% and 30%
MIN @ CLE: Isolated thunderstorms are expected till 9 p.m. Saturday for this game at around 30%, it starts at 7:15 so if it gets to the sixth inning without issue (which will be just past 9 pm most likely), this game will be fine.
HOU @ CHC: Isolated thunderstorms are expected at a rate of 30% Saturday from noon till 5 p.m. for a 3:05 first pitch
Wind factors:
HOU @ CHC: 17 mph winds are expected blowing out to left field which should help right handed pull power hitters in a big way. Travis Wood toes the rubber for the Cubs, and this could spell big trouble for him.
My team:
I'm taking the advice of managing editor Brett Talley who has been extremely successful in these @DraftKings Daily Fantasy Challenges. So my strategy for this week will mirror his; I will be trying my best each week to pick the best starting pitchers I can (not necessarily cheap), and then filling in my bats with guys that have severe platoon splits (to the good).
Pitcher: Dillon Gee @ PHI | $7,700 : This one hurts; Gee has been a guy I have "loved to hate" because he gives up too much hard contact and also seems to have trouble pitching out of the stretch. So far this season Gee is at it again with a .336 batting average on balls in play (consistent with career averages) and has lowered his ground ball rate from 50% in 2011 and 2012, down to 43% this season. But the good news is that he is facing a ton of lefties tomorrow in Philly, and they have nearly a .200 ISO against him. If he can hold the Phillies to less than seven home runs, consider it a successful day for Gee. But really, on a good note, Gee's biggest problems come against teams that work the count (good news Philadelphia is nowhere close to being one of those teams). Gee sports an obscene .457 wOBA through 1-0 counts this season, compared to only a .257 wOBA through 0-1 counts. Batters hit .371/.446/.617 against Gee after he throws a first pitch ball. Yikes.
| | | | | | | |
| --- | --- | --- | --- | --- | --- | --- |
| Split | Vs. RH | Vs. LH | Through 0-1 | Through 1-0 | Bases Empty | Men on Base |
| K% | 20.7% | 18.8% | 29.4% | 14.5% | 18.9% | 21.0% |
| BB% | 1.7% | 10.6% | 4.1% | 10.7% | 6.5% | 5.4% |
| xFIP | 3.44 | 4.29 | 2.50 | 5.24 | 3.97 | 3.63 |
| FIP | 3.32 | 4.99 | 2.26 | 6.97 | 4.41 | 3.63 |
| HR/9 | 1.02 | 1.54 | 0.63 | 2.52 | 1.42 | 1.04 |
| ISO | .163 | .191 | .118 | .246 | .199 | .143 |
If Gee doesn't work out tomorrow, send all hate mail to @TheRealTal on twitter. If he's good, well, just be glad that miracles happen.
Pitcher: Alex Colome @ NYY | $7,600: Colome was brilliant in his first start, going five and two thirds innings while striking out seven and only walking two. He gave up just one run. Given the fact that the Yankees rolled out a 5-9 of Lyle Overbay, Zoilo Altmonte, Jayson Nix, David Adams and Austin Romine on Friday, I like Colome's chances if that's the quality of crap the Yankees are rolling out on a daily basis.
My hitting: (again I picked guys with great platoon splits)
C: Brian McCann @ MIL: $3,700
1B: Chris Carter @CHC- $4,700
2B: Ben Zobrist @NYY – $4,200
3B: Evan Longoria @ NYY- $4,900
SS: Jean Segura vs. ATL- $4,200
OF: Domonic Brown vs. NYM- $4,700
OF: Jason Heyward @ MIL- $3,800
OF: Giancarlo Stanton @ SF- $4,500
News and Notes from Friday in MLB
Dodgers Outfielder Matt Kemp will embark on a rehab assignment to Triple-A Alberquerque on Saturday.
For weekly moves leagues, sit Indians Shortstop Asdrubal Cabrera who is expected back late next week instead of earlier in the week. He fielded grounders and took batting practice on Friday.
Colorado Rockies starter Tyler Chatwood was excellent once again and now sits with a 2.22 ERA on the season. He's becoming relevant in shallow mixed leagues and is definitely a guy to start at all times on the road.