2013 Fantasy Baseball Daily Fix: June 29th 2013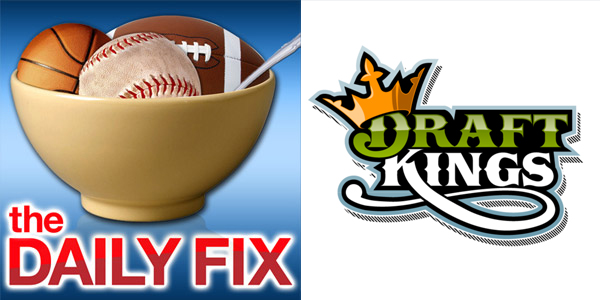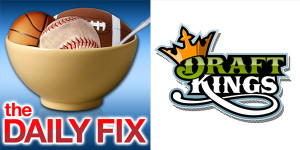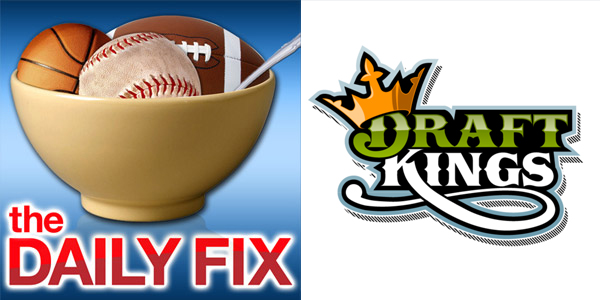 Today I will be playing the Daily Dollar (great for beginners) If you are new to @DraftKings Daily Fantasy Baseball, you can claim your Deposit Bonus here!
Before I get into my @DraftKings team of the day, here are some weather notes for tomorrow's games. –Note rain percentages aren't definitive and are best used as a reminder to check the weather status again on game-day before selecting a player from that game.
There is a lot of rain on the slate for tomorrow; here are the effected games.
WSH @ NYM: 30-40% chance of showers. These two teams meet one more time at Citi Field this season. Unfortunately it's a four game series in the middle of the week from Monday to Thursday. The Mets do stay at home for the next series against the Marlins so there is room on Thursday for a double header, but it's fairly uncommon for teams in a four game series to have another game in their too (making a five game series). This game is unlikely to be postponed, but I would stay away from the scheduled starting pitchers; Taylor Jordan and Dillon Gee. However, I wouldn't shy away from stacking bats against these two.
MIL @ PIT: 40-50% chance of rain with Scattered Thunder Storms: These two divisional opponents meet again at PNC Park for a three game series from Tue-Thurs August 27th-29th. Both teams have an off day on Monday August 26th. This game has a high probability of being postponed should rain fall heavily early. Avoid all players in this matchup.
TOR @ BOS: 30-50% chance of Isolated Thunder Storms: These two divisional opponents face each other again in the third to last series of the season – Friday through Sunday September 20th through the 22nd. Both teams have that Monday as an off-day but it's a get-away day for the Sox who have a long flight out to Colorado for a series starting Tuesday. There's room to squeeze in a double-header on the 21st or the 22nd. The heavier rain for this game is projected to be later in the evening so it's unlikely to be postponed, however delays are possible. I'd be cautious in starting either Felix Doubront or Esmil Rogers.
CLE @ CWS: 50% Scattered Thunder Storms: There is a very real chance this game gets heavily delayed or postponed. The tarp was on the field before the first game of yesterday's doubleheader between these two teams. More rain is coming. I'd avoid Ubaldo Jiminez and Dylan Axelrod if you were feeling frisky enough to try and use them in the first place.
That's it for the weather, here's my team: My strategy today is to load up on hitters playing against bad pitchers and or guys that have favorable platoon splits. Once again I spent heavy on pitching.
Pitcher: Francisco Liriano | $9,400 vs. MIL: Oh man has this guy been a revelation this year in Pittsburgh. Some say it's been the move to the National League that has rejuvenated Liriano, but it's really been his own doing (or perhaps the Pirates pitching coaches). Liriano has changed his pitch mix this season. Here are his usage rates:
| | | | | |
| --- | --- | --- | --- | --- |
| Year | Fastball | Sinker | Slider | Changeup |
| Career vs. L | 24% | 34% | 40% | 1% |
| Career vs. R | 25% | 23% | 28% | 23% |
| 2013 vs. L | 10% | 51% | 39% | 1% |
| 2013 vs. R | 10% | 31% | 34% | 25% |
Liriano has really been using his four seam fastball much less frequently, which is a good thing considering these results on the pitch the past few years:
| | | | | | |
| --- | --- | --- | --- | --- | --- |
| Year | Total thrown | AB Ended on | K% | BB% | BAA/SLG/ISO/BABIP |
| 2011 | 575 | 99 | 10.1% | 23.2% | .303/.495/.192/.306 |
| 2012 | 595 | 111 | 10.8% | 23.4% | .351/.649/.297/.341 |
| 2013 | 87 | 16 | 12.5% | 25% | .375/.375/.000/.429 |
He's been scrapping his worst pitch this season.
Pitcher: Eric Stults | $8,100 @ MIA: Despite an 87 mile per hour fastball, Stults continues on with his voodoo mojo shtick. Stults has carried an ability to get pop-ups at a 13 percent rate to the bank as he continues his success. As many of my readers know, I have an incurable fetish for guys who limit walks, regardless of their strikeout rate. Stults is striking out just 16.1 percent of batters, but he's also just walked 4.8 percent. He's a no brainer against Miami.
| | | | |
| --- | --- | --- | --- |
| Catcher | Matt Wieters | vs. NYY | $3,400 |
| First Base | James Loney | vs. DET | $3,400 |
| Second Base | Ben Zobrist | vs. DET | $3,500 |
| Third Base | Manny Machado | vs. NYY | $4,200 |
| Shortstop | Jimmy Rollins | @ LAD | $3,400 |
| Outfield | Jay Bruce | @ TEX | $4,700 |
| Outfield | Adam Jones | vs. NYY | $4,600 |
| Outfield | Chris Davis | vs. NYY | $5,300 |
Friday News and Notes from Baseball
In what was easily the most watched and talked about game of the day, Bugs Bunny (Cleveland Indians) defeated the Gas House Gorillas (Chicago White Sox) 19-10. In the second game, Addison Reed blew a save up 8-5 in the ninth inning. The Indians won the game 9-8.
The Los Angeles Dodgers got destroyed by the Phillies 16-1 last night. Phillies lefty John Lannan picked up the win. He only struck out two though over eight innings. He's not viable in mixed leagues. In other news from that game, Dodgers super utility player Skip Schumacher struck out Phillies catcher Humberto Quintero in the ninth inning.
Detroit Tigers starting pitcher Anibal Sanchez (shoulder) will pitch a 60-pitch simulated game on Monday, and if he's fine he's expected to be activated after that, according to MLive.com
According to Doug Padilla of ESPNChicago.com, White Sox starter Jake Peavy (ribs) will likely throw a bullpen session on Tuesday.
According to the Fort Worth Star-Telegram, Rangers starter Alexi Ogando (shoulder) will throw at least one live batting practice session before beginning a rehab assignment. He's likely to return just after the All-Star break.
According to MLB.com, Nationals starting pitcher Dan Haren (shoulder) will throw a bullpen session on Saturday.
According to the Washington Times, Bryce Harper (knee) got a scheduled day off Friday before resuming his rehab tomorrow at Double-A Harrisburg.
For owners in deep leagues, bad news; Evan Gattis (oblique) has not been cleared for baseball activities yet according to David O'Brien of the Atlanta Journal Constitution. He's been on the DL for 10 days already. This is most unfortunate news for his owners.
Milwaukee Brewers outfielder Corey Hart will miss the rest of the season with a left knee injury, as he's expected to undergo surgery, according to Tom Haudricourt of the Milwaukee Journal Sentinel.