2013 Fantasy Baseball Daily Notes: July 13th 2013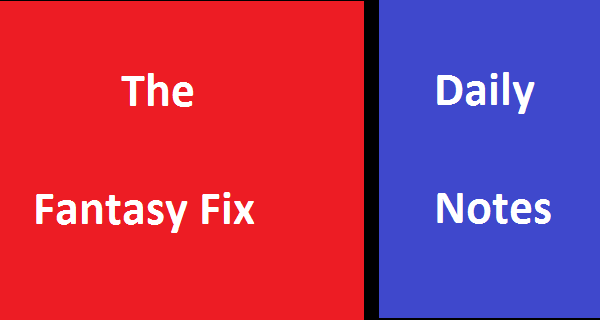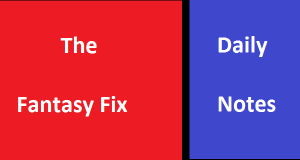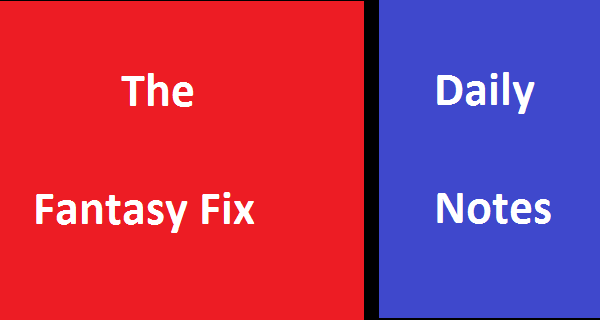 July 13th 2013:
Sections: Injuries News and Notes, Three Up, Three Down, Stream-Em/Leave-Em
Pitching Injuries News and Notes:
Washington Nationals starting pitcher Jordan Zimmermann has officially decided not to play in the All-Star Game next week, according to the Washington Post. It appears at least right now, as if he won't miss a start next week. We will monitor this situation extremely closely in the coming days, as Zimmermann is a bonafide stud.
New York Mets starting pitcher Jonathan Niese played long-toss on Friday at the team's spring training facility according to ESPN New York. Niese is coming back from a torn rotator cuff, and we are quite skeptical he can come back and be fantasy relevant. However, this is a good step in the right direction for the young lefty.
Texas Rangers right hander Justin Grimm after 3.1 innings pitched, ten hits allowed, seven earned runs and three strikeouts and two walks, left the game with right forearm soreness. We desperately tried, but have failed, to resist the temptation of this: "the situation looks Grimm right now for the young right hander". With news that Alexi Ogando is now expected back in late July (was earlier) we could now see the big Profar trade (or something smaller, maybe they move Olt?). Better yet, this could finally be left hander Robbie Ross's chance to get into the starting rotation again. Ross has a strike-out per inning this year, 41 in 41.2 innings. He also sports just a 3.0 BB/9 rate. He currently has a 2.59 ERA and a 1.27 WHIP. It bears noting that his strand rate of 85 percent is going to come down, but he has great skills.
Milwaukee Brewers right hander Marco Estrada is now expected to throw a bullpen session on Saturday according to the Milwaukee Journal Sentinel. This is better news, as it updates a report we relayed recently regarding Estrada tweaking his back. The Brewers are apparently going to try and let him pitch through it, but 12 and 10 team mixed leaguers need to stay away.
St. Louis Cardinals rookie right hander, the 21-year-old Carlos Martinez was recalled. With the Cardinals currently starting Joe Kelly and what's left of the corpse of Jake Westbrook, it will be interesting to see what role Martinez fills with the big club. He posted a sub-2.00 ERA in eight starts with Triple-A Memphis, so it appears the Cardinals were stretching him out to possibly start. Intrepid fantasy owners in deeper mixed leagues should look to jump on board a little early, while 12 and 10 team mixed leaguers can afford to wait a little bit.
Miami Marlins starting pitcher Kevin Slowey will not start on Sunday. He will give way to Henderson Alvarez according to the South Florida Sun-Sentinel.
**Hopefully you listened to our recommendations to start both Tom Gorzelanny and Joe Saunders yesterday. Despite them both being soft tossing lefties, they both were excellent. Gorzelanny gave up just three hits and one walk while striking out four. He gave up two runs but both were un-earned. Unfortunately he was out-dueled by Patrick Corbin. Saunders was also excellent, shutting out the Angels in seven strong innings. He struck out five, walked just two and gave up five hits. As expected, Jerome Williams was absolutely brutal. He gave up six earned runs on seven hits in 3.1 innings. So Saunders didn't need to pitch as well as he did, but thankfully, he did. Saunders is on a roll right now.**
Hitting Injuries News and Notes:
Los Angeles Dodgers outfielder Carl Crwaford was scratched from Friday's lineup against the Rockies with lower back stiffness, according to ESPN Los Angeles. The Dodgers just can't catch a break. Yasiel Puig is day-to-day with an injury of his own, Matt Kemp's timetable just got moved back again, and their other outfielder is Andre Ethier.
Atlanta Braves outfielder B.J. Upton left Friday's game against the Reds with "just being awful at baseball right now". Okay, kidding aside, it was the right adductor muscle, and according to the Atlanta Journal Constitution, it's just being labeled a strain right now. We will monitor this more in the coming days.
In a bit of a surprise move, San Diego Padres second baseman Jedd Gyorko was called up on Friday.  He was originally expected to spend this weekend at Triple-A and for him to come back after the All-Star break. The Padres apparently wanted him back sooner. He's relevant in greater than 12 team mixed leagues.
In more Padres news, outfielder/first baseman Kyle Blanks was placed on the 15-day DL on Friday with Achilles tendinitis according to the San Diego Union-Tribune.
Three Up:
Jeremy Hefner | SP | New York Mets: Hefner has now turned in 9 quality starts in his last ten starts, and the one start that was an exception was a five inning one run outing against the White Sox. Hefner has a 22.4 percent strikeout rate and a 4.0 percent walk rate so far in July. This follows up what was an excellent June where he logged a 17.8 percent strikeout rate and a 3.9 percent walk rate. I have always been and will always continue to be addicted to these low walk guys. Ride Hefner while he's hot.
Corey Kluber | SP | Cleveland Indians: Kluber is in here mostly for my managing editor Brett Talley's sake. Kluber to me is another Dillon Gee and Ricky Nolasco clone from hell. Kluber has excellent strikeout to walk ratios but struggles with his batting average on balls in play and strand rates. He was excellent last night against the Royals, spinning 7.2 innings of three hit ball with eight strikeouts and three walks. This was a good follow-up for Kluber after a 6.1 inning two earned run, ten strikeout and five hit performance this past Sunday against the Tigers. Kluber's real problem has been the first pitch fastball. He doesn't use a straight four seamer, he uses a two-seamer. That pitch has been obliterated to the tune of a .458/.958 batting average and slugging slash line. That's pretty atrocious, and he'll need to improve that significantly if he hopes to buy my optimistic view.
Doug Fister | SP | Detroit Tigers: Fister has improved his walk rate this season down from 5.5 percent in 2012 now at 4.3 percent in 2013. However, the strikeout rate has dipped down two percentage points. Nonetheless, Fister still owns an excellent 3.43 xFIP despite an ERA slightly above 4.00. He went out against the Rangers and pitched very well; he spun six innings of eight hit ball, allowing two earned runs (including a home run). He struck out five and walked just two. This was a much needed start for Fister as he had given up six earned runs in each of his past two outings. Those two outings were tough ones though, @ Cleveland and @ Toronto.
Three Down:
David Murphy | OF | Texas Rangers: Murphy has been a complete and utter disappointment this season. He went 0-5 last night as the DH hitting out of the #2 spot in the batting order. Murphy has hit .217/.278/.375 this season after a breakout .304/.380/.479 season last year in 521 plate appearances. Murphy is hitting for more power though, (despite a lower ISO than last year), he has 10 home runs already and had 15 home runs last year. Here's a little fun note, David Murphy has been a better pitcher than hitter. He has a 25 percent strikeout rate this season and a zero percent walk rate! That's ace like numbers! Of course, he has only pitched 1.1 innings; he has one strikeout and it came on what BrooksBaseball classifies as a knuckleball.
The real problem with David Murphy, and perhaps it's enough to do a BABIP Monologues article on (but probably not), is his ability to hit breaking pitches. In 2012 Murphy hit .313 with a .510 slugging percentage against breaking pitches, and a .369 batting average with a .571 slugging percentage against off-speed pitches.
In 2013, Murphy has hit for just a .141 batting average against breaking pitches with a .211 slugging percentage. He hits .170 against off-speed pitches with a .192 slugging percentage. He has been absolutely the same player against the fastball, (.280 batting average .441 slugging percentage) in 2012. In 2013, he's hitting .270 with a .478 slugging percentage on the fastball.
Zack Cozart | SS | Cincinnati Reds: Literally down; Cozart was finally dropped in the batting order by Dusty Baker, all the way down to 7th. Quite honestly though, he should be hitting behind the pitcher; he's that atrocious. Cozart has been so bad, I contemplated adding Dusty Baker to three-up just for moving down Cozart finally.
Stephen Strasburg | SP | Washington Nationals: Strasburg was absolutely pitiful against the horrid Miami Marlins. Strasburg lasted just two innings and gave up five hits, seven earned runs while recording just two strikeouts against four walks. Every pitcher has bad starts, and Strasburg is no exception. I'd like to not overreact to this start, but Strasburg is making it hard to ignore.
Stream-Em/Leave-Em:
Stream-Em:
Samuel Deduno | SP | Minnesota Twins: Deduno has been excellent lately. He has had six quality starts in his last seven starts heading into a July 8th meeting at the Trop. He surrendered two home runs in the seventh inning, but wasn't exactly lighting it up until then. His overall line was 10 hits, five runs, two walks and just three strikeouts in 6+ innings (he pitched in the seventh but did not retire a batter). He faces the Yankees, and although they lit up Ervin Santana on Thursday, how good is a team that is batting Vernon Wells cleanup? Yes, Vernon Wells. The guy who hit .133/.143/.147 in June; that's a .290 OPS.
Dallas Keuchel | SP | Houston Astros: Keuchel faces the Tampa Bay Rays, a team he allowed eight hits, five earned runs, five walks and four strikeouts in 4.2 innings against. Before that start, Keuchel rattled off five straight quality starts. And, on top of that, Keuchel spun five innings of six hit ball, allowing two runs while striking out four and walking just one against the Rangers in Arlington last time out. Start him, and grab some booze and have it handy.
John Danks | SP | Chicago White Sox: Danks was supposed to pitch yesterday, but the game was postponed due to rain. Here's what I wrote up for Danks in yesterday's Daily Notes, in case you missed it.
"Danks has been excellent this season in terms of strikeout to walk rate. He's been missing location with too many pitches though, as he's already given up 11 home runs in just nine starts. However, Danks has given up just one home run in his past three starts, and each of those past three starts have been quality starts. He goes up against the awful Jonathan Pettibone for the Phillies. Danks is owned in just 1.7 percent of ESPN.com leagues."
Apply:
Leave-Em:
Todd Redmond | SP | Toronto Blue Jays: Redmond's 3.55 ERA is masked by a really piss poor strikeout to walk ratio of 8:5 this season in 12.2 innings. He's facing a brutally tough Baltimore lineup that just tee'd off on Mark Buehrle. Pass.
Dan Haren | SP | Washington Nationals: If Stephen Strasburg can get tattooed by the Marlins………