2013 Fantasy Baseball, The Daily Fix: June 12, 2013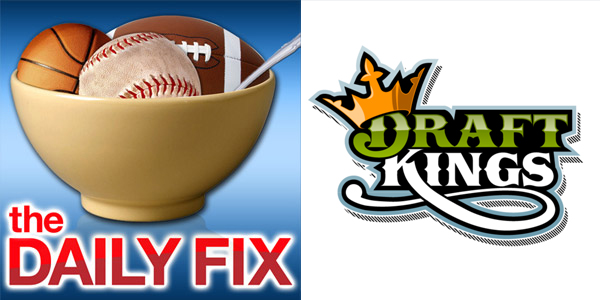 There were some issues with my last lineup. Apparently, a couple of players went on the disabled list. So, let me offer a logical explanation. The Daily Fixes require some lead time, so I look at the matchups for Wednesday on Tuesday and I look on Wednesday for the Thursday matchups. Sometimes, a team may make a change late in the night by disabling a player or switching a starting assignment. I will offer two tables to give you a backup plan in case my starting lineup cannot be adhered to. It's the least I can do under the circumstances.
I'm playing in a Double Up! contest. They range anywhere from a dollar to ten dollars, but each works the same way. If you finish in the top half you get almost twice as much as you put in. Naturally, DraftKings gets their cut because they have to pay their employees, the light bill, and make a little for their trouble. That being said, they are very generous to those that start playing as they will give you a deposit bonus you can access here.
DraftKings also has an exclusive contest for Fix readers this Friday. There are 50 slots available for just a $5 entry fee. The top two finishers get free entries into Friday's Punch Out Contest. Entries for that contest are usually $200, and they pay out is a whopping $100,000. Those who finish 3-10 will win $10, and those who finish 11-20 will win $5. Click here to join the contest.
My Lineup
| | | | | |
| --- | --- | --- | --- | --- |
| | Player | Opposing SP | Salary | Notes |
| Catcher | Jason Castro | J. Bonderman | 4,200 | He's quietly created more runs than every AL catcher except Joe Mauer. |
| First Base | James Loney | TBD | 3,500 | He's been steady so far this year, so it's a nice spot to save. |
| Second Base | Ben Zobrist | TBD | 3,800 | He's been heating up lately, so this price is too good to pass up. |
| Third Base | Evan Longoria | TBD | 4,100 | Somehow, he is cheaper than lumanaries like D.J. Lemahieu and Conor Gillaspie |
| Shortstop | Andrelton Simmons | Edinson Volquez | 4,100 | He's a steady hand and Volquez has struggled on the season. |
| Outfield | Yasiel Puig | Patrick Corbin | 4,000 | It's a tough matchup but he's been hotter than a pistol out of the gate. |
| Outfield | B.J. Upton | Edinson Volquez | 3,700 | He's hitting .276/.417/.517 in June with 2 home runs. |
| Outfield | J.D. Martinez | Jeremy Bonderman | 3,200 | He's hitting .275 on the road and Bonderman is not ready for prime time. |
| Pitcher | Francisco Liriano | San Francisco Giants | 9,700 | He has been one of the best pitchers in baseball since coming back from the DL. |
| Pitcher | Patrick Corbin | Los Angeles Dodgers | 8,500 | It's really hard to argue with 9-0. |
Like I've said in the past, most of these picks were based on matchups with that day's pitcher with the exception of Puig. If you have a problem with any of these selections, I offer the following as an alternative you can consider when making your selections.
A Reasonable Alternative
| | | | | |
| --- | --- | --- | --- | --- |
| | Player | Opposing SP | Salary | Notes |
| Catcher | Brian McCann | Edinson Volquez | 3,900 | He's been hitting for considerable power since coming off the DL. |
| First Base | Chris Carter | JeremyBonderman | 3,900 | He quietly has produced 13 HR on the season and Bonderman is weak. |
| Second Base | Jose Altuve | Jeremy Bonderman | 4,300 | Altuve has struggled of late but Bonderman should be easy to hit. |
| Third Base | Matt Dominguez | Jeremy Bonderman | 3,500 | He doesn't hit for high average, but he's on pace to hit 20+ home runs. |
| Shortstop | Yunel Escobar | TBD | 3,100 | He hit .169 in April. He's now hitting .254. You do the math. |
| Outfield | Desmond Jennings | TBD | 4,200 | He's not brilliant but power and speed is a good combination. |
| Outfield | Jason Heyward | Edinson Volquez | 3,800 | Ignore the overall numbers and make a pick based on ability and a bad pitcher. |
| Outfield | Chris Denorfia | Paul Maholm | 4,000 | Paul Maholm is a difficult opponent but Denorfia is a solid producer. |
| Pitcher | Shelby Miller | New York Mets | 11,200 | Anyone with an ERA under 2.00 in June is a pretty safe bet and the Mets suck. |
| Pitcher | Jordan Lyles | Seattle Mariners | 7,300 | He has not surrendered more than three runs outside of his May 12th start. |
An Alternative View
I normally don't like to plug other site's work, but Grantland is usually good for a lot of thought provoking stuff and Rany Jazayerli produced a great piece on abolishing the mlb draft. He was coming from the perspective of the player and how immoral it was for would be workers to be trapped into what he called indentured servitude. Of course, Mark Appel could get upwards of 7 million dollars or more as a bonus for being the first overall pick. I'd love to be trapped into that kind of indentured servitude.
The secondary point he made was one I was more intrigued by. If the teams could take their current bonus pool and spend it however they wanted on whoever they wanted, it would allow teams to be more creative and find different ways to win. The suggestion was made that a team could sign 20 or 30 guys to $250,000 bonuses depending on what their pool was.
With 11 million dollars plus, the Houston Astros could sign more than 40 such players and maybe get more major leaguers out of the exchange. Such a proposal would also reconfigure how MLB handles free agency compensation. Instead of surrendering picks (which teams aren't want to do) they could surrender draft pool compensation. Maybe a Type B (using the old rules) free agent could be worth 500,000 while Type A guys would be worth a cool 1 million.
At any rate, he provided a lot of food for thought as most of the structures for his proposal are already in place. If anything else. it would force teams to think outside of the box and would force them to pay attention to the quality of their player development and instruction. It also would make scouting that much more interesting.