2013 Fantasy Baseball Week 18 Waiver Wire: 3 to Cut, 3 to Catch, 3 to Keep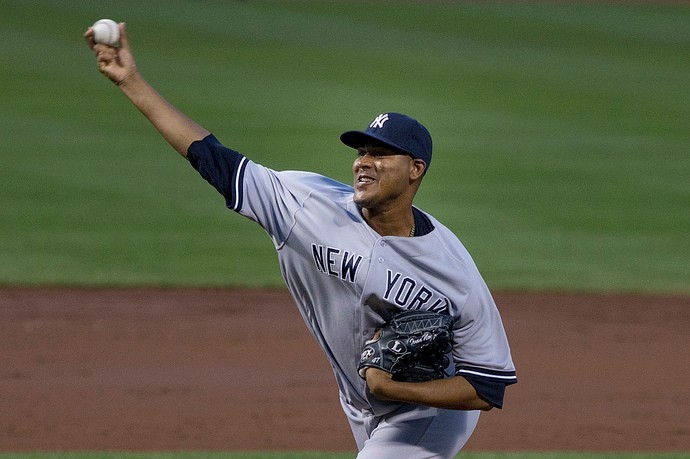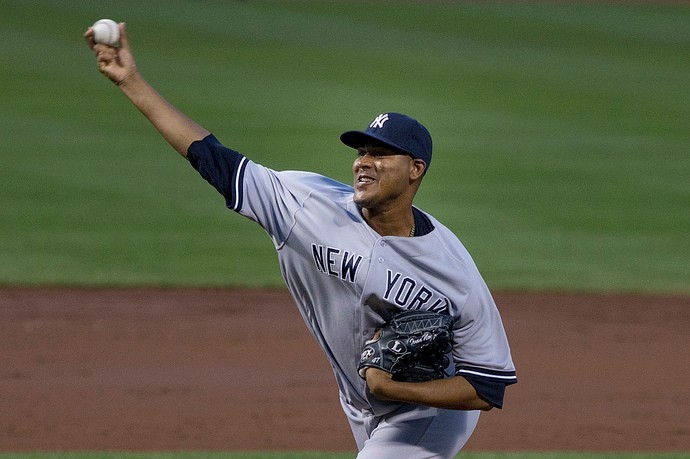 We're back on track for the Week 18 edition of fantasy baseball 3×3, where we're keeping the faith with Jurickson Profar, handing Bronson Arroyo his walking papers, and hitching our star to the new and improved Ivan Nova.
There are plenty of waiver wire columns out there that provide an exhaustive list of the most added players in fantasy leagues. This isn't one of them. Here, we'll run down a few lesser-known, lesser-considered, or lesser-owned players, with perspective on who deserves a your attention, who deserves your patience, and who deserves to go straight to bed without dessert.
3 TO CATCH
Ivan Nova has been dazzling in his 66 innings this season; he leads all Yankee starters in strikeout rate, groundball rate, and FIP. The fact that he's owned in just over a quarter of Yahoo! leagues suggests that the fantasy community isn't quite buying this early renaissance, but there's real evidence to support this improvement.
Nova still pitches off his fastball, but he's become much less predictable, mixing in more curveballs and changeups early in counts. He still relies on the heater when he's behind in the count, but when you're fastball is a 93 mile-per-hour bundle of kinetic electricity, there's nothing wrong with a "here it is, hit it" approach. Hitters only put Nova's four-seamer in play on a third of their swings (the other two-thirds are fouls or whiffs) and when they do, it stays on the ground nearly half the time. Not exactly a cookie.
When he's able to get ahead in the count, Nova has all but scrapped the slider that used to be his putaway pitch. Instead, he's leaning heavily on his curve, throwing it in 48% of two-strike counts against righties and tossing it in a whopping 69% of two-strike counts against lefties. This year's model of Nova's curveball has been devastating, generating a near-30% whiff rate that's by far the best of any of his offerings and five percentage points better than the slider he'd featured during the first three seasons of his career.
This is a new Ivan Nova, and one who probably deserves a spot on your fantasy team.
To pick him up, I'd drop: Tommy Milone, Ian Kennedy, Ryan Dempster
If the recent trades of Matt Garza and Alfonso Soriano weren't enough to tell you that there's a near certain chance that Kevin Gregg will be traded, then listen to Theo Epstein, courtesy of ESPN Chicago:
"Potentially, we will be hearing from people on the guys who we don't control after this year," Epstein said. "It would make more sense moving those guys."
In case you were wondering, no, the Cubs don't control Kevin Gregg after this season.
When he does get traded, it's very likely that Pedro Strop will slide into the closer's role. James Russell is a better pitcher, but he's likely to be moved as well.
Strop isn't overwhelming, but he's plenty good enough to register five or so saves down the stretch. He walks more batters than I'd prefer, but strikes out nearly a quarter of the batters he faces, featuring a Marmolian slider with a whiffs-per-swing rate near 60%. He's a great speculative add for any owner who could use a few saves.
To pick him up, I'd drop: David Robertson, Heath Bell, Brandon League
Just when you thought you'd seen all of the overwhelmingly talented Cuban outfielders MLB had to offer, here comes Henry Urrutia. The 26-year old signed with Baltimore last July, but due to visa issues, wasn't able to start work in the Orioles' farm system until this summer. No big deal. Urrutia has eviscerated minor league pitching, racking up a .365/.433/.550 slash line at AA and a .367/.406/.467 line in a couple week's worth of AAA action.
Just for a point of comparison, Yasiel Puig posted a .313/.383/.599 line at AA.
Urrutia doesn't have Puig's speed, nor does he have anything close to Puig's defensive capabilities, but luckily for him, the Orioles have a designated hitter slot that so far has produced a batting line that would make Jeff Keppinger blush. Urrutia has done enough in the minors to more than earn his slot and without a reliable backup plan, the Orioles will have no choice but to let him work out his issues at the major league level. If his minor league performance, the recent track record of Cuban hitters adapting to MLB pitching, and the display he put on during futures game batting practice are any indication, he'll be just fine.
To pick him up, I'd drop: Christian Yelich, Dayan Viciedo, Garrett Jones
3 TO CUT
Now that Alfonso Soriano has moved back to NYC, rookie Junior Lake has clear sailing to a full time gig for the rest of this season. A 46 plate appearance debut in which he's slashed .349/.378/.558, hit two home runs and swiped a bag has fantasy owners excited. Lake is among the most added players in fantasy on the heels of his scintillating debut, but smarter owners would be wise to pump the brakes on this one.
Although Lake has a strong batting average record at the minor league level, his .419 BABIP just isn't sustainable, especially not with a 36.5% chase rate and 12.8% swinging strike rate that are both significantly worse than league average. Only Chris Davis, Adam Jones, Carlos Gonzalez, Carlos Gomez have survived plate discipline that poor to hit for a batting average better than .290 this season. Color me skeptical that Lake is already on that level. The two home runs are nice, but Lake hasn't shown much more than average power in the  minors, certainly not enough to make Chicago's bleacher bums fear for their safety during one of their Bud Light-induced afternoon naps.
His speed is probably the most translatable skill in Lake's arsenal, but at this point in the season, he likely won't register enough attempts to make it count. The Cubs rank near the bottom third in the majors in terms of aggressiveness on the basepaths, and their most aggressive runner has recently switched to a darker shade of blue pinstripes. Now that Soriano is gone, there's not a single Cub left with double digit steals this season.
I'd trade/drop him for: Adam Eaton, Leonys Martin, Lorenzo Cain
Just about a month shy of his 36th birthday, Marlon Byrd is in the middle of a reinvention, taking a more aggressive approach at the plate than he ever has before. His chase rate, swing rate, and swinging strike rate have all reached career high levels, as has his HR/FB rate, which, at 20.5%, is nearly double his previous career high.
Prior to this season, Byrd was a fairly simple hitter to understand. He could turn around a fastball, but pitchers could pacify his bat with breaking stuff. Between 2007 and 2012, Byrd slugged a robust .336 against breaking pitches. This season, that number has leapt to an even .500. That sort of thing just doesn't happen. Established big leaguers in their mid-thirties don't suddenly learn new skills. I can't say for sure whether Jobu is involved, nor will I make any accusations based on Byrd's shady past, but I can say that I don't trust this improvement.
Pitchers have inexplicably thrown Byrd more hard stuff this season; I certainly don't expect that trend to continue. I do expect Byrd's effectiveness to wane substantially over the rest of the season.
I'd trade/drop him for: Carlos Quentin, Andre Ethier, Brandon Moss
At some point, the wheels have to come off for Bronson Arroyo, right? Throughout his career, he's shown an uncanny ability to post an ERA better than his FIP, but this season's full run gap (3.26 ERA vs. 4.24 FIP) is ridiculous. If he keeps this up, I'm going to have to seriously rethink my perspective on the game of baseball.
It's like he's not even trying to miss bats. Only Jeremy Guthrie and Lucas Harrell have lower swinging strike rates; twelve pitchers (including teammates Mat Latos and Home Bailey) have registered swinging strike rates that double Arroyo's 5.5%. I think he's just trolling me.
Nearly 60% of his pitches leave his hand at less than 80 miles-per-hour. He strikes out fewer than five batters per nine innings. Yet here he is, not only holding down a spot in the Ciincinnati Reds rotation, but posting a better ERA than Latos and Bailey.
I very much doubt that you can get back anything of value in a trade for Arroyo, but unless you're desperate for wins, there's probably a higher upside starter available on your waiver wire.
I'd trade/drop him for: Tony Cingrani, Wei-Yin Chen, Corey Kluber
3 TO KEEP
Fantasy baseball trade deadlines are typically at least a couple of weeks after the real life trade deadline, but with seasons both real and fantasy beginning to sift the contenders from the also-rans, the pressure to make a move is bearing down on fantasy owners just as much as real life GMs. Unfortunately, we're not blessed with multiple levels of prospects from which to deal (if I'm wrong and your league is actually like this, a hearty thumbs-up to you, my friend); more likely, you've got no more than one of two prospects to dangle if you're looking to deal for short-term help.
Jurickson Profar's lack of short term production would seem to make him a perfect trade candidate, I'd caution any keeper owners looking to move him. While Profar hasn't produced up to the third-deck expectations we all had for him, he is starting to show signs of settling in at the major league level; his walk and strikeout rates have both improved in every month since his call-up in May, peaking at 11.3% and 15.1%, respectively, in July. The power and speed have still declined to make the three-hour drive up from Round Rock, but I'll give him a pass. I can't imagine a role less conducive to player development than the one Profar is playing for the Rangers right now. It's great to make use of his versatility, but Texas has gone overboard. Profar hasn't started back-to-back games at the same position since June 10! Under those circumstances, I can't fault him for this unsightly hiccup.
Despite Ron Washington's best efforts, baseball's former #1 prospect is not ruined. Unless you get a Godfather offer, be patient with him in keeper leagues.
I wouldn't trade/drop him for: Andrelton Simmons, Jed Lowrie, Neil Walker
Over the last month, Eric Hosmer ranks second among all AL first basemen in batting average, home runs, and slugging percentage. Didn't see that coming after last year's .232/.304/.359 slash line, did ya?
As somebody who personally got burned by Hosmer last season, I've approach his recent bounce-back with a very skeptical eye. Last season's disappointment can't be overstated (look at that slash line!), however, Hosmer has found a style this season that allows him to take full advantage of his unique talents. He's taken a selective approach, not necessarily swinging less frequently, but only attempting to elevate balls he knows he can drive.
If he fit the mold of the typical lumbering first baseman, it'd be easy to criticize his near-60% ground ball rate, but with speed befitting a corner outfielder, hitting the ball on the ground is a perfectly acceptable approach. No first baseman has hit for a better batting average on more ground balls than Hosmer's .268.
On the rare occasions when he does choose to elevate the ball, good things happen. His 15.5% HR/FB rate is a career high, and his .524 wOBA on fly balls ranks as the 20th-best mark in baseball. Despite playing half of his games in Kauffmann Stadium, a place where pitchers don't have "the same fear factor of getting beat deep," every one of Hosmer's six home runs in KC has been judged to have plenty of distance by ESPN's Home Run Tracker. In fact, only one of his 11 home runs has rated as "Just Enough," a fact which seems much less surprising given the fact that Hosmer's average fly ball distance travels 296 feet, a mark which ranks 24th-best among all MLB hitters.
Hosmer will never be an elite power source, but no first baseman this side of Paul Goldschmidt can match him for well-rounded fantasy production.
I wouldn't trade/drop him for: Mike Napoli, Freddie Freeman, Albert Pujols
I'm writing this paragraph about Jhonny Peralta, but it goes for Nelson Cruz, Bartolo Colon, and the rest of the players who've been embroiled in the Biogenesis rumors. Ok, not all of the, not A-Rod. If you think owning him in a fantasy league is a good idea, you're doing it wrong.
Anyway, if you own Peralta, there's really nothing you can do but hang on and hope for the best. Given what just happened to Ryan Braun, there's a very real chance he'll be suspended. However, MLB clearly targeted Braun because of his vehement lies, ahem, denials, and his largely unprovoked takedown of his sample collector. Peralta never made such vociferous claims, so there's a chance that either MLB will be less motivated to suspend him or Peralta and his representation will be more motivated to lodge an appeal that might keep him on the field for the remainder of this season.
Who knows.
If you've got enough bench space to build up a backup plan, go for it, but there's no way to get fair value for him in trade, mostly because the uncertainty surrounding him makes it damn near impossible to accurately evaluate his value going forward.
Agree, disagree, need advice? Drop it in the comments.
Either way, follow me on Twitter @gerardowrites and thanks as always to FanGraphs, Brooks Baseball, Texas Leaguers, and Baseball Heat Maps for the data.