2014 Fantasy Baseball: Carlos Gomez Is Who Some Thought He Was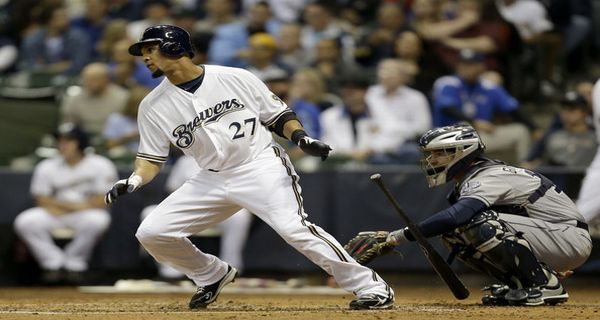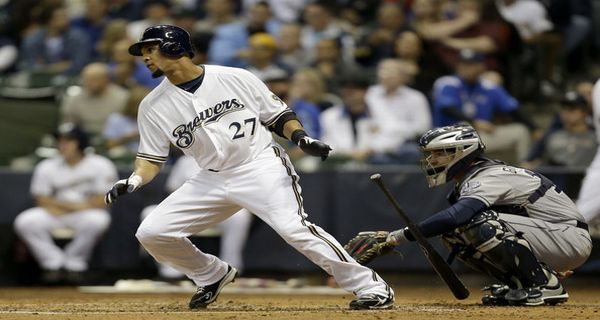 Note: All stats are as of Tuesday, September 23, 2014. 
Carlos Gomez was an interesting name during Draft Season. There were two camps, basically. One camp, of which I was a member, believed he was legitimate, and would more or less repeat; if his batting average faltered a little, his power/speed should pick him up. The other side believed his batting average wouldn't hold up, thanks to his free swinging ways, ultimately making him the option he was in 2012; a year in which he was still good, but not a borderline first round talent.
The former group won out. Gomez's batting average held, his on-base percentage improved, his power stayed basically the same, and his speed dipped a little. The weirdest part, though: no one has really talked about him unless they're talking about his "antics" on the field. Hell, I'm not even sure I've seen a Gomez highlight unless you count him yelling at Gerrit Cole. That's somewhat offensive, considering that outside of Chris Davis, who flopped miserably, he was the most questionable early round pick in the eyes of many. So, let's recap.
[am4show have='p3;p7;p11;p13;' guest_error='Front Office' user_error='Front Office' ]
As I mentioned, his batting average has stayed roughly the same – .284 in 2013 versus .281 this season. And his on-base percentage has risen a little: .338 versus .351, thanks to a few more walks, and being plunked nearly ten more times. (Maybe those antics matter after all?) Reaching base more often has enabled him to score more runs, nearly reaching 100 for the first time in his career.
He has managed to swipe 33 bags so far, but he's been caught 11 times, a success rate of 75%; his numbers last season were: 40, 7, and 85%, respectively. You can make the case he's lost a step, but he's still fast enough to be plenty valuable on the bases. His ISO (isolated power) has fallen a little, thanks to fewer home runs and triples, but it's still pretty solidly above the .180 mark. After hitting 24 dingers last season, he's swatted 21 this year, which is probably in line with what you were expecting if you drafted him.
All in all, the pieces above add up to this: Carlos Gomez has been the 11th best player (8th best offensive player) this season, outpacing his second-round (ADP of 23.4) draft price by quite a bit. The following players were taken in front of Gomez, on average: Chris Davis (6th overall), Carlos Gonzalez (7th), Prince Fielder (13th), Hanley Ramirez (14th), Ryan Braun (15th), Bryce Harper (20th), Joey Votto (21st), and Evan Longoria (22nd). CarGo is defensible. He's a phenomenal talent with a long track record. Davis, Fielder, Hanley, Harper, and Braun, on the other hand, had just as many, if not more, questions than Gomez. This is just a reminder that fantasy sports are cruel, but that we have to do better about not pumping up certain players with questions while downgrading others. I'm guilty of it, too. I have to do better.
***
Gomez's 2014 hasn't been that different on a component level either. He's hit the same pitches well to varying degrees. But his work versus fastballs may be the most encouraging part of his evolution, though.
Over the course of his career, Gomez hasn't fared very well versus fastballs, posting a -13.5 pitch value. And that number would be a lot worse if he didn't put up a fantastic 14.1 mark this season.
Hitting fastballs is a must, and improvement is always a good development. Gomez's work versus fastballs this season has paired very well with the approach he began to utilize in 2012. That approach is: swing hard in case you hit the ball.
As always, though, with that type of approach, contact is important. And in that regard, Gomez is still pretty safe. He still chases often – an aspect that will never change based on his approach – and he doesn't make a a lot of contact on pitches outside of the zone. He does, however, have a contact rate above average on pitches he swings at in the strike zone. When you pair that with his well above average swing rate at pitches in the zone, it's somewhat easy to understand how he keeps his strikeout rate in check despite his free swinging ways.
***
Gomez is likely going to be a top-15 pick next year, and it's hard to find a reason for him not to be. Sure, he swings and misses a good deal, but he's also very good at putting bat-to-ball on the pitches that should be put into play.
Since 2012, Mike Trout, our resident Demigod, has hit 92 home runs while swiping 97 bags, giving him a league best HR+SB total of 189. Carlos Gomez's HR+SB total in that span is 174 (64 HR and 110 SB). Trout has done so with a .313 AVG and .405 OBP; Gomez, .276 and .334, respectively.
Outside of Trout, Andrew McCutchen, and maybe Giancarlo Stanton, if he swipes nearly 15 bags again, there might not be a more well rounded fantasy player than Carlos Gomez, especially if Miguel Cabrera's power doesn't bounce back to its normal levels.
Rejoice. Gomez has done things his way. And it's worked out beautifully. Chalk up a win for players that perform better when they aren't forced to fit a mold. And, lastly, no Gomez piece is complete without a gif.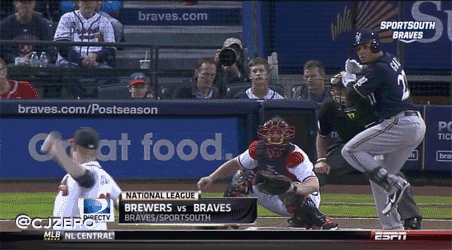 [/am4show]