2014 Fantasy Baseball: The Daily Double Switch for August 12th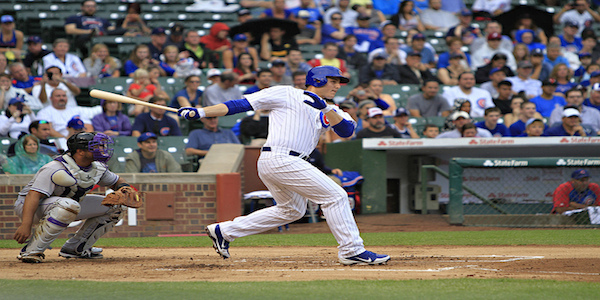 Welcome back to the Daily Double Switch here at the Fantasy Fix. For those who aren't yet Daily Fantasy baseball players at DraftKings, head over there via this link and join. DraftKings gives you $50,000 to draft eight hitters (one at each position) plus two pitchers. When you join they will double your initial deposit, up to $600, so it's a great time to jump in. Let's take a look at today's slate, and see where we can exploit the matchups! You can find me on twitter @RyNoonan if you have player specific questions.
[am4show have='p3;p4;p7;p11;' guest_error='Front Office' user_error='Front Office' ]
 Game times and Weather
We have a full slate of games today, starting on the east coast at 7:05 pm est. It's going to rain, and rain often today. We're expecting rain to impact the Yankees @ Orioles, Diamondbacks @ Indians, Tigers @ Pirates and Nationals @ Mets contests. Rain is going to wreak havoc tonight.
Stacking options
There are so many ways to skin this proverbial Daily Fantasy Sports cat, and a very popular way to construct your DraftKings team is by stacking your roster with multiple players from one or two teams. Avoiding all of the weather related contests today will be a challenge but we can still stack the Angels and Blue Jays today. Reliever turned starter Jerome Williams gets the nod against his former team in Anaheim, and targeting the cheapest pitcher on the board is a good way to go. The Angels should hang a crooked number on the Phillies today. Also in Seattle we have a fly ball pitcher, Chris Young, facing a fly ball dominate team in the Blue Jays. Stack away.
Pitchers
Nationals starter Doug Fister ($8,400) is the best value on the board today, but stay away due to the weather in New York. We'll need to get creative with our bats today because I'm spending on pitching, and lets face it, if the pitchers don't perform than the hitters are irrelevant. I try and watch every Chris Sale ($12,500) start if I can. He's got electric stuff and keeps hitters off balanced all game, and should do the same today in San Francisco. No team is hotter than the Kansas City Royals, but an ace like Jon Lester ($11,600) can change that in a hurry. Momentum is only as good as the next days starting pitcher, after all. I called Adam Wainwright ($9,500) a sell-high candidate at the All-Star break, and he's made me look wicked smart. Elite pitchers tend to make their own luck in a sense, but he seemed to be out-pitching his peripherals more than he typically does. I like Colin McHugh ($8,700) today and the price is right to pair him with Sale. He's keeping the walks down and still striking hitters out with that big ole' curve.
 Catcher
Rarely does the catcher position provide us with multiple viable options, but today we can. My favorite play is Dioner Navarro ($3,200). He's cheap, works with my Blue Jays stack and is 4/4 in his limited opportunities against Chris Young. Rarely does A.J. Ellis ($2,500) see his name in the bright lights of the Daily Fix, but alas, today is his lucky day.
 First baseman
Anthony Rizzo ($4,900) has to be one of the most improved players in the game this season. His elite price tag fits, because he has become an elite performer. I like also like Albert Pujols ($4,400) today, as yet another Angel hitter that should feast off of Jerome Williams.

Second baseman
The rain will impact me here again, so Danny Valencia ($2,500) is my target today. He's hitting well of late, and he fits the Blue Jays stack. He's a nice value. Otherwise you can stay with the Angels here and make Howie Kendrick ($3,400) your play.
 Third baseman
Another day, another bunch of studs at the hot corner. That just sounds wrong, I'm sorry. Have you heard about Josh Harrison ($4,400) lately? We've been using him quite often here. The only thing that can put out his fire at the dish is mother nature. We don't typically offer you our 'gut' feelings here at The Fantasy Fix, but my gut tells me that Nolan Arenado ($4,200) is going to have  a strong finish to his 2014 season. The Rockies have little to play for, and that pairs well with Arenado's aggressive approach on the field. Nick Castellanos ($2,700) will be underrated next draft season, he's a better hitter than his numbers are showing so far.
 Shortstop
I like a mini Cubs stack today, with Rizzo at first and teammate Starlin Castro ($4,500) over at shortstop. He's 10/21 against Wily Peralta in his career. I think avoiding the limited pitcher-vs-batter data is a mistake. Some call it too small of a sample size, and I agree that often they are, but often times the data is applicable and shouldn't be ignored. This is one of those cases. The Angels' Erick Aybar ($3,400) is a cost-effective alternative.
Outfielder
We've got options galore here as well again today. If we sprinkle in some of the cheaper options above, we can put together a formidable outfield today, led by Josh Hamilton ($3,800). Easily the best play on the board today, and he won't even cost you $4,000! Those savings could make Mike Trout ($5,400) an option today, but if not his other outfield-mate Kole Calhoun ($3,500) is a decent value play. The Blue Jays pair of Melky Cabrera ($3,900) and Jose Bautista ($5,100) make sense today as well.

Good luck today! We've been winning quite a bit lately, so find me on twitter and let's celebrate your success!
[/am4show]