2014 Fantasy Baseball: The Daily Fix April 23rd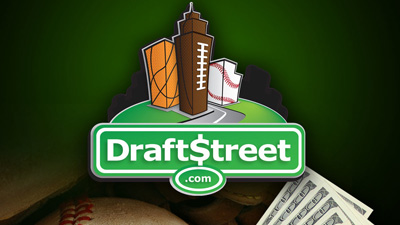 It's still early in the season, so we are still learning the ropes over at Draftstreet. We've talked about stacking before and the folks over at Draftstreet are on to that strategy. So, they've limited you to four players from any one team in the starting lineup. I found out that little nugget when I tried to pick on Mike Pelfrey in tomorrow's game. Sadly, Draftstreet wouldn't let me start the entire Rays outfield against him. We'll have to do a little more work.
Stacking is the way I like to handle my business. Early in the season it can be pretty tricky figuring out who the bad pitchers are, but normally past performance (as in 2013 and prior) is a pretty good predictor of future performance. The best way to go about it is to gamble small amounts of money frequently. That way, if you play the percentages you will be sure to win more often than you lose. If you play heavy for only one or two days you can be burned by random performance.
I like to play in the double up contests because the odds of winning are the greatest. All you have to do is finish in the top half and you win almost twice the money back. Of course, I'm not a big time gambler. I like to have a little action on the day to make it exciting to look at the box scores. However, they have plenty of games for you to try if you want something a little more risky and rewarding.
| | | | | |
| --- | --- | --- | --- | --- |
| | | Salary | Opposing SP | Comments |
| C | Alex Avila | 3823 | Andre Rienzo | When you haven't heard of the pitcher it's a good idea to pick on   him. |
| 1B | James Loney | 7655 | Mike Pelfrey | Pelfrey isn't absolutely terrible, but he's one of the worst on this   day. |
| 2B | Jonathan Schoop | 4621 | Dustin McGowan | Schoop isn't very good, but neither is McGowan. Let's hope hitting   wins out. |
| 3B | Nick Castellanos | 5985 | Andre Reinzo | Castellanos is a good young hitter and this looks like a good matchup |
| SS | Yunel Escobar | 3944 | Mike Pelfrey | Escobar is cheap and sometimes you have to go cheap to afford what   you want. |
| OF | Wil Myers | 6721 | Mike Pelfrey | Myers is off to a good start and this matchup should be exploited. |
| OF | Desmond Jennings | 5829 | Mike Pelfrey | See above. |
| OF | Nick Markakis | 6752 | Dustin McGowan | Markakis is not the player he once was, but he should be good on this   day. |
| U | Jayson Werth | 5683 | Jered Weaver | Werth has been on the money since the beginning of last season. |
| SP | Gio Gonzalez | 18888 | Los Angeles Angels | Let's say that Gonzalez has a good chance to win this one. |
| SP | Kyle Lohse | 17241 | San Diego Padres | Lohse is off to a good start and the Padres are normally   underwhelming offensively. |
| P | Jake Odorizzi | 12914 | Minnesota Twins | Considering it's Mike Pelfrey, he has a good chance to win. |
You will undoubtedly notice that some of the players above are lesser known guys. That's the central characteristic of the stacking strategy. Instead of picking premium guys, you pick lesser players going up against lesser pitchers. The idea is that every dog will have his day and usually that day is against a lesser dog. If that doesn't impress you, then here are some other possibilities you can consider.
| | | | | |
| --- | --- | --- | --- | --- |
| | | Salary | Opposing SP | Comments |
| C | Ryan Hanigan | 6765 | Mike Pelfrey | If you want to stack against Pelfrey another way. |
| 1B | Chris Davis | 7741 | Dustin McGowan | He hasn't been the same guy this year, but this might be a breakout   opportunity. |
| 2B | Ben Zobrist | 8158 | Mike Pelfrey | See above. |
| 3B | Evan Longoria | 6936 | Mike Pelfrey | See above. |
| SS | J.J. Hardy | 4828 | Dustin McGowan | Hardy has more power than most shortstops. |
| OF | Austin Jackson | 6717 | Andre Rienzo | Jackson hasn't been brilliant, but this could be a good breakout   opportunity |
| OF | Matt Joyce | 6308 | Mike Pelfrey | He has been hitting better than a lot of people give him credit for. |
| P | Zack Greinke | 19858 | Philadelphia Phillies | He's 3-0 on the season and Cole Hamels is making his debut. |
| P | Michael Wacha | 20739 | New York Mets | The Mets are not exactly a juggernaught. |