2014 Fantasy Baseball: The Grandy Man Can, Right?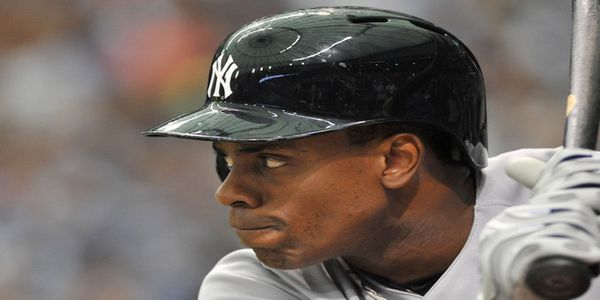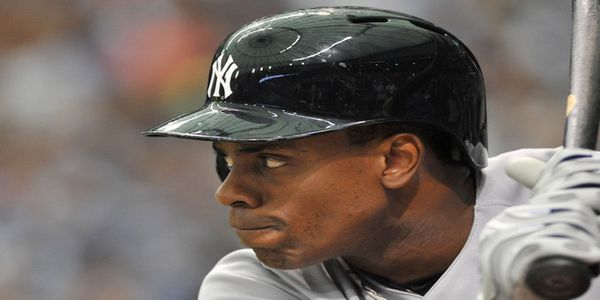 Curtis Granderson found a new home today when he signed with the Mets for 4 years. There's no mistaking how valuable "The Grandy Man" has been for fantasy owners since he landed in the Bronx in 2010. He smashed 84 homers combined in 2011 & 2012. Last year, 2013, however, was basically a wash. Granderson couldn't stay on the field. Granted, the injuries weren't exactly his fault, so it's hard to hold them against him too much.
With Granderson's move comes the realization that he will no longer benefit from the short porch in Yankee Stadium. If we combine that fact with the risk that his power could be sapped from last season's wrist injuries, then we have to wonder what we're getting in 2014 from Curtis. Just how worried should we be?
The main issues I have with who have Granderson has become in recent years are all related to his plate discipline and contact numbers. He's still been able to post solid walk rates, but once we dig a little deeper the signs of a decline are much more dire.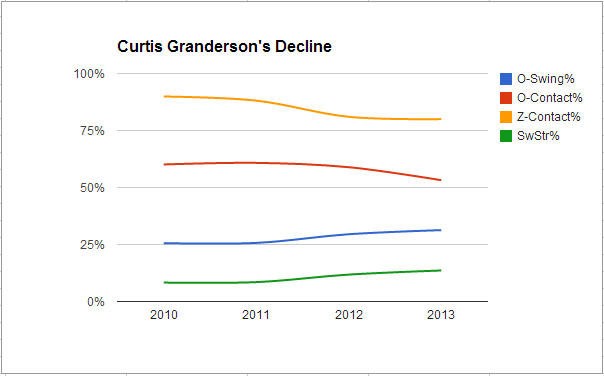 Every line on this chart is trending in the wrong direction and I didn't even include his spiking K% (28% the last two seasons). His contact on pitches in the zone (orange line) has cratered. It's somewhat intuitive. He's obviously sold out for more power in recent years, but I believe we may have reach the point where the trade-off isn't worth it. He's chasing more and more (blue line) and coming up empty on more swings (green line). Not good.
Thanks to the handy work of Fangraphs' Jeff Zimmerman and Bill Petti, we have aging curves for the majority of the plate discipline stats we like to look at.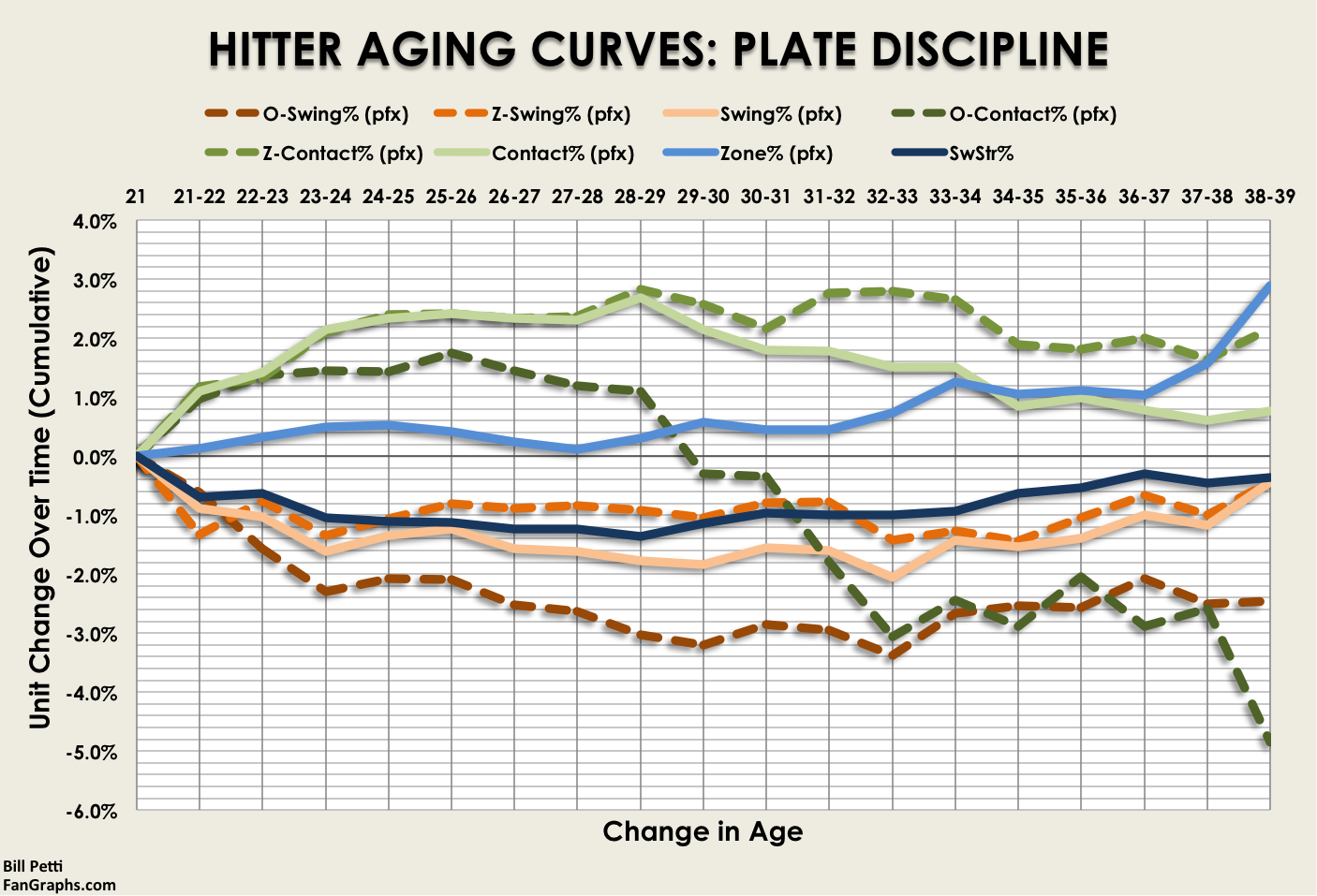 The chart may seem a little messy, but I wanted to place it here for your viewing pleasure. Granderson is entering his age 33 season, which puts him on the wrong side of nearly all of the lines on this chart.
Granderson's changing plate discipline profile somewhat explains his new low average/low OBP profile. If you're selling out for more power, you're likely going to have a lower average. In Granderson's case, the sellout seems extreme at this point, so an extreme drop has coincided. Unfortunately, Granderson's likely firmly past his power peak as well.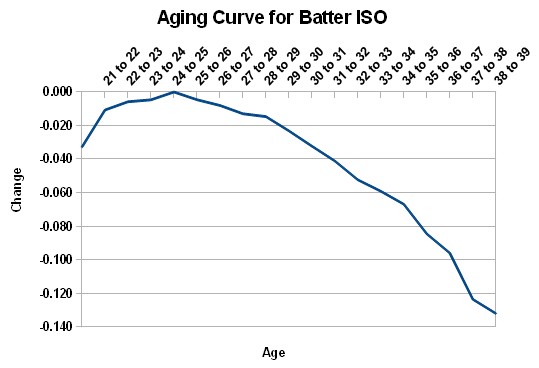 Once again, credit for the chart goes to the wonderful guys at Fangraphs. Another chart, another round of bad news regarding Granderson. He's well past his power peak and is now running full speed into steep decline territory. Granderson's average flyball distance in 2013 (small sample size) was 275. That's down 10 feet from 2011 & 2012 and down 20 feet from 2010. Being past your power peak and leaving an extremely friendly hitter's park at the same time seems like a recipe for disaster.
That's Grandy's 2012 homer plot complete with an overlay of City Field. Not all of his home runs that season came in Yankee Stadium, but the majority of them did (26 home vs. 17 away). I just wanted to attempt to show how much of an affect moving across town would have on how far Granderson must hit his homers down to right/right-center field. Obviously, more goes into how a park plays than where the fences are. Park factors by handedness can tell us a little more than the chart above – but there'd be no cool picture. Yankee Stadium's home run park factor for lefties in 2013? 114; tied for the second best mark in the major with Camden Yards. Citi Field comes in at 101 which is basically middle of the pack.
If you haven't had enough bad news yet, I'll give you a little more. Granderson doesn't run anymore. He's only stolen 25 bases once since 2010, and aside from that 25 steal campaign he hasn't topped 12. Expecting more than 10 – 12 steals – on the upper bound – seems like wishing at this point.
Where Does That Leave His Value In 2014?
I'm not sure there's much there. He likely won't cost much; at least as much he used to. ESPN's Tristian Cockcroft, who usually has a pretty large influence on their rankings, has him ranked as his 32nd best OF entering 2014, ahead of Carl Crawford, Jayson Werth, Alfonso Soriano (somehow went 34/18 last season), and Carlos Beltran. I'll give you Crawford, but there is no chance I'm taking Curtis Granderson over either of the other 3 guys – especially if Beltran finds an AL home where he can DH.
Steamer's early projections (not sure if they were done specifically with Yankee Stadium in mind?) for Granderson are: .233/.326/.442 with 26 homers and 12 steals in 138 games. I'm not that high on him. Sure, 26 homers is doable, but I wouldn't be shocked to see him finish below 25. And I definitely don't see 12 steals considering he's only gotten there once in the past 3 years, although he did swipe 8 last season in 61 games.
Bryce Harper's 2013 numbers (.274, 20 homers, 11 steals, 71 runs, 58 RBI) allowed him to rank 41st on ESPN's player rater among players with OF eligibility. Granderson, barring a miracle, isn't hitting .274 in 2014. The homers could be there and I suppose the steals could, but are you really taking a chance on it? Granderson looks like Chris Carter with a little less power and a little more speed in 2014 to me. That makes him a back half of the draft flyer with little value in shallow leagues.
Thanks to Fangraphs for the data and charts.