2015 Fantasy Baseball Team Preview: Pittsburgh Pirates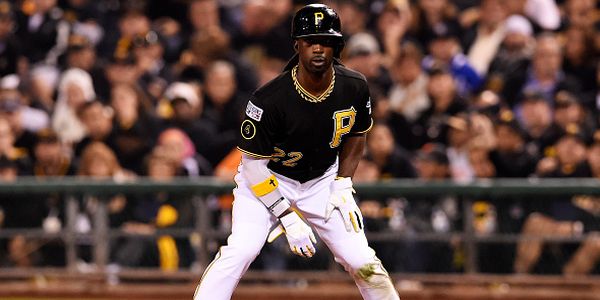 The following is a team preview for the Pittsburgh Pirates from a fantasy baseball perspective, contributed by Brian Dunshee.
Offseason Overview
The Pittsburgh Pirates enter the 2015 campaign as one of the few standout NL powers, having two MVP caliber players on their team in Andrew McCutchen and Starling Marte. Though they lost the productive Russell Martin to free agency, the Pirates are confident that this could finally be their year. After years of mediocrity, they appear to have the firepower to take home the first NL Central division title in team history.

Top Draft Picks
Superstar outfielder Andrew McCutchen should be a top five pick no matter what type of a league you're in. The 2014 NL Most Valuable Player has been one of the most consistent players in baseball dating back to 2011 having hit at least 20 home runs and stolen 15 bases in each season while maintaining a batting average over .300 the past 3 years.
Starling Marte is starting to make his case as a top fantasy outfielder as well, stealing over 70 bases the last two seasons along while owning a .285 average in that span. Marte offers a little pop as well, hitting 25 home runs over the past two seasons.
The Pirates believe they have a special pitcher in Gerrit Cole, who is heading into the 2015 season as a top 25-fantasy pitcher. He has the potential to take a huge leap this year and join the conversation as one of baseball's best pitchers. Entering his age 24 season, Cole is looking to eclipse 200 innings for the first time in his young career and lead this pitching staff into the playoffs.
High Upside
Gregory Polanco didn't live up to the hype that was surrounding him last season, but that's no reason to shy away from the 23-year-old former top prospect on draft day. With about half a season in the big leagues under his belt, he could be ready to take baseball by storm. Prior to his call up, Polanco hit .328 over 274 at bats with 51 RBIs and 16 stolen bases. He could be poised for a big season in the middle of a great lineup in Pittsburgh.
It was just two years ago that Pedro Alvarez led the National League in home runs with 36, but after an abysmal 2014 campaign, those days seem like a distant memory. Alvarez is making the shift over to first base, signaling that his days at the hot corner have officially ended with Josh Harrison establishing himself as the team's everyday third baseman. The Pirates hope that the transition over to first will be smooth for Alvarez and possibly jump start his offense. Wary fantasy owners will stay away from him, concerned he will have an Adam Dunn-like negative effect on their team batting average. If Alvarez starts to have a season like last year's, it's tough to see him being penciled in the lineup every day, however he will be available either very late or very cheap, depending on your format. In the post steroid era, power is at a premium more than ever before, even if it comes with a .240 batting average.
High Downside
Among second baseman last season, Neil Walker was tied for first with Brian Dozier in home runs with 23. Walker was also fourth in RBIs, and first in slugging percentage. Still, ESPN's Tristan Cockcroft has him ranked 14th among second baseman for this upcoming season while Rotographs has him ranked 9th. Second base can typically be a thin position, especially in terms of power, so getting Walker in the later rounds of your draft could be a steal. But if you are expecting him to duplicate last year's numbers you will likely be disappointed.
When healthy over the past few seasons, Francisco Liriano has been one of the top pitchers in the game. In his two seasons with the Pirates, Liriano has averaged a 3.20 ERA while owning a 9.4 K/9. The risk with Liriano is and always will be injury, and he hasn't topped 163 innings since joining the Pirates. He should get drafted around the same time as guys like Ian Kennedy and Drew Smyly, and although you may get elite numbers when he pitches, there is a reason a player with this much talent is still available so low. Proceed with caution.
Closer Situation
Talk about a revitalized career. After being a throw-in from the Red Sox in a trade that sent All-Star closer Joel Hanrahan to Boston, Melancon has become one of the most trusted 9th inning pitchers in fantasy baseball. He blew just four games last season, while keeping his ERA under 2.00 for the second straight year. He should be around the fifth or sixth closer taken off the board in a draft this year, offering plenty of upside finishing games for one of baseball's best teams.
Impact Minor Leaguers
While many thought that Jameson Taillon would arrive to the majors shortly after Gerritt Cole, injuries have derailed those plans. Although his Tommy John surgery was successful, the Pirates will go slowly with their prize prospect, drafted second only to Bryce Harper in the 2010 MLB draft. Taillon has not been as imposing as the Bucs hoped when they drafted him (8.39 ks per 9 innings). The likely best-case scenario is that we see him in September as a late season call up. The big name in the Pirates' system these days is right-hander Tyler Glasnow, whose 6'7 stature on the mound makes his 97mph fastball even more imposing to hitters. Glasnow competed in High A last year, so it is a big jump to the majors in one year. However, he has punched out 365 batters in 274 innings with a career era of 1.94. Can you say right-handed Chris Sale? He will likely remain in the minors all year, but watch him early. If he dominates in AA and if the major league rotation is hit with injuries, you don't want to get caught napping on this future fantasy stud.
Surprising Stat
Korean shortstop Jung-Ho Kang hit 40 homeruns and drove in 117 runs in only 117 games in the Korean Baseball Organization and was the league's MVP. I don't care what league you play in, that's a boat load of big flys. Although the Pirates paid more than $5MM to sign him, he will come to Spring Training in Bradenton trying to win a job.