2015 Fantasy Baseball: Week 13 Two-Start Pitchers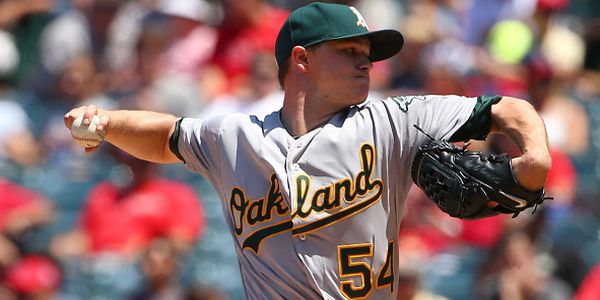 A fantasy owner's best friend is the waiver wire — where finding value can make the difference between a great week and a very disappointing week. Most pitchers see the mound once a week, but if you want to maximize the number of starts per week, it's important to look for pitchers pitching twice and exploit favorable matchups if they exist. With that, let's take a look at some pitchers you should be starting this week and some you should just leave on your bench.
Elite
Sonny Gray | Oakland Athletics
Opponents: Jorge De La Rosa (COL), Mike Montgomery (SEA)
There aren't that many great two-start pitchers this week to consider, making Gray the safest option of the week. The Nashville native has been outstanding this season, posting a 2.90 ERA with a 0.99 WHIP. The righty will get the Rockies in his first start, followed by the Mariners in his second start. Colorado definitely has some power in their lineup, but with the game being in Oakland, it makes things much safer for fantasy owners. The Mariners are the worst hitting team in baseball—hitting a combined .231 as a team—making this an excellent matchup for fantasy owners. Roster Gray as you would normally.
Carlos Carrasco | Cleveland Indians
Opponents: Erasmo Ramirez (TB), Jeff Locke (PIT)
Carrasco is a strikeout machine with two very good matchups this week. The Rays have been better of late, but they average 7.96 K/GP, making it very possible that Carrasco finishes the night with 10+ strikeouts. The Pirates don't strikeout as often as the Rays, but I still like Carrasco against a middle-of-the-pack offense that has only scored 81 runs in 23 games this month.
Cole Hamels | Philadelphia Phillies
Opponents: Taylor Jungmann (MIL), Shelby Miller (ATL)
Yes, Cole Hamels plays for the Phillies, but my theory is if he wants to get out of there, he's going to need to show other teams he's worth trading young talent to acquire him. Hamels has a nice matchup with the Brewers and an even better one with the Freddie Freeman-less Atlanta Braves. I expect Hamels to be exceptional from now till the trade deadline, and it starts this week.
Other Must Start Pitchers: Gerrit Cole, Danny Salazer
Mediocre
Jimmy Nelson | Milwaukee Brewers
Opponents: Seaon O'Sullivan (PHI), Josh Smith (CIN)
Nelson has two modes—really bad or really good. The Brewers starter is available on the waiver wire (12% owned in Yahoo! leagues), and with so many streaming options available this week, Nelson is atop the list. There's no question that he's a risk, but both his games are on the road and every matchup against the struggling Phillies is a good matchup. Roster him and hope he doesn't implode.
Kyle Hendricks | Chicago Cubs
Opponents: Jonathan Niese (NYM), Mat Latos (MIA)
Quote me now: Kyle Hendricks will have a very good week this week! He hasn't been great this season, sporting a 4.46 ERA and a 1.22 WHIP, but the matchup here is too good to pass on. The Mets are a below average team and Niese is not good at throwing baseballs. Hendricks could easily pickup a QS in this outing, which is just fine with me. With the news that Giancarlo Stanton will be out 4-6 weeks with a wrist fracture, the Marlins just aren't as scary a team as before. We know that Mat Latos hasn't been good this season, and the Cubs have some very dangerous hitters capable of scoring lots of runs. It's a risk, but the upside is just too good to pass up on for fantasy owners who are looking for some pitching help.
Miguel Gonzalez | Baltimore Orioles
Opponent: Colby Lewis (TEX), Jeff Samardzija (CHW)
Gonzalez isn't a great play, but the White Sox are so bad, I feel like I can't say no to him. Texas is slowly getting back some key pieces to their lineup, but they're still a below average hitting team that struggles to score runs. As for the White Sox, just continue loading up on pitchers against a lineup that's hitting .227 in the month of June. Gonzalez wont rack up the strikeouts, but if your league isn't too strikeout-heavy it shouldn't be a problem.
Other Pitchers to Consider: Jordan Zimmerman, Ruby De La Rosa, Phil Huges, Ian Kennedy, Danny Duffy, David Hale, Mike Montgomery
Bench
Marco Estrada | Toronto Blue Jays
Opponents: Clay Buchholz (BOS), David Price (DET)
No Blue Jays pitcher has been hotter than Marco Estrada is right now, but this week could be a challenge for him. The Red Sox are obviously struggling on the mound, but their offense is hitting .289 in the month of June (1st in MLB) and with the game being in Toronto, it may be a long night for the righty. His second matchup won't be any easier, as David Price and the hard-hitting Tigers are in town. Price continues to be one of the best pitchers in the league, and with Victor Martinez back in the lineup, the Tigers are a well tuned hitting machine. Bench Estrada and wait till next week to use him again
Justin Verlander | Detroit Tigers
Opponents: Gerrit Cole (PIT), TBA (TOR)
It's surprising to see how many people still believe Verlander can return to the ace he once was for the Tigers. At this point, Verlander shouldn't be on any fantasy team, and with so much uncertainly about him making his next start Tuesday, it's best to just forget about him. The 32-year-old clearly isn't healthy, and his start against the Jays alone is enough to scare me away. You can continue to bench him, but it might be time to let him go and move on to something better.
Colby Lewis | Texas Rangers
Opponents: Miguel Gonzalez (BAL), C.J. Wilson (LAA)
I'm not sure how Lewis has managed to win seven games this season, but I expect him to come back down to earth over the next few weeks. His ERA (4.10) and WHIP (1.20) are both below his career average, so some regression is expected on his part. The Orioles are in the top ten in team batting average for the month of June (5th, .279) and the Angels continue to improve as a hitting team as the season moves on. Fantasy owners are going to be blinded by the seven wins, but don't be one of those owners who roster him and lose your week because of that.
Other Pitchers I'd Avoid: Mike Leake, Wandy Rodriguez, Mike Bolsinger, Ryan Vogelsong, Bud Norris, Eduardo Rodriguez, Sean O'Sullivan, Allen Webster.
Stats and references provided by www.MLB.com and www.ESPN.com