2015 Fantasy Baseball: Week 18 Two-Start Pitchers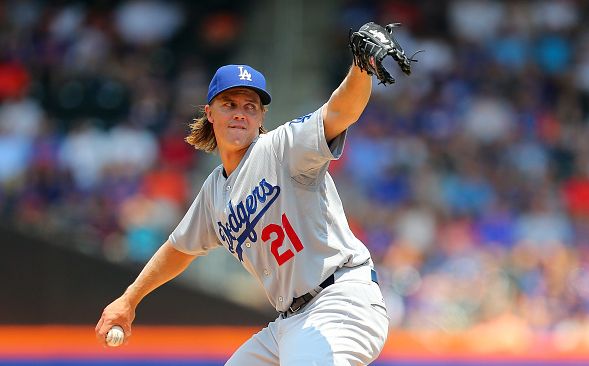 A fantasy owner's best friend is the waiver wire—where finding value can make the difference between a great week and a very disappointing week. Most pitchers see the mound once a week, but if you want to maximize the number of starts per week, it's important to look for pitchers pitching twice and exploit favorable match ups if they exist. With that, let's take a look at some pitchers you should be starting this week, and some you should just leave on your bench.
Elite
Zack Greinke | Los Angeles Dodgers
Opponents: Joe Ross (WAS), Michael Lorenzen (CIN)
Greinke has been virtually unhittable this season. He struggled in his last start, giving up six runs in six innings, but that shouldn't discourage fantasy owners from starting him this week. He gets the Marlins and Reds this week—two teams that have struggled to hit the ball since the all-star break. Greinke has been phenomenal all season, and I expect him to dominate his opponents in both his starts.
Chris Sale | Chicago White Sox
Opponents: Matt Shoemaker (LAA), Dan Haren (CHC)
Sale has come back down to earth after his outstanding month of June, but he still remains one of the league's best pitchers. He's allowed 14 earned runs over his last two starts, but fantasy owners shouldn't start to panic. The lefty gets the Angels in his first start of the week, followed by the Cubs in his second start. Anaheim hasn't been good against lefties all year (24th, .240) and the Cubs love to strikeout ( 9.15 K/GP). The Cubs are better against left-handed pitching, but Sale isn't just any lefty and will probably finish with double-digit strikeouts before the end of the night. I expect him to rebound this week and post some elite fantasy numbers.
Carlos Martinez | St. Louis Cardinals
Opponents: J.A Happ (PIT), Brad Hand (MIA)
With so many elite pitchers getting two starts this week, Martinez has almost become an after thought. The Cardinals starter has a ton of potential this week to post double-digit strikeouts against two below-average hitting teams. The Pirates struck out 218 times in July (8.38 K/GP) and the Marlins finished with a team batting average of .244—good enough for 21st in the league. The Cardinals have started the month of August slowly, hitting just .217 as a team, but I don't see them having a hard time getting to both Happ and Hand. Both pitchers have and ERA above four and both have very little strikeout potential. Martinez may not be considered an elite pitcher, but I expect him to put up some great numbers by the end of the week.
Other must start pitchers: Madison Bumgarner, Johnny Cueto, Matt Harvey, Carlos Corrasco,
Mediocre
Joe Ross | Washington Nationals
Opponents: Zack Greinke (LAD), Madison Bumgarner (SF)
Ross has finally found himself a place in the Nationals starting rotation. In seven starts, the 22-year-old has a 2.80 ERA and a 0.97 WHIP. His matchups are a nightmare, but I don't expect the rookie to get lit up by either team. He's proven he can pitch at the big league level, and he's worth a stream this week if you need some pitching help. He may not win either start, but a quality start in both outings isn't a reach.
Drew Hutchison | Toronto Blue Jays
Opponents: Kendall Graveman (OAK), Luis Severino (NYY)
I'm well aware that I'm recommending a pitcher that has a 5.42 ERA this season, but when you dig a little deeper into the numbers, he hasn't been as bad as his ERA suggests. The problem with Hutchison is simple: either he's really good, or really bad. There is no middle.
Here are Hutchison's numbers over his last five wins:
| | | | | | |
| --- | --- | --- | --- | --- | --- |
|   | IP | R | ER | BB | SO |
| Vs. MIN | 5.0 | 7 | 3 | 2 | 5 |
| Vs. TB | 6.0 | 2 | 2 | 2 | 3 |
| Vs. TEX | 5.2 | 1 | 0 | 3 | 8 |
| Vs. TB | 5.0 | 3 | 3 | 2 | 6 |
| Vs. NYM | 5.2 | 0 | 0 | 1 | 5 |
Here are Hutchison's numbers over his last five loses/ no decision:
| | | | | | |
| --- | --- | --- | --- | --- | --- |
|   | IP | R | ER | BB | S0 |
| Vs. KC | 5.0 | 4 | 3 | 1 | 1 |
| Vs. SEA | 4.0 | 6 | 5 | 2 | 4 |
| Vs. CHW | 5.0 | 4 | 4 | 2 | 6 |
| Vs. DET | 4.2 | 7 | 5 | 2 | 4 |
| Vs. BOS | 2.1 | 8 | 8 | 3 | 3 |
As you can see, it's really a tale of two stories. The Jays are currently the hottest team in baseball and their team ERA is the best in the league since the all-star break. Hutchison could easily blow up at any time, but if you need an extra pitcher on your roster for this week, he's the player to go with. Stock up on your favorite brand of vodka and pray to a god that everything goes well.
Other players to consider: Erasmo Ramirez, Brett Anderson, Hector Santiago, Yovani Gallardo, Matt Shoemaker, Rubby De La Rosa.
Bench
Ian Kennedy | San Diego Padres
Opponents: David Holmberg (CIN), Chris Rusin (COL)
I'm really not a big fan of Kennedy this week, or any week for that matter. The 30-year-old has given up 24 homeruns this season and gets to take on the Rockies at Coors Field. That start alone is enough for me to bench Kennedy for the week and look elsewhere for pitching help. He's gone ten consecutive games giving up at least one homerun, and I expect that streak to be intact by the end of the week.
Jon Gray | Colorado Rockies
Opponents: Jonathan Niese (NYM), Andrew Cashner (SD)
The rookie made his big league debut last week against the Mariners and it didn't quite go as planned. The 23-year-old lasted only four innings and gave up three earned runs while striking out four. He gets the second hottest team in baseball (the Mets) in his first start of the week, followed by a start at home against the Padres. He's a young pitcher that is still learning how to pitch in the majors, so he's going to have a few below-average starts before he becomes fantasy relevant. He's probably very tempting to owners who need pitching help, but Gray isn't the guy you want to pick up this week. Leave him on the waiver wire and explore other options.
Other pitchers to avoid: Kyle Gibson, Michael Lorenzen, Matt Boyd, Vidal Nuno, Chris Rusin, Luis Severino.
Stats and references provided by www.MLB.com and www.ESPN.com
//