2016 Fantasy Baseball: Detroit Tigers Sign Justin Upton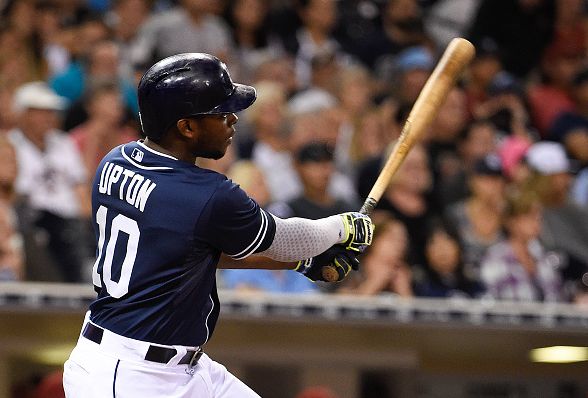 The Detroit Tigers fired one of the first shots of the 2016 offseason when they signed Jordan Zimmermann in early November. Now, they've fired one of the final shots of the offseason by signing free agent left fielder Justin Upton to a six year, 132.75-million dollar deal. The two contracts combine to add more than 40 million to the Tigers payroll. Those moves (in conjunction with the Francisco Rodriguez trade) make the Tigers competitors again in the AL Central.
Why the Tigers make this move
It seemed pretty obvious that ownership wants to make a huge play for the World Series yet again. Mike Ilitch is 86 years old and will be 87 when the next World Series is played. He is desperate to win before he passes on. Rumors were circulating that they were interested in Yoenis Cespedes, so watching them spend this kind of money can't come as a total shock. The question comes whether they made the right decision. If you look at the numbers over the past three seasons, you see they may have made the right call.
Cespedes: .264/.308/.478, 83 HR, 264 Runs, 285 RBI, 21 SB
Upton: .261/.344/.470, 82 HR, 256 Runs, 253 RBIs, 35 SB
These numbers look fairly similar, so you can see why some people would favor Cespedes, but when you look at the on base percentages, you can see the difference. We also have to remember that one of those three seasons for Upton came in San Diego. Petco Park tends to depress offensive numbers. The full scale of the Tigers thinking can be seen when we look at oWAR and dWAR numbers for both players over the past three seasons.
Cespedes: 9.1 oWAR, 0.9 dWAR
Upton: 10.3 oWAR, -1.2 dWAR
Like I said, the full scale of the Tigers thinking can be seen here. What they see is that Justin Upton is a better offensive player than Yoenis Cespedes. That much is clear and not without dispute. What they have also demonstrated is that fielding has often been an afterthought for them. They actually finished slightly above the league average in defensive efficiency last season with a .690 defensive efficiency (.689 was average). I don't see Upton having  a positive impact there.
What this move means for you
Upton wasn't going to return to San Diego, so his numbers there were a moot point. Upton has driven in 100 or more runs only once in his career and scored 100 or more runs twice. He's hit more than 30 home runs only once and stolen 20 or more bases twice. In other words, for all of the hype surrounding his free agency, he hasn't been tremendously productive. What he does do is a little bit of everything. The value he brings to the table can't be measured by anything he has done in the past. Simply put, he has never been in an offense this explosive in his entire career.
He joins perennial MVP candidate Miguel Cabrera, budding star J.D. Martinez, and veteran designated hitter Victor Martinez to form one of the best offenses in baseball. Make no mistake, they will challenge the Blue Jays for supremacy as the game's best offense. When that happens, you usually don't see spikes in batting average or home runs, but you will see more runs scored and RBIs. How much of a bump remains to be seen.