2016 Fantasy Baseball: NL MVP Race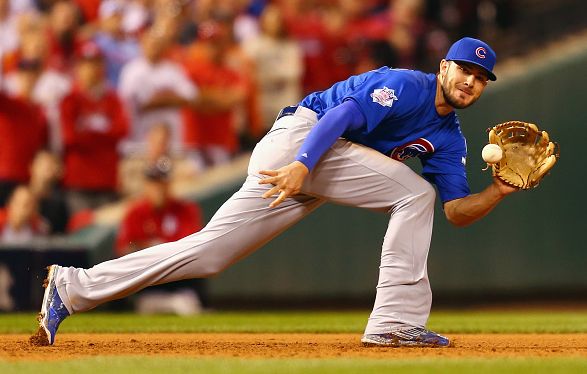 The National League Most Valuable Player race is more intriguing than the American League race in many ways. For one, the overall quality of the players in the league is not as good as the American League, so the players are more bunched together. Furthermore, the candidates are more traditional in nature than in the American League. The Cubs (the best team in baseball) have two legitimate candidates. Of course, you have a few non-traditional candidates as well.
For those that didn't join us last time, we are using wins above replacement as the primary deciding factor. Furthermore, we will be dividing up WAR into dWAR (fielding WAR) and oWAR (hitting WAR) in addition to looking at the overall total. WAR can't be the only determining factor when choosing an MVP, but it should be the primary one. The MVP should go to the league's best player.
Kris Bryant—Chicago Cubs (oWAR 6.4, dWAR 0.7, 7.3 WAR)
Bryant has been the best player in the National League this season even though he does not lead in any individual category except for runs scored. He has excellent power and patience to go with it. Unlike many third baseman, he has more fielding value because he also is capable of playing in the corner outfield. Some might be underwhelmed by the counting numbers when you compare him to players like Nolan Arenado. WAR assumes a neutral environment. Stick Arenado at sea level and becomes a lot more ordinary.
Corey Seager—Los Angeles Dodgers (oWAR 6.2, dWAR 0.7, WAR 6.2)
One of the components of WAR is that it grades on a curve depending on the position. Shortstops traditionally do not produce the numbers that the corner positions produce, so the typical AAA shortstop would not produce the same as a AAA third baseman. So, his overall numbers (.316/.374/.526) may not look MVP worthy, but he is definitely the best offensive shortstop in the league and he is above average defensively.
Nolan Arenado—Colorado Rockies (oWAR 4.0, dWAR 2.1, WAR 5.9)
Arenado is hurt by the fact that he is a product of his environment. If you give any decent player 600 plate appearances with their home games at Coors Field and they might hit 20 home runs and drive in 100 runs on accident. Yet, in a world of special defenders at third base, Arenado might be the best one. He is the hands down Gold Glove award guy at the position and that has to count for something. The Fielding Bible has him as 18 defensive runs saved. Add to his awesome level of production in the counting numbers and I could definitely see some people voting for him.
Anthony Rizzo—Chicago Cubs (oWAR 4.4, dWAR 0.1, WAR 5.4)
 Rizzo has the disadvantage of playing on the same team as Bryant. The other problem is that the Cubs are absolutely loaded in general. The classical argument for an MVP has the picture of a guy that carries a team on his back to the pennant a la Roy Hobbs from "The Natural". Rizzo is the traditional slugger you see in the middle of a lineup. He has hit 30+ home runs and has driven in more than 100 runs. Like Bryant, he also has good patience numbers as well. While he is a good player, he probably has not done enough to be the MVP this season.
Daniel Murphy—Washington Nationals (oWAR 5.8, dWAR -1.0, WAR 4.6)
What's funny is that Murphy is not actually fifth in WAR. That honor goes to Ryan Braun, but Murphy is a more sexy candidate because he plays on one of the division winners and his numbers look so gaudy. The fact that they are so out of character for him probably makes a difference to. Braun is disadvantaged in that way because while his numbers are good, he has had better seasons. You also have the residual effect of his positive test for PEDs and subsequent shenanigans in covering it up. You could point to Murphy's performance as crucial in Washington's ascent. However, you can see the negative effects of below average fielding on his overall value.