2016 Fantasy Baseball Post Trade Deadline Rankings — Second Base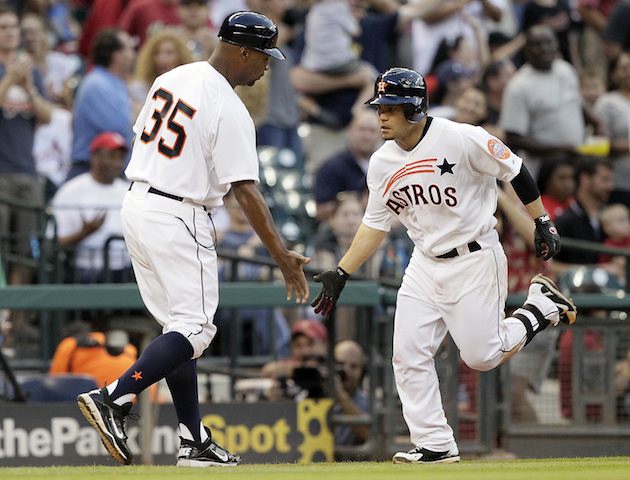 As we move through the diamond, we see more examples of a wide separation between where players were drafted and where players actually perform. At second base, there are some clear cut winners we could have identified on draft day, but we also find some others that surprised us along the way. As we approach the fantasy trade deadline, it's high time we reevaluate these players to see who you can find to give your team that last push.
Jose Altuve—Houston Astros (Preseason #1)
AVG: .363
HR: 19
Runs: 85
RBI: 73
BB: 49
SB: 26
The biggest difference this season is actually the category that doesn't count for most players. He reached a career high in walks at the all-star break. Yet, that subtle change has reverberated across his game as he is set to obliterate his career high in runs scored. Add in a little extra power and he is a fantasy force.
Ian Kinsler—Detroit Tigers (Preseason #8)
AVG: .292
HR: 13
Runs: 91
RBI: 62
BB: 32
SB: 13
Prince Fielder recently was forced to call it a career. The player traded for him keeps on ticking. No one dreamed that the Tigers would get the most out of the trade on pure performance grounds. A power resurgence (of sorts) has helped him reach near the top as he leads all second basemen in runs scored.
Jason Kipnis—Cleveland Indians (Preseason #5)
AVG: .291
HR: 19
Runs: 70
RBI: 64
BB: 41
SB: 11
The guys at the top of the board all have one thing in common. They contribute something in every category of the stat sheet. Some may prefer players that are dominant in some of the categories. That isn't Kipnis, but he does enough to help you everywhere.
Robinson Cano—Seattle Mariners (Preseason #3)
AVG: .294
HR: 25
Runs: 74
RBI: 71
BB: 33
SB: 0
Obviously, the lack of steals are holding Cano back from ranking higher at the position. This is where you have to determine what your team needs. If you have plenty of speed elsewhere then Cano might be more of a help to your team than Kinsler or Kipnis.
Dustin Pedroia—Boston Red Sox (Preseason #16)
AVG: .298
HR: 12
Runs: 74
RBI: 50
BB: 49
SB: 5
When you look at the preseason rankings, they include players that are eligible at second base, but who likely won't play there. So, Pedroia actually rated as a fringe starter in twelve player mixed leagues. He's rebounded some in his power numbers this season and he's been relatively healthy.
Daniel Murphy—Washington Nationals (Preseason #12)
AVG: .348
HR: 21
Runs: 69
RBI: 82
BB: 24
SB: 3
We have a number of factors here to consider for those that think Murphy is underranked. First, we have to consider the fact that he offers little speed and little patience. Secondly, we have to consider what he will do from this point forward. His performance has been so out of context that it's difficult to imagine him continuing on this pace.
Brian Dozier—Minnesota Twins (Preseason #6)
AVG: .264
HR: 24
Runs: 67
RBI: 68
BB: 44
SB: 8
Dozier is the mirror image of Murphy. He contributes across the board and he got off to a horrible start and has since been on a torrid pace. Despite the huge difference in some of the numbers you will probably get more bang for your buck here. Plus, he has a little more speed than Murphy.
Ben Zobrist—Chicago Cubs (Preseason #10)
AVG: .275
HR: 13
Runs: 67
RBI: 57
BB: 67
SB: 4
Regular readers know of my man love for Zobrist by now. However, when you discard the players that are eligible at second but are not really second baseman, he was appropriately drafted. Like Murphy, he got off to a fast start and has been fading down the stretch. The good news is that he gives you a little more with his patience than you get from most guys.
Jean Segura—Arizona Diamondbacks (Preseason #19)
AVG: .311
HR: 10
Runs: 70
RBI: 44
BB: 26
SB: 22
Segura is the example that proves the rule from the beginning. He went undrafted in a number of leagues, but he was one of the first adds early in the season. He got off to a blistering start just like he did a few years ago. He is good now for some fairly affordable speed and you can probably get his owner to bail on him if you offer a steady player in his place.
Rougned Odor—Texas Rangers (Preseason #7)
AVG: .281
HR: 22
Runs: 70
RBI: 60
BB: 11
SB: 11
You can make a definite argument that Odor should rank higher than this. He offers good power production and has decent speed numbers as well. Unfortunately, he does not take many walks. Even in five category leagues this is problematic as it makes him prone to prolonged slumps.
D. J. LeMahieu—Colorado Rockies (Preseason #14)
AVG: .328
HR: 8
Runs: 74
RBI: 42
BB: 50
SB: 9
LeMahieu is a testament to how deep second base is. There aren't any numbers here that are truly problematic and the batting average combined with the walks are pretty stout. There are just other guys that are better. If you don't have any of the top ten guys you can easily make due with him.
Neil Walker—New York Mets (Preseason #15)
AVG: .273
HR: 20
Runs: 48
RBI: 51
BB: 38
SB: 3
Walker is one of those players for who much has been expected nearly every year and every year he seems to come up a bit short. He actually has supplied more power than normal this year, but the rest of the numbers represent who he really is. If you accept those numbers at face value then you will be happy with what he gives you.