2016 Fantasy Baseball Prospect Profile: Aaron Judge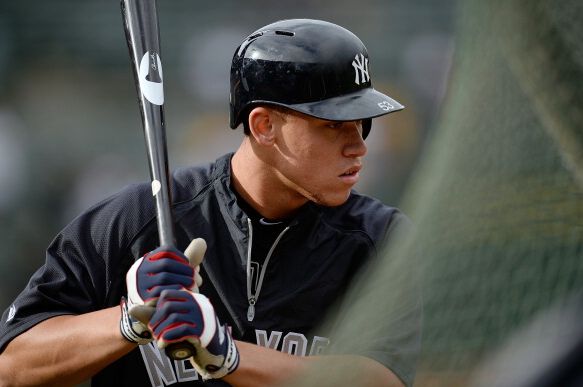 Aaron Judge tops the New York Yankees' farm system that has been depleted for as long as many people can remember but is finally starting to feature some of the best prospects in baseball. While fans of the team have overreacted to former top prospects (see Manny Banuelos, Joba Chamberlain, Mason Williams, Slade Heathcott, etc…), this group of players give fans plenty of hope for the future of the franchise.
Profile
Judge was taken with the 32nd overall pick in the first round of the 2013 First-Year Player Draft out of Fresno State University. All Judge did in his college days was hit, hit, and hit some more, as he was named All-Conference three times. Some believed that Judge could crack the major league roster this past season, but the Yankees opted to keep him in the minor leagues and not rush him to the majors. Judge is a powerful outfielder who will most likely take over in right field for the team sometime in the future, as he has a strong arm at the position. Judge is 6-foot-7 and 275 pounds, which naturally makes him draft plenty of comparisons to Miami Marlins' outfielder Giancarlo Stanton. The Yankees have been engaged numerous times regarding Judge, as well as other top prospects, but they have been firm in their stance of not trading away the top of their farm system. That goes to show you how highly the front office thinks of Judge, as they could have used him to acquire Cole Hamels or Troy Tulowitzki, among others.
Pundits 
#36 on Keith Law's 2016 Top 100 Prospects
#76 on Baseball America's 2016 Top 100 Prospects
#18 on Baseball Prospectus' 2016 Top 101 Prospects
Production
Since being draft by the Yankees, Judge has displayed his power throughout the team's minor league system. 2014 was his first year in the minors, and Judge spent it by launching 17 home runs across 467 at-bats. Judge also drove in 78 runs and sported a .308 batting average to go along with a .419 OBP.
Judge spent 2015 between two levels, Double-A and Triple-A, and his power translated to both levels. Judge did struggle a bit during his time in Triple-A, as he hit just .224, but he walked enough to get his OBP over .300. Judge is 23 years of age, so it's not like he was too young for the level. Perhaps it was just growing pains and Judge will take some time to adjust to the next level. Despite the struggles, Judge is still a top prospect in baseball, and very likely to reach the majors at some point before 2017.
Projection
While the Yankees would love to have Judge on their major league roster in 2016, nothing is set in stone. The addition of Aaron Hicks this offseason made the outfield that much more crowded, and despite the rumors, the team still hasn't moved Brett Gardner. The good news is that Carlos Beltran is officially off the books at the end of this season, which opens up a spot in right field for 2017, which is likely the target date for Judge to begin his major league career. As for now, the Yankees will likely continue to have Judge develop in the minor leagues, unless something catastrophic happens to their 2016 outfield.
While many don't expect Judge to produce some of the power numbers that his top comp Giancarlo Stanton puts up, we could see him peak at 30-35 home runs annually, with a batting average sitting around .270. In today's game, that's a top outfielder, and that's exactly what the Yankees are hoping to get from Judge. Expect to see Judge on the squad in Spring Training, as it will be interesting to see what kind of numbers he produces this spring.