2016 Fantasy Baseball: Shortstop Projections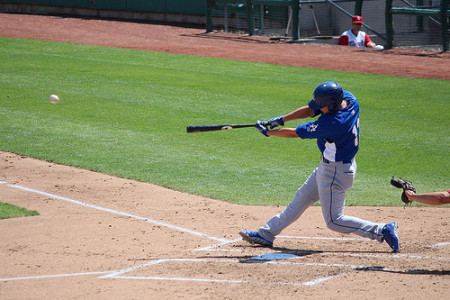 There are many ways to rank players. I don't claim to have a monopoly on the truth, but I hope my methods balance analytics with common sense. The analytics part is probably the most involved. We take runs above replacement from the past three seasons according to three different sources (Baseball Prospectus, Baseball Reference, and Fangraphs). We apply a multiplier to make sure the most recent performance is given the most weight. That creates an index score for each platform. We then take the average of those three to provide a single score for each player.

Middle infielders can sometimes be interchangeable. Sometimes teams have them play multiple positions within the season or they may have prospects that push them to other positions on the diamond. We will see the same thing at third base and shortstop. For the purposes of keeping our sanity, we will use rosterresource.com's listing to sort them out by position. That might mean that some players are moving around from where they have played in the past.
Corey Seager— Los Angeles Dodgers (41.4)
| | | | | |
| --- | --- | --- | --- | --- |
| | 2013 | 2014 | 2015 | ADJ |
| BP | — | — | 16.0 | 43.4 |
| BR | — | — | 16.0 | 43.4 |
| FG | — | — | 13.8 | 37.4 |
Any time someone develops a system there are moments when you regret your methodology. From there, you can either rig the process to get the results you want or you can roll with it and let the chips fall where they may. The multiplier applied to rookies vaulted Seager to the number one spot. He probably isn't the best shortstop on the board, but he should be amongst the top five. Verdict: Under
Francisco Lindor— Cleveland Indians (37.6)
| | | | | |
| --- | --- | --- | --- | --- |
| | 2013 | 2014 | 2015 | ADJ |
| BP | — | — | 28.7 | 30.8 |
| BR | — | — | 34.0 | 36.4 |
| FG | — | — | 43.1 | 45.6 |
As we've discovered at other positions, some of these platforms (Fangraphs) blend fielding with hitting for their runs above replacement rating. So, Lindor's rating is inflated with fielding. Even so, he was surprisingly good. Most scouts believe he won't repeat these numbers again, so adjust accordingly. Verdict: Under
Carlos Correa— Houston Astros (35.2)
| | | | | |
| --- | --- | --- | --- | --- |
| | 2013 | 2014 | 2015 | ADJ |
| BP | — | — | 28.0 | 30.2 |
| BR | — | — | 39.0 | 42.1 |
| FG | — | — | 31.0 | 33.4 |
A generation ago, the baseball world was introduced to Alex Rodriguez, Derek Jeter, and Nomar Garciaparra. Now, it has these three guys. Correa has been compared to a young Rodriguez. We can only hope that he enjoys the same rate of success without the off the field headaches. He probably should be the number one guy on the board. Verdict: Over
Troy Tulowitzki— Toronto Blue Jays (33.4)
| | | | | |
| --- | --- | --- | --- | --- |
| | 2013 | 2014 | 2015 | ADJ |
| BP | 40.3 | 34.2 | 24.5 | 30.4 |
| BR | 45.0 | 46.0 | 24.0 | 34.8 |
| FG | 48.8 | 47.8 | 22.0 | 35.1 |
Tulowitzki used to be the Francisco Lindor of baseball. He was a pretty good offensive player and a superlative fielder. Now, he is a solid fielder and a really good offensive player. The problem is that he is often injured. 2013 represents what he can do when health, but he hasn't been consistently healthy since. Verdict: Over
Jhonny Peralta— St. Louis Cardinals (31.6)
| | | | | |
| --- | --- | --- | --- | --- |
| | 2013 | 2014 | 2015 | ADJ |
| BP | 28.5 | 37.3 | 37.1 | 33.7 |
| BR | 32.0 | 39.0 | 26.0 | 31.3 |
| FG | 34.9 | 48.2 | 16.1 | 29.9 |
If you take away the evil overtones, Peralta might be the Rasputin of baseball. His career has been declared dead a few times and he keeps coming back to life. 2015 might represent a slow descent to the end, but I wouldn't bet against him. Still, this feels a little too high for him. Verdict: Under
Brandon Crawford— San Francisco Giants (31.2)
| | | | | |
| --- | --- | --- | --- | --- |
| | 2013 | 2014 | 2015 | ADJ |
| BP | 16.9 | 26.3 | 36.0 | 29.6 |
| BR | 21.0 | 26.0 | 34.0 | 29.2 |
| FG | 21.1 | 27.9 | 44.1 | 34.9 |
Crawford took a giant step forward last season and most of that occurred under the radar. The Giants and Dodgers are one of baseball's greatest rivalries and the two couldn't be more different. Crawford is homegrown and unassuming. He quietly produced more 20 home runs a year ago and seems poised to do it again. Verdict: Under
Ketel Marte— Seattle Mariners (26.4)
| | | | | |
| --- | --- | --- | --- | --- |
| | 2013 | 2014 | 2015 | ADJ |
| BP | — | — | 15.9 | 24.1 |
| BR | — | — | 20.0 | 30.3 |
| FG | — | — | 16.3 | 24.7 |
Jack Z thought that star power brought championships. Robinson Cano and Nelson Cruz are good, but they need help. The Mariners chances of winning next season will hinge on the performances of guys like Marte. Again, the rookie multiplier rears its ugly head. Marte is probably not quite this good. Verdict: Under
Ian Desmond— Free Agent (26.0)
| | | | | |
| --- | --- | --- | --- | --- |
| | 2013 | 2014 | 2015 | ADJ |
| BP | 29.6 | 36.4 | 21.6 | 27.9 |
| BR | 40.0 | 38.0 | 20.0 | 29.3 |
| FG | 44.3 | 36.1 | 16.2 | 20.9 |
Desmond is guilty of overplaying his hand. The proverbial game of musical chairs rears its ugly head again as the Padres signed Alexei Ramirez and left Desmond without a chair. A player of his talent will find a place to sit, but he might not get the money he was hoping for at the beginning of the offseason. Verdict: Over
Xander Bogearts— Boston Red Sox (24.7)
| | | | | |
| --- | --- | --- | --- | --- |
| | 2013 | 2014 | 2015 | ADJ |
| BP | 4.3 | 14.6 | 36.0 | 23.6 |
| BR | 4.0 | 19.0 | 44.0 | 29.0 |
| FG | 1.3 | 3.1 | 40.3 | 21.4 |
Based on last season's numbers, Bogearts is the number two shortstop on the board behind Correa and might be the best shortstop available. I would caution with taking it that far, but he is top five material easily. I'd take him before taking Lindor and would think long and hard about taking him before Tulowitzki too. Verdict: Over
Erick Aybar— Atlanta Braves (23.5)
| | | | | |
| --- | --- | --- | --- | --- |
| | BP | BR | FG | ADJ |
| BP | 20.6 | 32.6 | 13.7 | 21.2 |
| BR | 23.0 | 39.0 | 25.0 | 29.3 |
| FG | 13.9 | 39.1 | 9.0 | 19.9 |
There are two acceptable schools of thought on Erick Aybar. The most prevalent one is that he is no longer a starting quality fantasy shortstop. He's moving to a bad team and he's in decline. The alternative is that he is in a contract year and might muster up enough to cash in on one more contract. Take your pick, but I'm choosing the former. Verdict: Under
Jose Reyes— Colorado Rockies (21.6)
| | | | | |
| --- | --- | --- | --- | --- |
| | 2013 | 2014 | 2015 | ADJ |
| BP | 28.8 | 36.4 | 11.1 | 22.5 |
| BR | 28.0 | 45.0 | 12.0 | 25.7 |
| FG | 20.7 | 32.2 | 4.9 | 16.6 |
"I fought the law and the law won. I fought the law and the law won." Reyes' domestic violence case will be adjudicated in April (in and out of baseball). This will plummet him down the draft boards. He is still worth a late round pick because if he plays he is likely to put up good numbers in Coors Field. Just make sure you pair him with a steady shortstop. Verdict: Under
Elvis Andrus— Texas Rangers (20.8)
| | | | | |
| --- | --- | --- | --- | --- |
| | 2013 | 2014 | 2015 | ADJ |
| BP | 27.1 | 21.0 | 25.4 | 24.2 |
| BR | 29.0 | 22.0 | 22.0 | 23.2 |
| FG | 26.4 | 10.1 | 14.7 | 15.1 |
There's not a lot of upside to Andrus anymore. He is here because he plays every day and provides some reasonable SB numbers. I suspect that the Rangers may try to deal him if Jurickson Profar ever demonstrates he is healthy and ready to take the next step. Verdict: Under
Asdrubal Cabrera— New York Mets (20.0)
| | | | | |
| --- | --- | --- | --- | --- |
| | 2013 | 2014 | 2015 | ADJ |
| BP | 17.9 | 17.0 | 20.1 | 18.7 |
| BR | 26.0 | 27.0 | 24.0 | 25.3 |
| FG | 3.1 | 15.5 | 20.9 | 16.1 |
There are two categories of shortstops. There are guys that are star quality guys and then there are steady performers. Cabrera falls into the second category these days. The secret is to have one of each on your team. That way, if you roll the dice and come up snake eyes, you still have the steady performer. Verdict: Under
Andrelton Simmons— Los Angeles Angels (19.7)
| | | | | |
| --- | --- | --- | --- | --- |
| | 2013 | 2014 | 2015 | ADJ |
| BP | 23.3 | 9.4 | 20.2 | 17.1 |
| BR | 25.0 | 6.0 | 15.0 | 13.7 |
| FG | 42.0 | 18.0 | 30.3 | 28.2 |
It will be an interesting race to see who should win the Gold Glove award between Simmons and Francisco Lindor. Unfortunately, none of that has any effect on fantasy baseball. Simmons is a steady offensive performer, but he is not a fantasy regular at this point. Verdict: Under
Jimmy Rollins— Free Agent (18.2)
| | | | | |
| --- | --- | --- | --- | --- |
| | 2013 | 2014 | 2015 | ADJ |
| BP | 15.2 | 29.5 | 13.7 | 19.2 |
| BR | 22.0 | 37.0 | 9.0 | 20.5 |
| FG | 14.7 | 34.4 | 2.0 | 14.9 |
Rollins is marketing himself as a shortstop and a second baseman to get a job somewhere. Openings are scarce, but he may end up landing in a spot where he can be the first infielder off the bench or as a platoon player. Either way, he is not a viable fantasy regular anymore. Verdict: Under
Addison Russell— Chicago Cubs (17.7)
| | | | | |
| --- | --- | --- | --- | --- |
| | 2013 | 2014 | 2015 | ADJ |
| BP | — | — | 11.4 | 11.4 |
| BR | — | — | 14.0 | 14.0 |
| FG | — | — | 27.7 | 27.7 |
No one wins a fantasy championship playing it safe. You have to take some risks on players that have to outperform their projections. Russell has the chance of slipping through the cracks because he didn't produce like the other rookies. However, he is just as talented and could take a huge step forward. Verdict: Over
Didi Gregorius— New York Yankees (16.7)
| | | | | |
| --- | --- | --- | --- | --- |
| | 2013 | 2014 | 2015 | ADJ |
| BP | 9.8 | 8.8 | 16.4 | 12.8 |
| BR | 16.0 | 10.0 | 27.0 | 19.5 |
| FG | 13.7 | 3.0 | 29.1 | 17.8 |
Taking over for a living legend is not as impossible as it seems. Gregorius was a better player last season than Jeter was his last couple of seasons. He got off to a slow start, but came on strong in the second half. Now that he has his sea legs under him he might end up being a decent bench piece. Verdict: Over
Alexei Ramirez— San Diego Padres (15.7)
| | | | | |
| --- | --- | --- | --- | --- |
| | 2013 | 2014 | 2015 | ADJ |
| BP | 25.1 | 21.0 | 4.8 | 12.0 |
| BR | 25.0 | 32.0 | 16.0 | 22.8 |
| FG | 29.2 | 28.6 | -4.4 | 12.2 |
I profiled his move to San Diego earlier in the year. His signing is good news for the Padres, but bad news for Ramirez. He'll likely play everyday and put up some decent counting numbers, but 2015 numbers and value are more likely than the alternative. He'll likely last until the waiver wire. Verdict: Under
Alcides Escobar— Kansas City Royals (14.4)
| | | | | |
| --- | --- | --- | --- | --- |
| | 2013 | 2014 | 2015 | ADJ |
| BP | -5.7 | 22.4 | 11.0 | 12.0 |
| BR | -1.0 | 27.0 | 7.0 | 12.3 |
| FG | 10.2 | 29.9 | 14.5 | 18.9 |
2015 was a down season for Escobar, but he still stole 17 bases. He will play every day and the Royals are a good offensive team, so he is a decent bench player if you need a little extra speed. The Royals inexplicably led him off for most of the season and if they do that again he should score a fair amount of runs. Verdict: Over
Marcus Semien— Oakland Athletics (12.0)
| | | | | |
| --- | --- | --- | --- | --- |
| | 2013 | 2014 | 2015 | ADJ |
| BP | 1.7 | 3.6 | 20.6 | 11.8 |
| BR | 1.0 | 9.0 | 22.0 | 14.3 |
| FG | 1.6 | 4.3 | 16.1 | 9.8 |
Semien became well-known for committing a ton of errors, but he quietly put up some very solid numbers. He put up 15 home runs and 11 stolen bases on the season. That kind of production should continue and it makes him a borderline fantasy regular. If he lasts this long he could be the bargain of the draft. Verdict: Over