2016 Fantasy Baseball Waiver Wire: 3 to Catch, 3 to Cut, 3 to Keep (Week 12)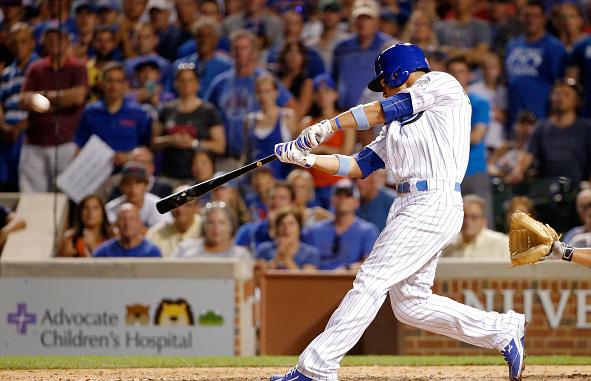 In the newest edition of fantasy baseball 3×3, we're taking a leap with Willson Contreras, giving up on Marcus Stroman, and jumping in on Carlos Santana.
Thoughts, questions, whatever… you can always find me on Twitter.
3 TO CATCH
Players to be picked up; available in most standard leagues
Willson Contreras | Chicago Cubs | C
Yeah, he might be back down in a week. But he might not. When a player this talented comes up, playing a position this valuable, it's worth the risk of losing whoever's on the end of your bench. If Willson Contreras turns out to be everything we think he might be, he's the type of player who could turn the tide in a fantasy league.
And if his .353/.442/.593 line in Triple-A wasn't enough, look what he did to the only pitch he's ever seen in the big leagues:
To pick him up, I'd drop: Derek Norris, Russell Martin, Welington Castillo
Jon Gray | Colorado Rockies | SP
I suppose it makes sense that it'd take more than one mention in the "Catch" section to remove the Coors Field stink from Jon Gray, but his ownership percentage still sits below 50% in ESPN leagues and below 40% in Yahoo! Leagues. What more do you want the guy do to?
He has all of the ingredients we look for in an analytics-friendly starter. He throws hard, generates a ton of ground balls, and strikes out better than a batter per inning without surrendering many walks. He ranks 15th in baseball in K%-BB%, ahead of more heralded young'uns like Steven Matz, Taijuan Walker, and Rick Porcello.
And he certainly passes the eye test.
Gray's slider is nearly indecipherable from his fastball, right up until it tunnels into the back corner of home plate. And if a hitter hesitates for a moment, he'll pump 97 mph right down the middle. He's running a streak of five consecutive quality starts. That 12-whiff gem in San Diego would be an outlier for anybody not named "Kershaw", but since then Gray hasn't slowed down. In his last two starts, he's fanned 11 in 13 innings while allowing only 12 baserunners.
Like any other Colorado starter, it's best to keep an eye on matchups, but on the whole, Gray is legit.
To pick him up, I'd drop: Jameson Taillon, Jake Odorizzi, Josh Tomlin
Thrust into the everyday lineup because of J.D. Martinez' broken elbow, Steven Moya will not have the luxury of a kid gloves adjustment period. "Competing for an AL Central title" and "starting Mike Aviles in the outfield" are not sentences that can be used to describe the same team, which means Moya is going to have an everyday job for at least the next month.
It's not to say that Moya is a sure thing, rather that the Tigers have decided that they're willing to live with his flaws. Those flaws include hacking at absolutely everything that his power forward frame can reach. Through a handful of major league games, he's racked up a 50% chase rate, per FanGraphs. Moya's approach makes him almost impossible to walk, but so far this season it hasn't made him as easy to strike out. After whiffing in more than 30% of his minor league plate appearances last season, Moya lopped his K-rate down to 21.4% while increasing his power; he smashed 13 home runs in just 50 games at Toledo.
It remains to be seen whether those gains can be sustained, but regardless of the whiffs, Moya's power is unquestionable.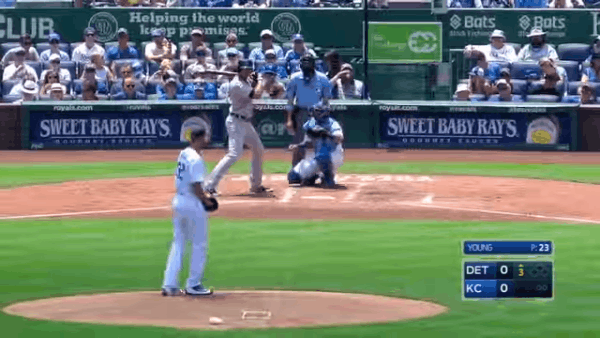 So, I'll admit that this one is a bit of a hail mary, but we're getting to the point in the season where if you're not already in the mix for your league title, you'll have to start taking drastic action to change your fortunes.
Come to think of it, "Drastic Action" would be an excellent nickname for Moya…
To pick him up, I'd drop: Ender Inciarte, Robbie Grossman, Brandon Drury
3 TO CUT
Players to be traded or dropped, depending on the depth of your league
Marcus Stroman | Toronto Blue Jays | SP
Perhaps this is just the season when I throw out the "he's young, he'll figure it out" narrative.
Marcus Stroman has soaked Rogers Centre in kerosene over his last few starts. In his last five games, he's surrendered a total of 26 runs. He's made it out of the sixth inning once and failed to strike out more than six batters in any one outing. Sure, his BABIP is predictably elevated, but it hasn't just been a run of bad luck; Stroman's FIP has been at least 4.50 in five of those six outings.
What happened? Stroman was supposed to evolve this season. He learned a sinker. He entered his career as an athlete with a big arm and a lot to learn; this was supposed to be when he figured out how to pitch. At this point, the Jays might be better off going back to the athlete approach. I know Troy Tulowitzki's legs are shot, but he's still got a cannon, right?
The sinker Stroman learned fails him far too frequently. It gets a great deal of grounders, but those grounders rarely seem to end up as outs. Despite a near 65% groundball rate, hitters are hitting .301 and slugging .444 against Stroman's lead offering, per Brooks Baseball. And when it flattens out (and PITCHf/x calls it a fourseamer), they've tagged it for a .546 ISO.
Stroman's approach is broken, and until it (or his sinker) gets fixed, he's droppable in any league.
I'd trade/drop him for: Kyle Hendricks, James Paxton, Blake Snell
Tim Anderson | Chicago White Sox | SS
I know offensive production is hard to find in the middle infield, but do we really need to resort to Tim Anderson? Really?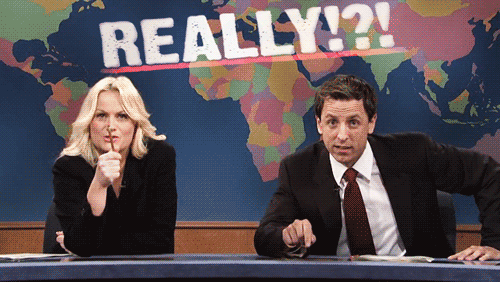 Anderson is a fine player and quite useful for the White Sox, but he does very little that can help your fantasy team. He has power, but it doesn't play in games. He has speed, but he doesn't get on base. He's currently carrying a .393 BABIP… and a .282 OBP. Only one full-time player can even come close to matching that mind-boggling combination, and Justin Upton's .340 BABIP/.288 OBP combination has a gap only half the size of Anderson's.
Anderson may well turn out to be an excellent player down the road, but right now, there are better options on the wire.
I'd trade/drop him for: Jhonny Peralta, Danny Espinosa, Jordy Mercer
Colby Lewis is a great story and a really good pitcher. And he might keep outperforming his ERA estimators and lead his Rangers to a division title. I'm rooting for all of that. But for fantasy purposes, he's only useful as a trade chip.
Lewis can't work in fantasy for the same reason that Chris Young can't work: his approach leaves no margin for error. Coaxing hitters into weak fly balls can generate a lot of easy outs, but it doesn't rack up many strikeouts. That means Lewis is only as valuable as his run prevention, which has been propped up be outstanding good fortune (and not just in the BABIP department).
He's recorded over a third of his outs with men on base, but allowed only six extra base hits in those situations; he's allowed eight doubles, a triple, and nine home runs with the bases empty. When the weather heats up and that balance starts to even out, Lewis will be in trouble.
I'd trade/drop him for: Lance McCullers, Matt Shoemaker, Julio Urias
3 TO KEEP
Players to hold or trade for; owned in most standard leagues
Carlos Santana | Cleveland Indians | 1B
On one hand, Carlos Santana looks like a fantastic buy low candidate. He's struggling to shake the luck gremlins, BABIPing .204 in June after BABIPing only .193 in May and while Santana has always maintained a well below average BABIP, his last six weeks are tracking more than 60 points below his career average.
But on the other hand, his recent power outburst makes him look like owners ought to price him to move. Santana has maintained his fantasy value by socking five home runs in 18 games this month, but the corresponding leap in HR/FB rate (his 20.8% rate in June would be a career best by more than 4 percentage points) makes that production seem a bit spurious.
Count me among the buyers on Santana. He's made an adjustment at the plate that means he probably won't hit better than .240 the rest of the way, but that same adjustment gives him a shot to crack 35 home runs.
He's slashed his strikeout rate and boosted his power by focusing his swings where they can do the most damage.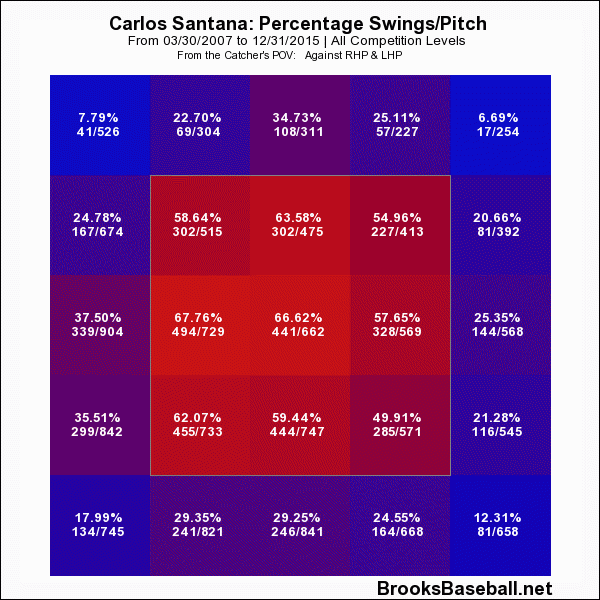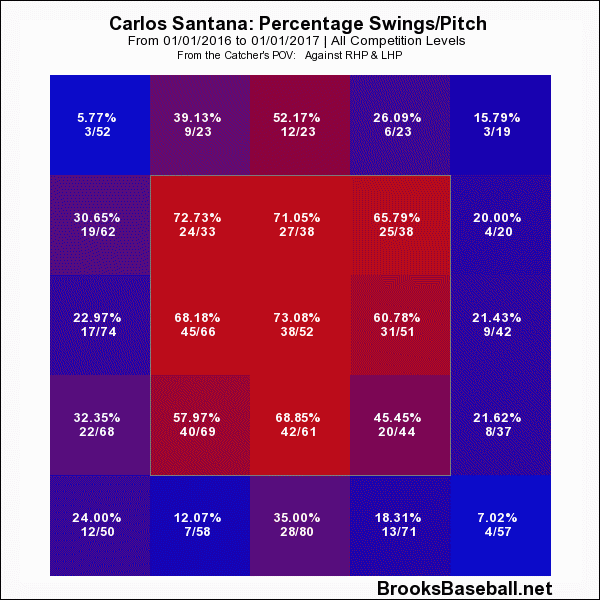 Per Brooks Baseball, he's attacking more on offerings up in the zone, where most of his home run power lies, and holding his nose at anything below the knees, where most of his strikeouts come from. That approach has unlocked even more power; his average fly ball distance has jumped nearly 20 feet from last season, according to Baseball Heat Maps.
I wouldn't trade/drop him for: Chris Carter, Brandon Moss, Mike Napoli
Danny Duffy | Kansas City Royals | SP
As our guy Chris Young proves, there's no better place for a fly ball pitcher than Kansas City. Over the past couple seasons, Danny Duffy rode the strength of spacious dimensions and spectacular defenders to wildly outperform his ERA estimators. In 286 innings in 2014-15, he pitched to a 4.12 FIP, 4.53 xFIP, and 3.27 ERA.
This season looks similar at first (Duffy currently holds a 3.17 ERA against a 3.80 FIP), but he's nearly doubled his strikeout rate and halved his walk rate, while maintaining excellent pop-up and weak contact rates.
His 18 relief innings bolster his overall stat line a bit, but Duffy's strikeout rate, walk rate, and WHIP are all better when he starts. He gets more ground balls and generates more weak contact. He also gives up more home runs, but five of the homers he gave up as a starter came in two starts against the Tigers and Orioles, two of a the best teams in baseball at hitting lefties for power.
Some of the change amounts to Duffy's improved control, but this season, his slider has emerged as an unlikely out pitch against right-handed hitters. Typically, pitchers throw the bulk of their sliders to same-sided hitters, but Duffy's juiced-up new model works the opposite way. It's faster and more differentiated from his looping curve ball, and it has been murder on righties.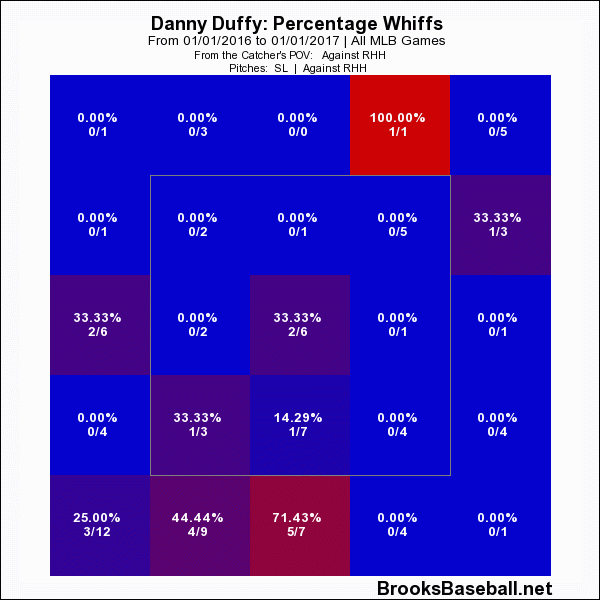 He's hung a couple that have been popped for home runs, but for the most part, the new and improved slider has been a weapon. That kind of measureable change makes Duffy worth a flier in mixed leagues.
I wouldn't trade/drop him for: Doug Fister, CC Sabathia, Michael Pineda
Aaron Sanchez | Toronto Blue Jays | SP/RP
The Blue Jays say they're going to move Aaron Sanchez to the bullpen, but with presumed ace Marcus Stroman imploding, hitters like Jose Bautista, Edwin Encarnacion, and Josh Donaldson approaching the tail ends of their primes (and their contracts), and the Jays struggling to keep pace with the streaking Red Sox and Orioles, I'll believe it when I see it. This team is firmly in win-now mode and doesn't have the rotation depth to survive the loss of the pitcher who's been unquestionably their best starter this season. Marco Estrada and J.A. Happ are minutes away from turning into pumpkins; neither is ready to lead a rotation.
This is a chance for fantasy owners to take a calculated risk. Zig when your competition zags.
Sanchez has been electric this season. He's harnessed his dynamite stuff, cutting his walk rate while maintaining a career best strikeout rate. Take this opportunity to get him at a discount; leverage the news in your favor to get at least 50 innings (or maybe more) of a top-of-the-rotation starter at a below market rate.
I wouldn't trade/drop him for: Drew Pomeranz, Steven Wright, Joe Ross