2016 Fantasy Baseball Waiver Wire: 3 to Catch, 3 to Cut, 3 to Keep (Week 16)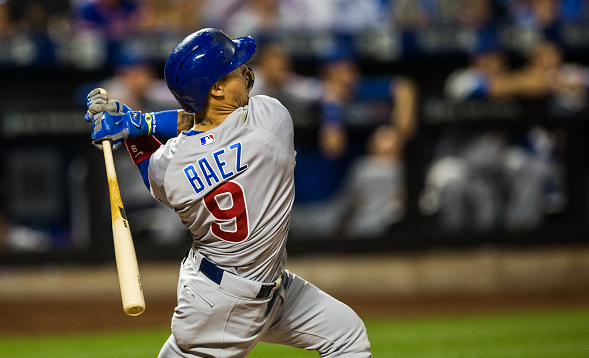 In the newest edition of fantasy baseball 3×3, we're selling high on Mookie Betts, buying low on Gerrit Cole, and sending some love to Javier Baez.
Thoughts, questions, whatever… you can always find me on Twitter.
3 TO CATCH
Players to be picked up; available in most standard leagues
Javier Baez | Chicago Cubs | 2B/3B/SS
This just feels right. Welcome back to 3×3, Javy. I may have been a little early on you, but damn it, I'm committed. And nobody's happier to see you realizing your potential. The projection systems see it too, though only ZiPS believes that you'll continue to earn near-everyday playing time, which doesn't make a whole lot of sense to me.
I mean look at him! Who wouldn't want to pencil this firecracker into the lineup every damn day?
I know the Cubs have a lot of talented hitters, but given how well Baez has performed, particularly the newfound maturity in his approach at the plate, I don't see much reason for pessimism regarding his playing time.
Recently, Baez has been getting a day off about every week or two, which is pretty normal for everyday players. Dexter Fowler's impending return could jeopardize Baez' playing time, but I'd expect Fowler to displace Willson Contreras from the outfield before he kicks Kris Bryant down to third base. Long term, Bryant's place is probably at the hot corner, but he's handled both outfield corners well and bouncing around the field hasn't seemed to affect his offense at all. Hell, Baez hit leadoff on Sunday, suggesting the Joe Maddon views his swashbuckling infielder as an integral part of the Cubs' murderous lineup.
So let's just use ZiPS to project out his future value, since it's the only system that accurately judges Baez' playing time.
With Carlos Correa, Trevor Story, and Ian Desmond, Baez is one of only four shortstop-eligible hitters projected to hit at least nine homers and swipe at least seven bags.
Baez is the only second base-eligible hitter projected to reach those marks.
Baez is the only third base-eligible hitter projected to reach those marks.
Clearly, the benchmarks I picked are somewhat arbitrary, but still, the rarity of that combination illustrates the value of Baez' unique ability. With his combination of counting stat production and positional versatility, Baez can serve a role in just about every league.
To pick him up, I'd drop: Eugenio Suarez, Starlin Castro, Eduardo Nunez
July is barely two weeks old, but it does contain all three of Brandon McCarthy's 2016 starts, so let's take a look at how he's doing relative to the rest of the league. In short, he's been among the best pitchers in baseball, right up there with Mike Leake… which illustrates just how fickle a couple of starts can be.
McCarthy hasn't ever been this good before, but he has made a significant change this season, swapping out sinkers for a heavier reliance on his fourseam fastball.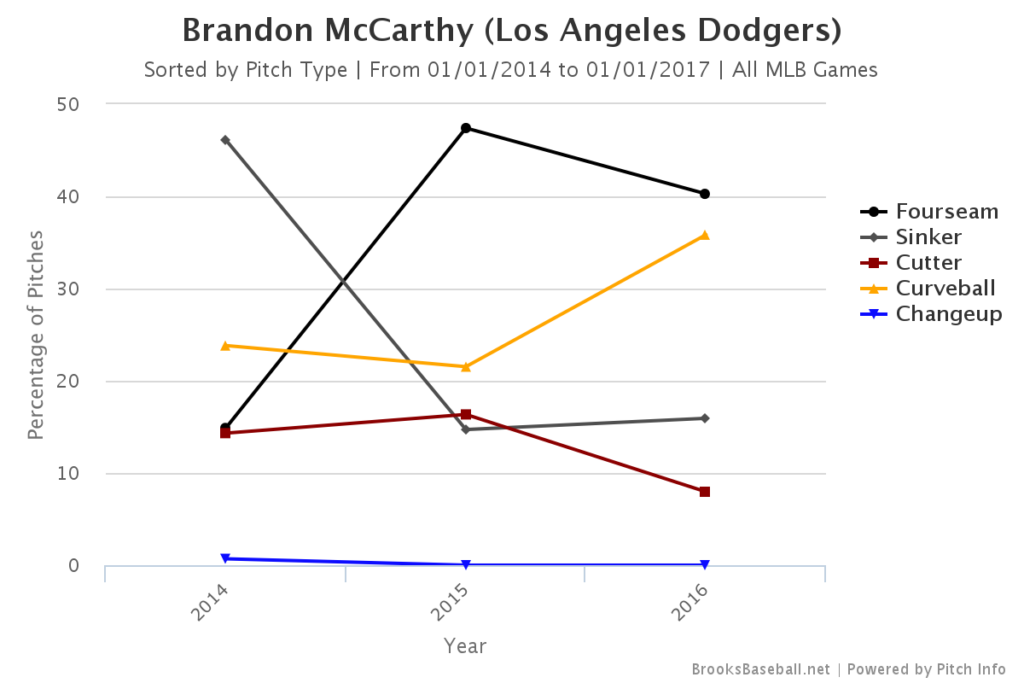 So far, the sinker has been the biggest beneficiary of that change. Without really any shift in movement profile, it's become a devastatingly effective pitch, inducing whiffs on more than 30% of swings, and unheard of whiff rate for a two-seam fastball. It's been the key to his huge jump in strikeouts this season.
I have to admit I'm skeptical that the sinker will continue to be quite this great, but this little window into what's possible is more than enough to convince me to scoop McCarthy wherever I can.
To pick him up, I'd drop: Francisco Liriano, Junior Guerra, Gio Gonzalez
Dylan Bundy | Baltimore Orioles | SP/RP
Dylan Bundy had about the least encouraging debut I could have realistically imagined; the Tampa Bay Rays took him to the driving range, socking three homers and chasing Bundy before the end of the fourth inning. It looks bad and it is bad, but perhaps it isn't quite as bad as it looks.
While the Rays don't immediately come to mind as one of the most fearsome offenses in the AL, Tampa actually ranks fifth in the American League in team ISO behind only the Orioles, Jays, Red Sox, and Mariners. And Bundy had been in the midst of a stretch of excellent home run prevention (3.70 FIP vs. 4.96 xFIP entering this outing). It was time to pay the piper and the Rays proved fully capable of tooting out a bleacher-denting melody.
Other than the home runs and a couple of walks, Bundy was actually ok. He didn't get many grounders, but that's not really part of his skillset. Bundy is at his best when he's spitting fire up in the strike zone and he proved fully capable of that against Tampa, holding his velocity well throughout the start.
It's conceivable that Baltimore brass could overreact to one poor start and slide Bundy back into a relief role, but that seems pretty unlikely. The Orioles are in the thick of a playoff race and Buck Showalter's other options include the likes of Ubaldo Jimenez, Odrisamer Despaigne, and Vance Worley…
So yeah, I think Bundy will get a couple more chances.
He's still a risky proposition, but his upside remains massive. There's a reason this guy was ranked as the second-best prospect in the game back in 2013. Even three years later, that stuff matters. And you need look no further than the guy ranked #1 that season to see what happens when that kind of dormant talent finally shows out.
To pick him up, I'd drop: A.J. Griffin, Hector Santiago, CC Sabathia
3 TO CUT
Players to be traded or dropped, depending on the depth of your league
Mookie Betts | Boston Red Sox | OF
This is not a command to drop, trade, or otherwise part ways with Mookie Betts, especially in keeper leagues. Rather, it's a suggestion that Betts won't be quite the same player in the second half. Given that he's current first among outfielders and third overall on ESPN's Player Rater, that sort of information could turn into the kind of lopsided trade that wins fantasy leagues.
Betts will likely continue to hit for an excellent batting average, continue to score buckets of runs atop the outstanding Boston lineup, and continue to swipe bags with aplomb, but that dude is not hitting 30 home runs.
Heading into Sunday night's, action Betts had already hit as many homers (18) as he had all of last season. But through those first 89 games, he's hit 23 doubles and four triples, putting him well behind last season's pace for non-HR XBHs. Through the first two years of his MLB career, 27% of Betts' extra-base hits were home runs. This season, a full 40% of his multi-baggers have found the seats, despite the fact that he's actually hitting significantly fewer fly balls than he did last year.
Knowing that, it should come as no surprise that Betts has had better home run luck that any hitter in the game. Baseball Heat Maps' xHR suggests that Betts has hit seven more homers than his fly ball distance (which doesn't crack the Top 100) would indicate he deserves. Per ESPN's Home Run Tracker, he's among the league leaders in wall scrapers, with 11 of his homers scored as "Just Enough". His 386.8-foot average home run distance ranks among the lowest in the game for hitters with at least ten bombs. Only Carlos Beltran and Ian Kinsler have hit as many homers with a shorter average distance.
Betts is a fantastic player, but ZiPS' projection for 10 second-half homers is awfully lofty. If you can get a top ten player in return, I'd make the move in redraft leagues.
A very strong close to the first half of the season has seen Luis Valbuena's ownership percentages start to creep up, but in all likelihood, forces outside Valbuena's control will conspire to limit his fantasy usefulness over the rest of the season.
With Alex Bregman rising in the west and Yulieski Gurriel ascending from the south, Valbuena's hold on third base is looking shakier by the day. It doesn't help that his defense at the hot corner has been average at best. A.J. Reed will probably lose his grip on the first base gig before anything happens to Valbuena, but Bregman and Gurriel are both going to make their way into this lineup, and none of the aforementioned 'Stros can play in the outfield. That means Reed moving off of first won't be enough. Combine that with the fact that Valbuena is very platoonable, with four times as many PAs against righties for his career, and it becomes really easy to send Valbuena to the bench at least a couple days per week. Valbuena could theoretically use that platoon advantage to contend for time as a DH, but current designated hitter Evan Gattis is an equal opportunity pitcher pounder, holding a .191 ISO against lefties and a .227 ISO against righties.
Even in AL-only formats, I'd be worried about relying on Valbuena down the stretch.
I'd trade/drop him for: Derek Dietrich, Brandon Drury, David Freese
Ian Kennedy | Kansas City Royals | SP
Ian Kennedy and the Royals were a match made in analytical heaven. Kennedy can miss bats and control the zone, all he needed was a huge yard and omnipresent outfielders to counteract his penchant for sending souvenirs toward the outfield bleachers.
So far, it's mostly worked out as we'd expect (Kennedy has maintained a 3.86 ERA (2.11 at home) and struck out a batter per inning with a fly ball rate closing in on 50%) except that his home run issues have somehow gotten worse. His 1.89 HR/9 would be a career worst, as would his 5.07 FIP. Kennedy's only saving grace has been that he's much more likely to surrender a homer when the bases are empty, but the gap between his 2.11 HR/9 with the bases empty and his 1.54 HR/9 with men on base is the biggest he's ever had, suggesting that, gulp, his home run issues could have an even more outsized impact on his ERA in the second half.
The schedule doesn't provide much shelter either. After a nine-game stretch in cavernous Kaufmann Stadium, the Royals head out to Texas, Tampa, Minnesota, Detroit, Miami, and Boston over the next few weeks. Those road trips feature a blend of elite power hitters (Giancarlo Stanton, Miguel Sano, everybody on the Red Sox) and cozy hitter's parks (sup, Arlington in July) that's enough to make any fly ball pitcher claustrophobic. Predictably, Kennedy allows a .492 road slugging percentage that's almost 200 points higher than his home figure.
He's playable in home games against weak offenses, but otherwise, Kennedy isn't worth a roster spot.
I'd trade/drop him for: Matt Shoemaker, Collin McHugh, Jon Gray
3 TO KEEP
Players to hold or trade for; owned in most standard leagues
Gerrit Cole | Pittsburgh Pirates | SP
Gerrit Cole got knocked around in his return from the DL, and I couldn't care less.
Mostly, I'm just glad to see one of the most gifted pitchers in the game back on a major league mound, but also, Cole suffered through a bout of awful luck against the Nationals. Over 53% of balls in play dropped for hits and over 45% of Washington baserunners came around to score. For his part, Cole failed to miss bats, generate grounders, and control the strike zone like he normally does, but that's not particularly surprising for pitcher who hadn't tossed a big league pitch in six weeks.
Good or bad, there's really no reason for one start from an established pitcher to drastically alter our view of him, other than fear of injury. Cole's velocity was down a tick, but not enough to convince me that he's still hurt.
Dealing for pitchers on the comeback from injury is always a risk, but Cole's upside makes it a no-brainer. If you can use this start to coax a sweetheart deal for Cole, take advantage.
I wouldn't trade/drop him for: Carlos Martinez, Dallas Keuchel, Chris Archer
Chris Carter | Milwaukee Brewers | 1B
We're getting to the part of the season in which, for players in roto leagues, a player with Chris Carter's particular set of skills becomes more and more valuable by the day. A month of two of poor performance in a rate stat can only hurt you so much, but a month with double-digit homers (Carter has logged three such months since 2014) can vault you a couple points up in the standings.
A relative lull in production has dropped him to just over the 50% line in ESPN leagues, but come on, we all know the homers are going to come; Jay Bruce won't be manning right field for all of Carter's games.
He still ranks among the league leaders in fly ball distance and HR/FB rate, but an unprecedented leaguewide power surge has obscured his fantasy value.
The cool down period that's probably on the way for all of major league baseball only increases the value of Carter's reliability. There's an owner in just about every league who ought to be able to find a use for him.
I wouldn't trade/drop him for: Mike Napoli, Travis Shaw, Yangervis Solarte
Aaron Nola | Philadelphia Phillies | SP
It's been a couple weeks since we touted Aaron Nola here as an excellent buy-low option and since then… things have been ugly. Over Nola's last five starts, the numbers are staggering. He's allowed 30 runs (27 earned) in 18 innings, good for a 13.50 ERA. Over half the balls put in play against him have dropped for hits, more than half the runners to reach base have scored, and a quarter of the fly balls he's allowed have left the yard.
Normally, there's some change that explains a faceplant like this, but in Nola's case, I haven't been able to find anything significant. Seriously, aside from an uptick in walk rate and a slight downturn in strikeout rate, Nola looks like exactly the same pitcher that was carving up the National League back when the Phillies were the "surprising" Phillies, instead of the "totally what we thought they'd be" Phillies.
His swing rates are relatively consistent.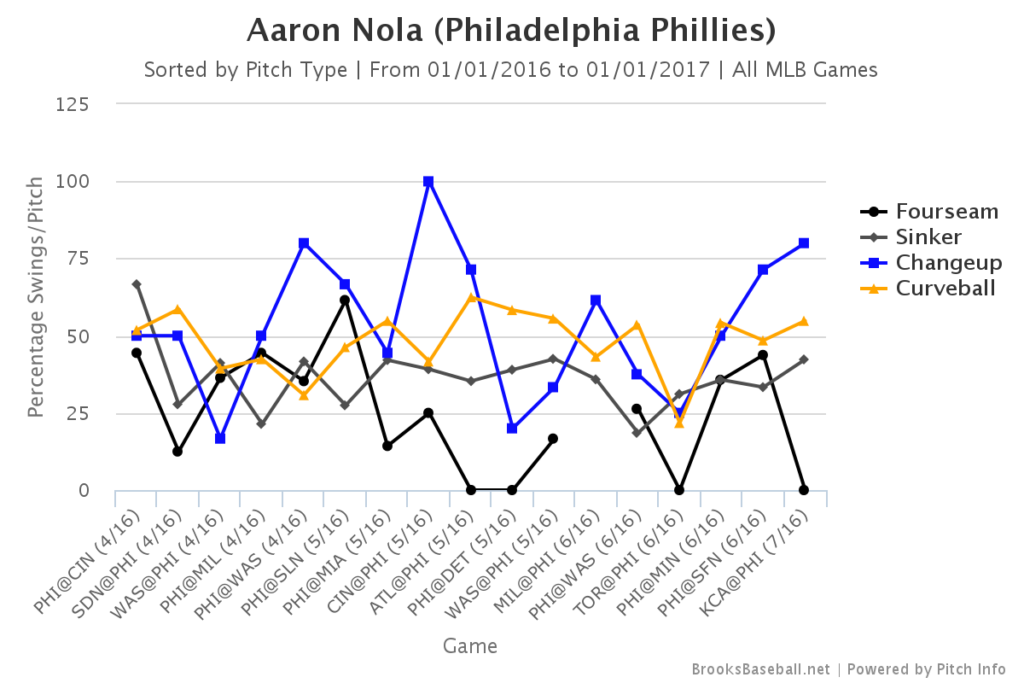 His whiff rates are relatively consistent.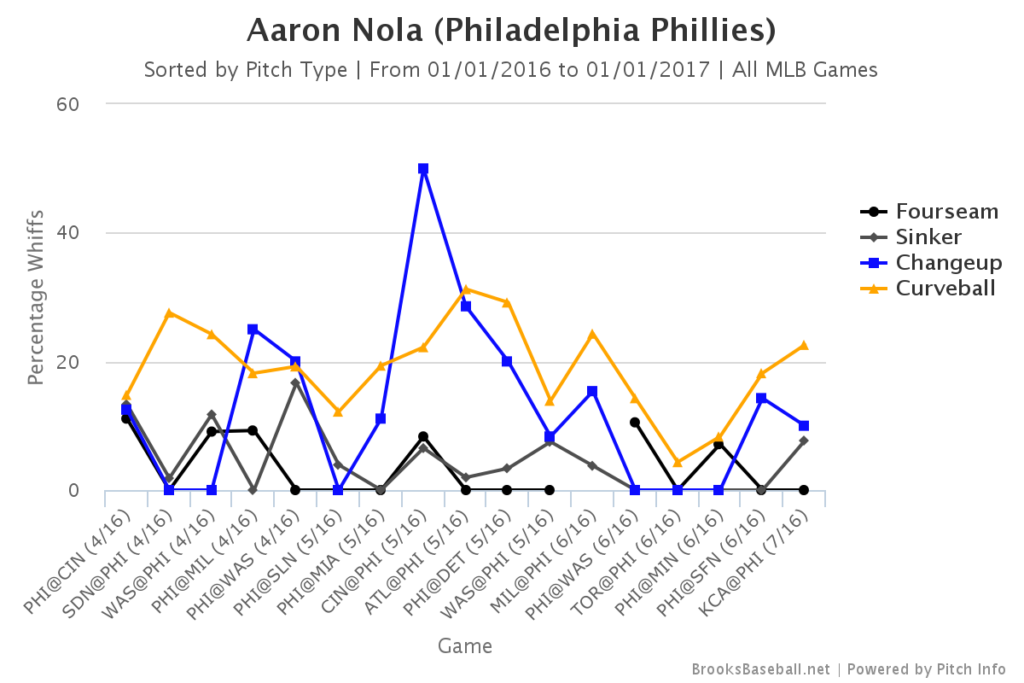 His velocity and arm slot are essentially the same, per Brooks Baseball.
With spikes in BABIP and home run rate pointing to bad luck and no significant marker calling out a drastic change in performance or approach, I have to assume that Nola's going to turn this around. At some point, he's going to turn back into the pitcher he was through the season's first two months, and owners who take a chance on his now will be handsomely rewarded.
I wouldn't trade/drop him for: J.A. Happ, Tanner Roark, Jason Hammel