2016 Fantasy Baseball Waiver Wire: 3 to Catch, 3 to Cut, 3 to Keep (Week 6)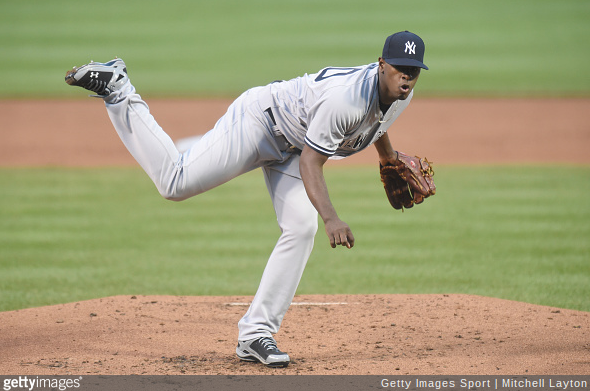 In the newest edition of fantasy baseball 3×3, we're celebrating Joe Mauer, doubting Jason Hammel, and scooping Luis Severino off the scrap heap.
Thoughts, questions, whatever… you can always find me on Twitter.
ON EARLY SEASON TRADES
This week, I made my first trade of this fantasy baseball season. I flipped Raul Mondesi, a ludicrously overpriced (my fault) Troy Tulowitzki and a couple future draft picks for Cole Hamels and Yunel Escobar in an AL-only dynasty league.
The first week of May is actually a little earlier than I typically break the seal, I think.
Since we still have a pretty small sample of information on what 2016 is looking like, I generally like to want to wait a couple more weeks before I start making deals to make sure I'm not overreacting to noise. Basically, I remind myself that there's still a great deal of shit that'll work itself out. Slumps will be busted, hot streaks will cool, adjustments will be adjusted to.
Partly for that reason, I tend not to employ draft strategies that build teams in a way that would require trades; I like to build balanced squads so that I can limit the amount of trades that I have to make, rather than just accumulating assets that might not fit together. But even for a team that was built for balance, it'd be wrong to think that it's too early for "have-to" (copyright, Chet Steadman) trades to be necessary. I fully support taking a measured approach to trading and not coming off of your pre-draft evaluations too soon, but don't think that just because it's early May your team can't already be in a significant hole. In roto leagues, do not underestimate the meaning of the rate stats you've already banked.
For instance, let's say you spent your top pitching picks on Chris Archer, Justin Verlander, and Zack Greinke and though you toasted a spectacularly successful draft day, your team ERA is already in the mid-4s. Those guys are all great pitchers, so we can safely assume they'll get better, but it doesn't change the fact that you've already banked a month of a Ubaldo-esque ERA. That month of awful production, insignificant as it may seem, makes it much harder to bring your overall average back to respectability. The season seems young, but we're already about 20% of the way through it, and that 20% counts, maybe more than you realize.
ALGEBRA BREAK!
Let's say your target for team ERA is 3.30. If you've gotten off to a not great, but decent start, say a 3.65 team ERA through the first 20% of the season, you'd need to maintain about a 3.21 ERA the rest of the way to bring your overall total back to target level. That's probably doable without any major changes.
But if you've started off with a 4.25 ERA, even for just a 20% sample, you'd need a 2.88 ERA the rest of the way to reach a 3.30 total. Yikes.
So while it's not wrong to expect the pitchers you have to turn it around, it's also not wrong to go out and trade for Clayton Kershaw in the second case.
And there's a reason I used Kershaw in that example. If you're filling a gap that huge, don't go get Vincent Velasquez to do it. I love that dude and I think he's going to be great, but if you're making a move this early in the season, your logic has to be rooted in 2016 results validating what you already knew about a player, rather than 2016 results indicated a huge jump in a player's development. Your level of confidence in the player you trade for should line up with the size of the gap you're trying to fill.
That said, you could choose the opposite strategy. Instead of targeting great starters in an attempt try to bring your ERA back toward the top of the standings, you could decide to recognize that your ERA might already be on the road to the bottom. You could choose not to swim upstream, but to focus on acquiring pitchers who kill it in counting stats but won't save your rate stats. This kind of counterintuitive strategy can be especially effective early in the season, since you're likely negotiating with leaguemates who don't completely understand your goals and motivations.
So be smart, but be aggressive. If you see your team trending severely in the wrong direction, don't be shy about making a move to course correct.
3 TO CATCH
Players to be picked up; available in most standard leagues
Luis Severino | New York Yankees | SP
In many ways, Luis Severino is just a little bit worse than he was last season.
For instance, all of his pitches are getting a little bit less horizontal run.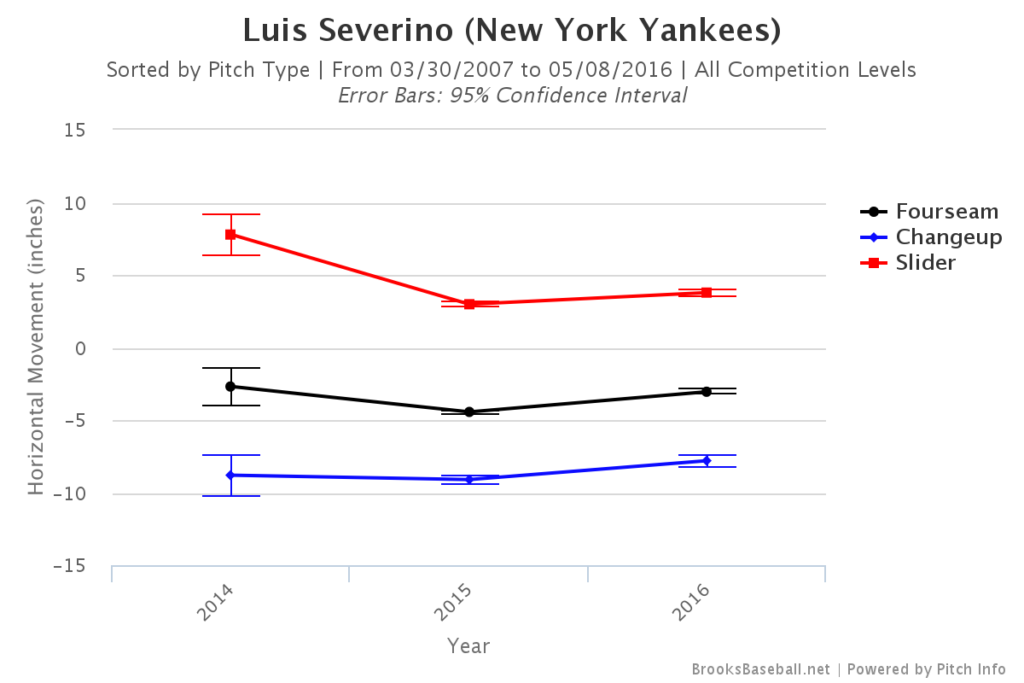 Which results in a little bit higher O-Contact%.
Which results in a little bit lower overall swinging strike rate.
Which results in little bit more contact.
Which results in a massively inflated BABIP.
Wait, what?
Sure, Severino's stuff maybe hasn't been quite as good, but he's still throwing really hard, almost exactly as hard as last season. He's still getting a ton of ground balls, actually a little bit more than last season. By xFIP and SIERA, he's been almost exactly the same pitcher. But heading into Sunday's start, this year's ERA is 6.31, more than double last year's 2.89.
The wall scraper that Dustin Pedroia just hit as I'm writing this is a perfect illustration of this point. If that ball drops a few feet shorter (or the game isn't played in Yankee Stadium), Severino probably escapes that inning unscathed. More bounces are bound to go his way over the rest of the season.
To pick him up, I'd drop: Hector Santiago, Anibal Sanchez, Steven Wright
Brandon Moss | St. Louis Cardinals | 1B/OF
At this point in the season, I like to take a good long stroll through the FanGraphs leaderboards in situations with men on base. Good or bad fortune in those situations can really tilt a player's fantasy value. You'll see this theme come up throughout, but Brandon Moss is a particularly good illustration of it.
Though he doesn't start every single game, Moss tends to be in a run producing spot when he is penciled into the lineup. So it's no surprise that he's already had 47 plate appearances with at least one runner on base. Per FanGraphs, Moss' plate discipline is much better in those situations than it is when the bases are empty and he elevates the ball significantly more often, which is generally a good thing for a hitter blessed with as much power as Moss. On top of that, Moss benefits from facing fewer shifts with men on; his BABIP is 100 points lower against the shift.
So how on earth as Moss managed a .087 BABIP with men on base? Only Corey Dickerson has been worse. The two share the distinction of being extreme fly ball hitters, and some of their BABIP woe is due to homers that aren't counted as "balls in play" but even with that in mind, a BABIP that can't even get on the interstate is ridiculous.
Overall, Moss is hammering the ball with as much power as anybody not named Trevor Story; only Story has a better average batted ball distance, per BaseballHeatMaps. His latest bomb was a 438-foot work of art.
Woof.
He'll keep hitting homers, no doubt, but as the season goes on, he'll be an even more consistent RBI producer as well.
To pick him up, I'd drop: Ryan Zimmerman, Tyler White, Khris Davis
Lance McCullers is on his way back. After missing the start of the season with shoulder soreness, he was in fine form during a rehab start on Saturday night and now looks poised to join the Astros sometime this week. None of this news is a surprise (McCullers was "sore", but never actually injured) but is seems like the majority of fantasy leagues haven't noticed. Despite the fact that FantasyPros' ECR has him as its 43rd-ranked starting pitcher, ahead of fellow young studs like Aaron Nola and Jake Odorizzi, is ownership is still hovering right around the 50% mark in ESPN leagues. That might seem like a bit much for a pitcher who's yet to face a major league hitter this season, but FanGraphs Depth Charts doesn't disagree.
Depth Charts has McCullers as one of only 25 starters pegged to whiff better than a batter per inning over the rest of this season. Nearly all of the other 24 are already owned in just about any league. The outliers include surprises who've already been mentioned in this column (Rich Hill and Drew Pomeranz, you're welcome), as well as top tier prospects like Tyler Glasnow, Blake Snell, and John Lamb. Those pitchers might well turn out to be positive fantasy contributors this season, but none has as clear a path to a rotation slot as McCullers. He should be owned in every league.
To pick him up, I'd drop: Scott Kazmir, Ian Kennedy, Joe Ross
3 TO CUT
Players to be traded or dropped, depending on the depth of your league
Kole Calhoun | Los Angeles Angels | OF
Last season, Kole Calhoun began to transition from a top-of-the-order run scorer to a middle-of-the-order run producer. His role on the team is the same this season, but he's just not driving the ball the way he needs to in order to be successful. Calhoun's hard hit rate sits at a career low, as does his pull rate. It's hard to tell whether it's a deliberate change in approach, but Calhoun isn't making the kind of contact that turns into home runs for him. Check out his 2015 homer chart from ESPN's Home Run Tracker, almost everything is toward right field.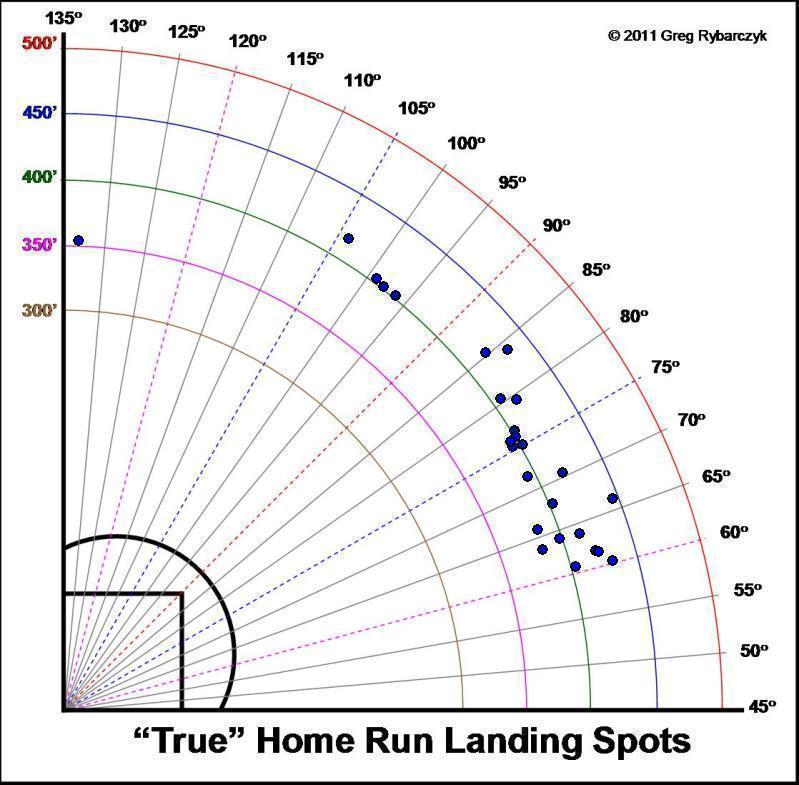 He feasted on fastballs with a quick bat that could take heaters up and on the outer half out of the ballpark to right center. This season, both of his home runs have been to right, but overall, his spray angle on hard stuff is trending toward centerfield.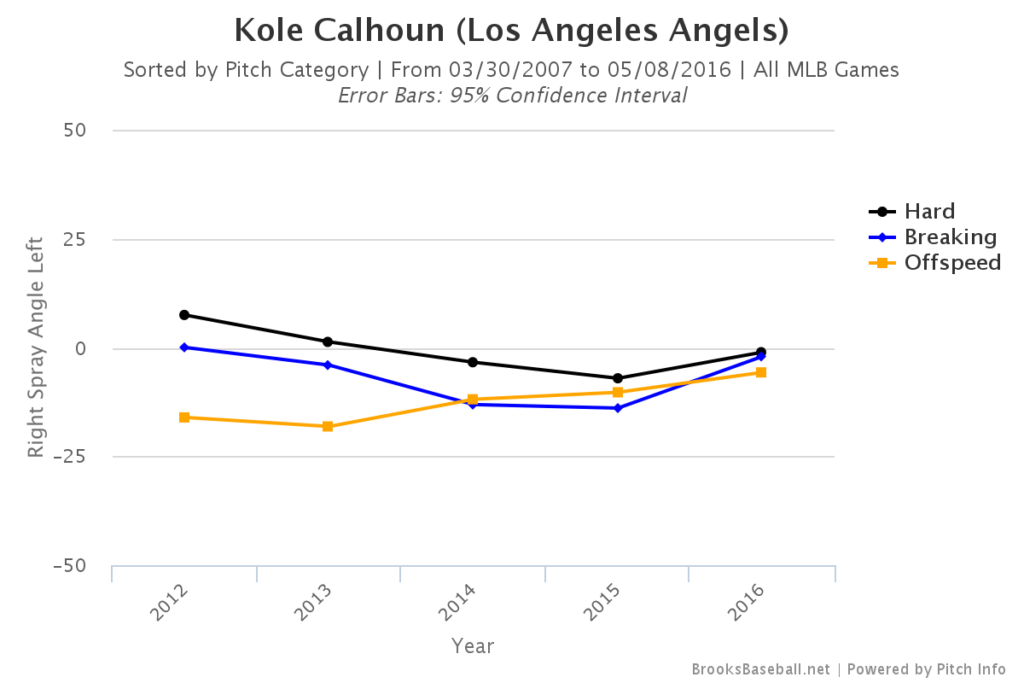 Pitchers are challenging him with hard stuff inside, particularly off the plate inside, away from Calhoun's power. And he's struggling to adjust. He's smartly laid off many of the pitches he knows he can't drive (Calhoun sports marked improvements in both his strikeout and walk rate), but as long as he keeps getting pitched this way, I worry about his ability to generate power. If he can't prove that he can turn on those inside heaters, there's no reason for pitchers to stop going in there. I wouldn't outright drop Calhoun in most cases, but he's a great target to trade away.
I'd trade/drop him for: Michael Conforto, Corey Dickerson, Gerardo Parra
Jason Hammel | Chicago Cubs | SP
Jason Hammel battled his way through a less-than-stellar outing against the Nationals on Saturday, and I think it's going to be the start of a trend. Though his ERA and WHIP remain excellent at 1.85 and 1.15, respectively, his strikeout rate is down four points from last year's career-best level and his walk rate has nearly doubled, meaning that he's needed a very fortunate BABIP (.258, nearly 50 points below his career average) and strand rate (86%, nearly 15 points above his career average) to keep those numbers in line.
I can't guarantee that his BABIP will rise and his strand rate will fall, but I can say that there's no magic behind those numbers. He's getting more grounders, which is typically good overall, but usually leads to a slight uptick in BABIP. With men on base, his strikeout rate drops to an embarrassing 13.3% and his walk rate climbs to an equally embarrassing… 13.3%. In high leverage situations, his hard contact rate is approaching 40%.
And yet, his 3.24 ERA with men on base is among the best in the league.
Sooner or later, Hammel is going to have a couple of disaster outings. If you can attach him to a higher profile asset in a trade, now is a great time to move him.
I'd trade/drop him for: Drew Pomeranz, Wei-Yin Chen, James Shields
Adam Conley has started six games this season. Three times he's allowed zero runs, four hits or fewer, and struck out at least six. Three times he's allowed at least three runs; in two of those three starts, he only managed a pair of strikeouts.
His arsenal is good, but not overwhelming. Despite a higher-than average line drive rate, his fastball has held opposing hitters to a .355 slugging percentage, per Brooks Baseball. He's yet to surrender a hit on the 82 changeups he's thrown. It's a good pitch, but Conley has certainly benefitted from some good fortune there.
His overall swinging strike rate is above average, but not elite. He struggles to get batters to chase, so more often than not, he has to get hitters out inside the zone. That's great for pitchers who can reach back and get a whiff whenever they need it, but wIthout elite stuff, that approach tends to yield the kind of in consistency we've seen in his game log so far.
Conley has been good over his last couple of starts, but he's just too inconsistent for my tastes. He's not a bad pitcher, but with so many quality starters available in most 10-12 team leagues, he's just not worth the risk in most cases.
I'd trade/drop him for: Nathan Eovaldi, Jerad Eikhoff, Rubby de la Rosa
3 TO KEEP
Players to hold or trade for; owned in most standard leagues
Joe Mauer | Minnesota Twins | 1B
The 2016 season has been something of a renaissance for Joe Mauer. He probably hasn't regained the "Favorite Son of Minnesota" title that took over from Gordon Bombay and owned through the mid-200's peak of the piranha-fueled Twins, but he certainly looks rejuvenated. Through 30 games, Mauer is hitting .302 and riding a career high walk rate to a .423 on-base percentage. He has been arguably the most disciplined hitter in the game; Mauer has one of the league's lowest chase rates and leads all of baseball with a preposterous 2.8% swinging strike rate. And none of this is new. All of these are elite skills that Mauer has shown in the past, just boosted a few percentage points.
Just that alone makes him an under-the-radar star worth trading for, but if only he could hit for some power…
I didn't include Mauer's whole slash line above because his slugging percentage is a depressing.406. Out of 32 base hits, he's managed just six doubles and one home run. It was a beaut, but it's been nearly over a month since he's found the seats.
Still, there is hope.
Mauer is turning grounders into liners and pulling the ball more often than he has in years. And an outstanding piece on using Statcast data to project hitting performance by FanGraphs' Andrew Perpetua pegs Mauer as one of the league's biggest underperformers in terms of wOBA. Now, most fantasy leagues don't score that particular stat, but higher wOBA usually means more extra base hits, especially for a player like Mauer who already sports an excellent batting average. BaseballHeatMaps agrees; Mauer's 293-foot average batted ball distance puts him in the company of consistent power threats like J.D. Martinez and Hanley Ramirez.
He won't get near the 28 homers he popped back in 2009, but it's very likely that Mauer will provide more than just empty average over the rest of this season.
I wouldn't trade/drop him for: Carlos Santana, Travis Shaw, Wil Myers
Todd Frazier | Chicago White Sox | 3B
With eight homers in 32 games, Todd Frazier has already been quite good this season. His HR/FB rate is right where you'd want it to be and he's hitting more fly balls than ever. He's given owners pretty much what they expected, aside from a .195 batting average.
The batting average will obviously turn around; one look at Frazier's .178 BABIP easily answers that question. But when it does, his owners won't just get a boost in average, they'll likely get a deluge of RBI as well. Frazier's BABIP has been bad overall, but he's been unimaginably unlucky in run producing situations. With men on base, under 14% of his balls in play are dropping for hits. Yet even so, only four third basemen have knocked in more runs.
Frazier regularly hits in the cleanup spot of what's been a pretty good White Sox order. Ahead of him, Adam Eaton (.378 OBP) and Jose Abreu (.336 OBP and career best walk rate) have been extremely capable table setters, but Frazier really hasn't taken advantage. He'll almost certainly start to drive in more runs as his batted ball luck turns, and if Robin Ventura ever drops his silly fascination with hitting the long washed up Jimmy Rollins in the two-hole, Frazier could end up among the league leaders.
I wouldn't trade/drop him for: Kyle Seager, Adrian Beltre, Maikel Franco
Even after a pretty good outing against the Red Sox on Friday night, Michael Pineda's ERA sits at a ghastly 5.73 after settling at a disappointing 4.37 last season. His strikeout numbers have remained quite good, but the home runs that plagued him last season have gotten even worse; only Chris Young and Jeremy Hellickson have given up gopher balls more frequently, per FanGraphs. I don't think Pineda will solve his home run issue (though playing on the road more often will help, since every single one of the homers he's allowed has been in Yankee Stadium), but I do think his run prevention will improve.
Pineda's splits are incredibly puzzling. Half of his homers have come with men on base, despite that fact that his strikeout rate jumps and his walk rate plummets in those situations. His K%-BB% with men on is among the best in baseball. His ERA in those situations is among the worst.
Judging a pitcher only on walks and strikeouts is incomplete, but it feels like those two trends can't continue together. Plus, Pineda's been hit hard in ways that don't match up to how he's struggled in the past. Through his six starts this season, batters have hammered Pineda's pitches down in the zone, particularly lefties on pitches down and in.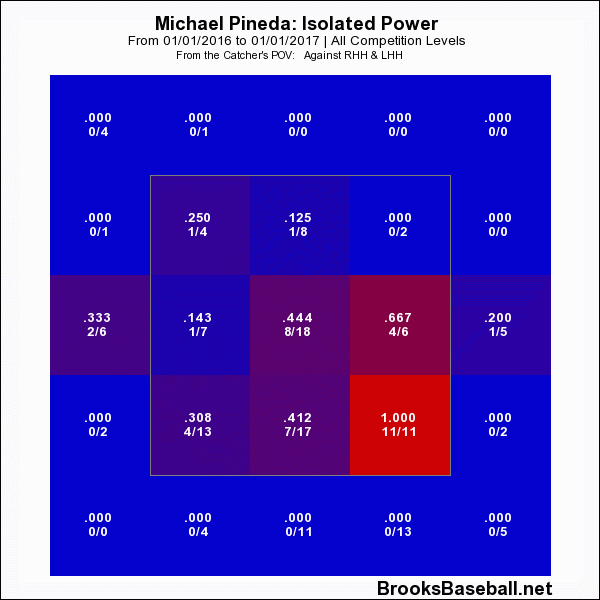 But prior to this season, that slice of the strike zone hadn't been a big issue for him.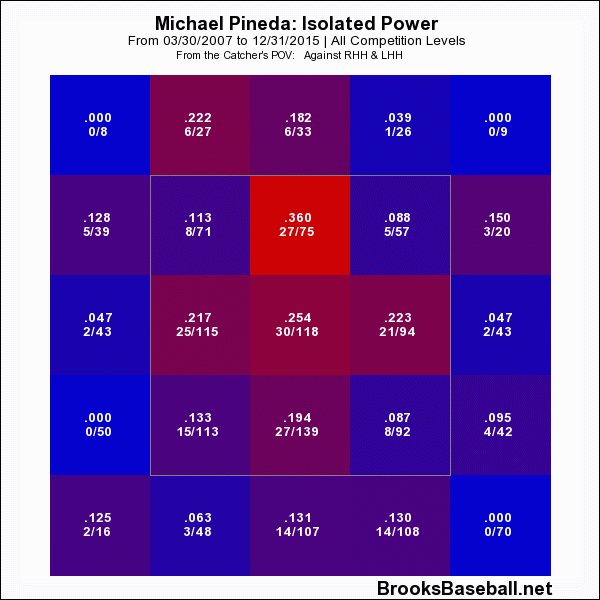 It's possible that this is a new chronic issue, but I doubt it. Pineda continues to consistently mix bat-missing stuff with zone-pounding control and eventually, that's going to deliver better results. His luck did start to turn a little bit on Friday…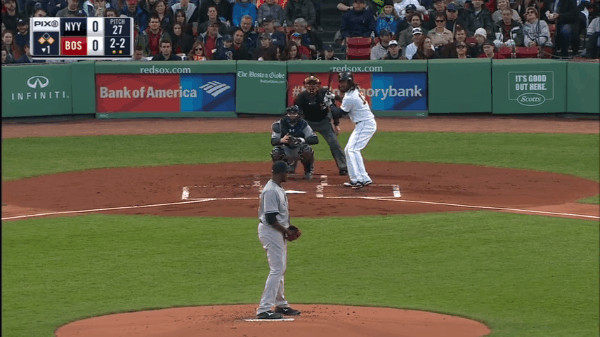 I wouldn't trade/drop him for: Kyle Hendricks, Chris Tillman, Tanner Roark