2017 Fantasy Baseball, Atlanta Braves Team Preview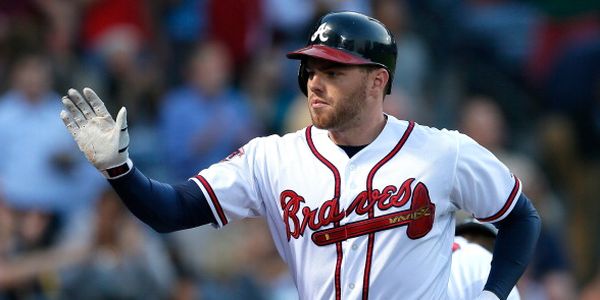 Offseason Overview
The Braves quietly built a decent lineup for themselves last season. They added Dansby Swanson late in the season to a lineup that already featured Freddie Freeman, Nick Markakis, and Matt Kemp. So, they focused on the rotation in the offseason and they got off to a quick start. They signed Bartolo Colon and R.A. Dickey in November and then traded for Jaime Garcia of the St. Louis Cardinals. None of them will blow up your skirt, but all three are solid veterans that should at least log innings.
Top Draft Picks
Freddie Freeman may not look like a stud, but the sabermetric numbers show he is one of the top five first basemen in the game. The only thing standing in his way are the so-called counting numbers and those will come as they add more quality to their lineup. He already score more than 100 runs for the first time last season and he should add 100 RBI if he is healthy.
Matt Kemp is the exact opposite. He puts up huge numbers, but in terms of value he isn't there. He is one of those players where you have to shut off your brain and simply look at the five basic fantasy categories. He's averaged nearly 100 RBI over the past three seasons and there is no reason why that shouldn't continue. Ignore the WAR and go for what actually counts.
High Upside
This one is easy. Dansby Swanson has the opportunity to break into the trio of great young shortstops to make it a quartet. Of course, if you include Xander Bogearts in that group then you are talking a Dave Clark Five. Swanson isn't as talented as that group, but he has a chance to hit 15 home runs and steal 15 bases if he plays every day. That may not be upper echelon but it might good enough to be a starting fantasy shortstop.
The only thing between Julio Teheran and fantasy greatness is decent run support. He has a career 3.39 ERA, but he has been a .500 pitcher since coming up. The ERA estimators at Baseball Prospectus and Fangraphs may not like him as much, but after four seasons you are who you are. He still is not a fantasy ace, but he could be a very good number two or three starter in a fantasy rotation.
High Downside
You can't help but like Bartolo Colon. Yet, we cannot deny the laws of physics. First, he will turn 44 years old in May. Secondly, he is moving from a playoff contender to one of the also-rans in the National League. The odds are low that he will win 15 games or pitch to a 3.43 ERA. Of course, the Braves don't necessarily expect that themselves. They just hope he'll take the ball every fifth day and give them five or six decent innings. That's worth something, but it isn't worth a draft pick.
Similarly, Jaime Garcia has impressive career numbers with the St. Louis Cardinals and you can see the wheels spinning for the optimistic Braves fan. Colon was brilliant last season, Garcia has similar career numbers, and R.A. Dickey won the Cy Young award the last time he was in the NL. We're going to the World Series! That's the great part of January and February. Reality doesn't have to set in. When you are drafting your pitchers you'd better heed the reality.
Closer Situation
The Braves have one of the more interesting bullpen situations in baseball. Behind door number one you have Jim Johnson. It seemed like an eternity ago, but he did save 50 or more games in back to back seasons. So, he has the qualifications even if he may not have the stuff. Behind door number two you have Arodys Vizcaino has really good stuff and has saved some games. He looks to be the setup guy now, but he has better stuff than Johnson, so he may get the role eventually. Door number three has Mauricio Cabrera. He has ridiculously filthy stuff, but is short on experience. He did save six games a year ago, but they will probably stash him in middle relief this season to let him get his feet wet.
Impact Minor Leaguers
The tear down that occurred over the last couple of seasons has helped to stock the Braves farm system. Swanson could be here, but we are considering him as already arrived. The Braves got Sean Newcomb from the Angels in the Andrelton Simmons deal. He pitched well in AA last season, so he should be ready to go in AAA in 2017. Scouts say he has a plus plus fastball to go along with a plus curve and solid changeup. If there are injuries to any of the geriatric gang then he could end up stepping in and beginning his development at the big league level. While the Braves have a ton of good prospects, most of them are scheduled to make their debuts in 2018 or later.
Surprising Statistic
Turner Field opened for business following the 1996 Summer Olympics. That's only 20 years of being in business before Suntrust Park opens in April. For most stadiums, 20 years would barely be breaking it in. To think that some people think we are spending too much money on new stadiums. That's just crazy talk.