2017 Fantasy Baseball: First Base PECOTA Rankings A-H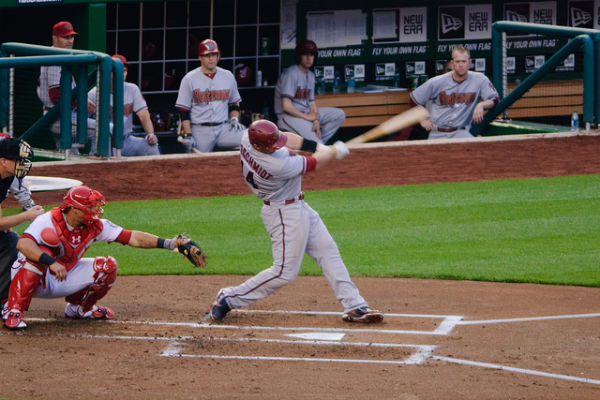 For hardcore baseball fans, the Baseball Prospectus annual is like the bible. We wait with baited breath for the projections for the coming season. Naturally, projections are not written in stone. Often times, players don't produce those numbers, but PECOTA is about as accurate as you can find. We've already ranked the first baseman based on what they have done over the past three and five seasons. We are not re-ranking them now. Instead, we are comparing each player against the median first baseman. The median first baseman is defined as the average between the 12th and 13th ranked first baseman.

Instead of an arbitrary ranking we will compare each player in the five categories with the median. If a player is better in all five categories he likely is elite. Of course, there are other considerations. We should also consider how close or how far the player is from the median in any particular category. When a player meets or exceeds the median that number will be labeled in green font. Players that come up short will be labeled in red font.
Median: .269/25 HR/77 Runs/85 RBI/3 SB
Jose Abreu— Chicago White Sox
PECOTA: .287/28/78/92/1 (+4)
3 Year: .300/30/78/103/1
Like with catchers, speed amongst first basemen is not necessarily a big deal. That's the good news. The bad news is that his numbers have gone down in each of the past two seasons. It pays to pay attention to walk rates even your league doesn't count them. Abreu has a low walk rate and so pitchers are able to take advantage of his free swinging nature.
Josh Bell— Pittsburgh Pirates
PECOTA: .280/15/69/59/3 (+2)
3 Year: N/A
Bell has looked good all the way up the line and had some success in a cup of coffee last season. Going an entire season against ML pitchers is a whole different story. He is projected to have a decent walk rate, so hopefully he can avoid prolonged slumps. Power is always the last tool to reveal itself, so don't expect big power numbers next season, but he could grow into that.
Brandon Belt— San Francisco Giants
PECOTA: .269/19/82/71/5 (+3)
3 Year: .266/16/60/59/4
Welcome to the median. Belt may not be the pure median first baseman, but he's pretty darn close. One of the patterns we see in the data is that twelve players will be three category players (or more) per position. So, Belt may or may not be a regular. He comes pretty close to the median in the categories where he excels, so he really doesn't give you anything great. He keeps you afloat until something better comes along.
Miguel Cabrera— Detroit Tigers
PECOTA: .310/32/91/104/1 (+4)
3 Year: .322/27/86/98/1
Again, we have the stolen bases again. So, technically Cabrera is not the elite of the elite because of the steals. He also doesn't draw as many walks as the elite guys, but he is still a five category boon in six category leagues. His ticket for Cooperstown is all but punched at this point. The only question is how long he will continue to compete an elite level.
Chris Carter— New York Yankees
PECOTA: .223/32/77/89/3 (+4)
3 Year: .216/34/67/84/3
Batting average is the last vestige of a bygone era. Think of it like the rotary phone, the eight track, or black and white television. The question for Carter owners is whether he will continue to play every day in New York. If he does, he could produce more than the numbers above. He has proven to be a prodigious power threat, but you have to stomach a boat load of strikeouts along the way.
Chris Davis— Baltimore Orioles
PECOTA: .242/35/82/96/2 (+3)
3 Year: .226/37/88/91/2
The difference between Carter and Davis is that Davis is making big time dough. As such, he will play everyday as a general necessity. It's always interesting the way the world works. Carter leads the NL in home runs and has to wait until February to get a low-ball offer. Davis led the American League in 2015 and ended up getting nine figures.
Lucas Duda— New York 
PECOTA: .233/24/69/77/2 (+0)
3 Year: .242/21/54/63/1
Out of sight and out of mind. Most people forget about Duda because 2016 was virtually a wash out for him. That could end up being good for you. Outside of batting average, he isn't that far away from the median in any category. His walk rate is higher than normal, so he might be average overall. All this for a guy that likely will last all the way through the draft.
Edwin Encarnacion— Cleveland Indians
PECOTA: .268/35/87/99/3 (+4)
3 Year: .269/38/89/112/2
Encarnacion is one point away from being a five category guy. The only thing to keep in mind is that runs and RBI are not portable. The Blue Jays had a special thing going with Encarnacion, Josh Donaldson, Jose Bautista, Russell Martin, and Troy Tulowitzki. The Indians have a good offense, but that offense was special. Don't expect him to produce on that level again.
Freddie Freeman— Atlanta Braves
PECOTA: .282/24/82/88/3 (+4)
3 Year: .289/23/86/78/4
The Braves went through a tear down only to ramp things back up this winter. They added three starting pitchers and added Brandon Phillips this week to an offensive attack that is deceptively deep. They added Matt Kemp last season and Dansby Swanson came up late in the season. Add that to Freeman and Nick Markakis and you have the makings of a decent offense. We should see a few more runs and RBI.
Paul Goldschmidt— Arizona Diamondbacks
PECOTA: .295/28/93/94/18 (+5)
3 Year: .306/25/94/91/21
Goldschmidt is actually a six category guy when you add in the walks. When you have a high batting average and patience you are a Hall of Fame level performer. The only weakness in his game is the lack of a supporting cast. Obviously, it's not his fault but it's something you have to consider. The stolen bases make him a first round fantasy pick though.
Adrian Gonzalez— Los Angeles Dodgers
PECOTA: .270/21/67/79/1 (+1)
3 Year: .279/24/76/99/0
We include the three year averages as a point of reference. Essentially, Gonzalez has been producing runs through smoke and mirrors. His power has diminished each passing season to the point where he is barely functional as a fantasy player. He might be worth a late round pick at the off chance that he will continue to drive in runs, but someone will pick him sooner based on past performance. Let them.
Eric Hosmer— Kansas City Royals
PECOTA: .273/18/73/78/6 (+2)
3 Year: .277/17/73/85/3
Hosmer will be a free agent after the season. He's been fairly durable over the last few seasons, so he's put up some numbers, but when you look at the numbers it's hard not to be found wanting. He doesn't do anything that is well below standard, but there isn't anything there that is well above board either. He is fantasy bench material.