2017 Fantasy Baseball: First Base PECOTA Rankings J-V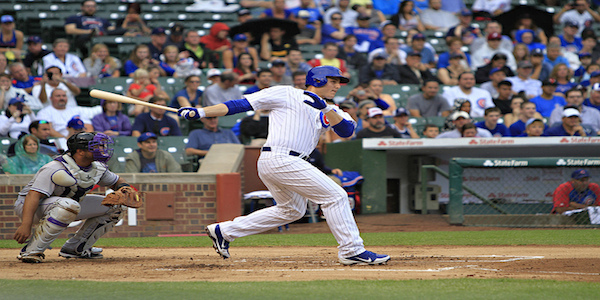 Everyone loves rankings this time of year. Valentines Day is the unofficial beginning of draft season for fantasy baseball. There are mock drafts galore on most of the major sites and preseason magazines are coming out with their picks. Baseball Prospectus's PECOTA projections are about the most accurate in the industry. However, instead of purely ranking our players arbitrarily, we are taking a different approach this year with the projections.
This time, we are taking the top 24 guys according to the projections and coming up with a median score for each of the five categories. The median is defined as the average between the 12th and 13th guy on the list. Immediately, we see that first base is perhaps the best offensive position on the diamond. So, the median is more advanced. We are color coding the projections this year so that you see how many categories each guy excels at. Pay particular attention to not only the number of categories a player excels in, but by how much they excel. Some categories (like stolen bases) are relatively less important than others because of the lack of range between the top and bottom.
Median: .269/25 HR/77 Runs/85 RBI/3 SB
Tommy Joseph— Philadelphia Phillies
PECOTA: .252/31/72/89/2 (+2)
3 Year: N/A
Keeping in mind what we said about stolen bases, Joseph is virtually average in the projection. He had a partial season last year, so the Phillies and their fans are understandably excited to see what he can do without Ryan Howard hanging around. You hate to put pressure on a young guy, but he is one of the key figures on a young team looking to compete. He could be a sleeper this season.
Victor Martinez— Detroit Tigers
PECOTA: .278/19/67/78/1 (+1)
3 Year: .290/23/64/84/1
Martinez is one of those hitters that is only valuable in fantasy terms when he is having good batted ball luck. The Tigers keep riding that magic BABIP train as far as it will take them. As a designated hitter, he brings virtually no positional flexibility to the table. In some formats, he can only be used as a utility player. In those leagues there is no reason to even bother.
Kendrys Morales— Toronto Blue Jays
PECOTA: .264/22/68/80/0 (+0)
3 Year: .257/20/58/80/0
Martinez and Morales are actually pretty similar guys. Morales does not hit for quite as high an average, but he draws a few more walks. Otherwise, they are virtually a wash and bring the same positional flexibility to the table. The one upside he has is that he is moving to a better offensive team than the one he was on. So, he might get some cheap RBI.
Wil Myers— San Diego Padres
PECOTA: .256/22/75/76/18 (+1)
3 Year: .247/14/59/53/13
The Padres were in the same boat as many fantasy fans this offseason. Myers is pretty good, but not especially good when compared to other first basemen. The trouble is that they had virtually nothing else established in their everyday lineup. For the fantasy player, he offers intriguing numbers in the steals department, but little else. Do you punt first base and then hope he continues to develop or do you avoid that temptation?
Mike Napoli— Texas Rangers
PECOTA: .236/25/73/80/4 (+2)
3 Year: .237/23/62/69/4
Occasionally, the fantasy world and real baseball world don't connect. Napoli is fairly close to replacement level at this point, but he manages to put up the numbers that fantasy players crave. He's an accumulator by nature. He's marginally better than what the Rangers had going previously, so he will be useful. In fantasy terms, he probably has a good spot on your bench or as a corner infield or utility bat.
Steve Pearce— Toronto Blue Jays
PECOTA: .261/21/63/71/3 (+1)
3 Year: .263/16/43/41/2
Pearce is an interesting guy. He began his career as a middle infielder and became a corner bat through evolution. He's been on five different teams and played nearly every position, but never seems to stick. The Blue Jays will be his sixth team and hopefully he finds a home. A guy with a career 110 OPS+ deserves better than this, but he represents one of the best examples of continuing inefficiency in the game. He could be a valuable bench piece depending on how many positions he remains eligible to play.
Albert Pujols— Los Angeles Angels
PECOTA: .256/27/73/84/4 (+2)
3 Year: .261/33/82/106/5
The difference between the PECOTA projections and the three year average is noticeable. He would be a four category performer under that paradigm and there are people in your draft that will treat him as such. He had foot surgery and supposedly will be 100 percent healthy this time. For players in their mid thirties we hear this kind of talk all the time. Slippage is inevidable. As they always say, Father Time is undefeated.
Hanley Ramirez— Boston Red Sox
PECOTA: .276/23/75/81/11 (+2)
3 Year: .273/21/68/78/10
Ramirez appears to have become a very expensive designated hitter. Last season was a good year for Ramirez and proof that he still has a place on a fantasy roster. If he is still eligible as an outfielder then he definitely has a place. It's easy to buy into the 100+ RBI he had a season ago, but Boston's offense will take a hit with the absence of Big Papi.
Anthony Rizzo— Chicago Cubs
PECOTA: .270/31/90/98/8 (+5)
3 Year: .285/32/93/96/8
Most of the time, the PECOTA projections make sense. A player is in his prime and has produced on a certain level, so he will likely continue to produce around that level. Whether you buy Rizzo as the second best first baseman or not is your call. He is one of two five category guys. Of course, you also have to consider the relative difference each category comes from the median. Some guys have categories they dominate more, but there is something to be said for checking every box.
Carlos Santana— Cleveland Indians
PECOTA: .251/26/102/85/8 (+4)
3 Year: .240/27/76/86/7
PECOTA keeps predicting better batted ball luck and it never seems to happen for Santana. The law of averages dictates he will break out of that shell eventually. Otherwise, he is the perfect first baseman offensively for the fantasy player that doesn't want to pay top dollar. He even adds 100+ walks per season to go on top of everything else. He isn't elite in any other category, but he does a little bit of everything.
Mark Trumbo— Baltimore Orioles
PECOTA: .251/33/78/94/2 (+3)
3 Year: .251/28/64/78/1
Occasionally, teams get it right. The Orioles were smart to bring Trumbo back and they were smart to do it at the price they did. Now, they have above average offensive performance locked in for the next three seasons. Continuity is important and he did lead the league in home runs last season. He likely won't do that again, but a standard .250/30/90/90 kind of season seems perfectly reasonable.
Joey Votto— Cincinnati Reds
PECOTA: .294/23/90/88/8 (+4)
3 Year: .298/21/76/67/7
The three year average includes one injury riddled season. We can consider that an abberration and move on. Votto could be the most valuable offensive first baseman in the game that few people think about. He walks more often than anyone and hits for relatively high average. If he had better teammates he would be the top guy on the board. As it stands, he may slip out of the top five in standard five category leagues.