2017 Fantasy Baseball: Left Field PECOTA Projections H-W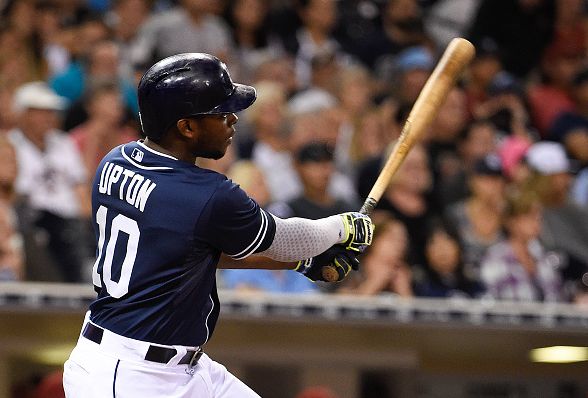 Left field is a deep position in fantasy baseball. The median certainly indicates that across the board, but the number of players that approach the median on the downside is another really good indication. That depth can help you on draft day. You can punt the position and plug in holes elsewhere or you can make sure the player you pick exceeds the median by a considerable margin. Comparing to the median is more compelling than simple rankings. Rankings don't tell us the distance between one player and the next.
Players that meet or exceed the median (the average between the 12th and 13th ranked left fielder) will see their numbers turn green. Players that fail to reach the median will see their numbers turn red. Additionally, we will compare each player with their three year average when appropriate and we will give you the center field and right field medians as well in case the player is eligible at those slots.
Left Field Median: .261/20 HR/71 Runs/70 RBI/12 SB
Center Field Median: .268/16 HR/78 Runs/62 RBI/21 SB
Right Field Median: .263/21 HR/68 Runs/74 RBI/7 SB
Matt Holliday— New York Yankees
PECOTA: .262/21/69/75/3 (+3)
3 Year: .278/19/71/77/3
Out of sight and out of mind. Holliday hasn't been the same guy we once knew the past couple of seasons. He hasn't gotten worse per se, but he is breaking down more often. This often happens with older guys. A move to DH could end up rejuvinating him or he could continue to slide. He will be a borderline regular on draft day.
Travis Jankowski— San Diego Padres
PECOTA: .249/8/80/45/39 (+2)
3 Year: .245/2/53/12/30
One of the great debates in fantasy baseball is whether every category should be treated equally. This is dreadfully important in Jankowski's case. On face value, he is a below average fantasy performer. The three categories where he is deficient are noticeable. Yet, he is a potentially elite base stealer and that could make him a borderline fantasy regular depending on your perspective on the opening question.
Matt Kemp— Atlanta Braves
PECOTA: .261/23/70/79/7 (+3)
3 Year: .278/22/71/79/8
The good folks at BP are realists. That is why they are accurate more often than not. The PECOTA projections are pretty darn close to the three year average. As long as you give into the realism you can draft yourself a pretty steady performer. He isn't that 40/40 guy anymore and he never will be again. The Braves knew that when they got him, but they are happy to have the guy he is now.
Hyun Soo Kim— Baltimore Orioles
PECOTA: .278/13/68/55/4 (+1)
3 Year: .302/6/36/22/1
There was a huge argument that occurred last March about what to do with Kim. He wasn't hitting his weight in Spring Training, but he had a guaranteed big league contract so he stayed. Then, he hit whenever given the opportunity. The Orioles seem determined not to give him the full-time job in spite of everything. He should go undrafted and then you can monitor him on the waiver wire.
Nomar Mazara— Texas Rangers
PECOTA: .258/21/76/70/1 (+3)
3 Year: .266/20/59/64/0
There are truly good players and there are accumulators. Accumulators pile on numbers that make them look like good players, but when you peel back the layers you see a very limited player. Even with the numbers you see above, he produced only 0.4 bWAR last season. It remains to be seen how much he will grow, but there is an awful amount of hype to go around.
Marcell Ozuna— Miami Marlins
PECOTA: .260/20/63/74/2 (+2)
3 Year: .265/19/65/68/2
Ozuna and Christian Yelich have flipped flopped in center and left field. Both players should be eligible in both slots. At the last viewing, Rosterresource.com had Ozuna in left field, so we went with that angle. Obviously, a number of platforms consider all outfielders the same, so it's an academic question anyway. Ironically, he is very similar to Mazara, but Mazara is much younger, so the experts will tab Mazara as the better pick.
Gregory Polanco— Pittsburgh Pirates
PECOTA: .259/17/72/69/21 (+2)
3 Year: .253/13/71/57/19
Sometimes you have to disagree with the experts. They are going with the aggregate when it seemed pretty clear that Polanco took a step forward last season. I'm not expecting another one, but at least maintaining would seem to be the better bet. That means another 20+ home runs and stolen bases. He should be a regular left fielder in spite of coming up short in three out of the five categories in the projection.
Eddie Rosario— Minnesota Twins
PECOTA: .257/17/62/64/10 (+0)
3 Year: .268/12/56/41/8
Rosario took a step back last season. These things happen with prospects all the time. The question will be how he recovers from that experience. Baseball is a game of constant adjustments and now it is his turn. Where you pick Rosario is a guessing game to be sure. If he takes two steps forward he could be good enough to start on your fantasy team. If he stagnates he is bench material.
Yasmany Tomas— Arizona Diamondbacks
PECOTA: .267/24/67/79/5 (+3)
3 Year: .272/20/56/66/4
How does a guy who hit 31 home runs register as below replacement level? Obviously, some pretty shoddy fielding is involved, but a low walk rate is also involved. March is the best time of year for the baseball fan. Hope springs eternal. One can imagine Tomas hitting 40 home runs after the progress between year one and two. Progress is rarely linear, so at this point that will have to stand as hope.
Melvin Upton— Toronto Blue Jays
PECOTA: .224/18/69/64/23 (+1)
3 Year: .235/12/51/38/19
People have spent a decade questioning what Melvin Upton should be. Ironically, they've done the same with his brother. They have failed to appreciate what Upton is. He is a flawed player (a little too much swing and miss) but he makes up for it with a power/speed combination and decent patience at the plate. The question this season is how much playing time he will get. The good news is that he will likely get time at all three outfield slots.
Justin Upton— Detroit Tigers
PECOTA: .258/25/76/81/12 (+4)
3 Year: .262/26/89/81/12
Like his brother, fantasy fans are always left wanting more. 2016 was almost a complete disaster, but when the month of September flipped, something happened. He hit .292 with 13 home runs and 28 RBI. That surge gave him 31 home runs and met his three year average in runs and RBI. Some will buy into the last month as a harbinger of things to come. That would likely be a mistake. Upton has been consistently good, but never great.
Jayson Werth— Washington Nationals
PECOTA: .251/17/72/60/5 (+1)
3 Year: .275/16/69/61/6
A number of people dogged the Nationals for signing Werth to that seven year contract all those years ago. Now, he is in the last year of that deal. He says he wants to play five more seasons. We'll believe that when we see it. That being said, there is reason to believe he will be able to put together a healthy season for the first time in years.