2017 Fantasy Baseball: Legit or Quit? Starting Pitcher Help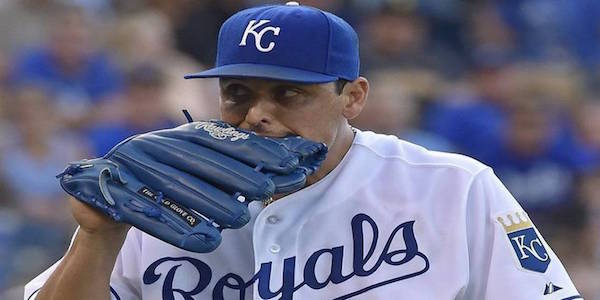 If you read the Week 8 Preview, you will have seen I promised an extra article on some starting pitchers. And I don't like to break my promise. So hear is something I like to call "Legit or Quit".
We're at the stage of the season where phrases like "small sample size" and "it's only been two weeks" are replaced with "he's been bad all year" and "it's time to panic".
In truth, we're somewhere in between. Yes, it's still early but we have enough data on this season to assess to an accurate enough level if someone's stats are real or not, if a guy has been lucky or just plain good.
With that being said, we will be taking a look at six starting pitchers. These six are all currently ranked in the top-30 of starting pitchers on the ESPN Player Rater, are all over 50% owned now, but were all undrafted in most standard leagues (with one exception who had an ADP around the 225 mark).
So in most leagues, these are all starters who went undrafted but are now rostered and are performing well.
Next; the title "Legit or Quit" sums it up. Are these guys legit or not? With each of them, we'll look at the underlying causes of why they are performing well above expectations and what to do with them.
As always, it's impossible for me to tell you to go pick one of these up if available without knowing your league/roster etc, so this should just be a guide for you to decide what to do.
Even if there's someone I suggest trading for or trading away, it all depends on the return. Just because I say it's a good time to trade them away, it doesn't mean go and trade for some rubbish hitter just because I suggest moving the starter now.
The same goes for buying. If one of these pitchers are legit and has already been picked up, don't offer up your Mike Trout to get him.
Just use this as a tool to help you make your decision; just like you should with all the information out there on that inter web!
Let's crack on shall we?
54.0 IP, 6-1 W-L, 34 K's, 3.67 ERA, 1.22 WHIP
Possibly the most surprising name on this list, Senzatela was an unknown coming into the season, even amongst Rockies' fans. So how has he fared?
Legit
Groundball rate consistent with minor league numbers and is solid for a Rockies pitcher.
Hard contact rate allowed is good.
Never had an ERA higher than 3.82 in minors (has reduced his ERA each year since 2013).
Quit
Lack of experience; has only pitched 34.2 innings in Double-A and never pitched in Triple-A.
Strikeout rate has been low throughout career and is sitting currently at 5.67 K/9.
Has to pitch half his games at Coors Field.
Verdict
Senzatela has had a couple of struggling starts in his last to trips to the mound, despite getting one win and a no decision. He could be slowing down or being figured out. His minor league numbers are limited but what is there is still very good and provides enough intrigue and excitement to not think this is a fluke.
But another poor start could trigger an effect for the Rockies and your fantasy teams. If you do need help in other areas, now could be the best time to trade away Senzatela in terms of a good return.
I'm not rushing out to trade for him and would only trade him away should I get a higher than expected return. The next couple of starts however, could see his value drop to early April times.
54.2 IP, 4-3 W-L, 44 K's, 2.47 ERA, 1.17 WHIP
A resurgence from the lefty in a new home isn't a complete surprise. Holland has always had talent and seven quality starts in his nine outings so far has returned people's intrigue back to 2011-13 levels. But is this intrigue justified?
Legit
Strikeout rate is in line with career number (7.2 K/9).
Increased and effective use of secondary pitches.
Quit
Plays on poor team, limiting chances for wins.
FIP (4.35) and BABIP (2.42) suggest Holland had been lucky and significant regression is looming.
Health has been a problem in recent years, managing 203 innings in previous three seasons.
Verdict
Everything in Holland's numbers scream regression is due. Most pitchers with a 2.47 ERA will regress. But given Holland's previous problems staying healthy (including a dog related injury) in recent years, you can't expect another 100+ innings from here on in.
Holland's value is at an all-time high and it could drop off pretty quickly with his next two starts against Detroit if the Tigers get their offense rolling. Now is the perfect time to dangle Holland for some help you need elsewhere.
70.0 IP, 7-2 W-L, 50 K's, 1.80 ERA, 0.83 WHIP
Unquestionably the best performer from this list (currently sitting at no.3 among starting pitchers on the ESPN Player Rater) and the only one drafted in standard leagues (222 ADP on ESPN).
Santana has exceeded expectations, but how much of it is worth buying into?
Legit
Has put together quality seasons in the past.
Except in 2015 (where he missed 80 games due to a PED suspension), Santana has started at least 30 games since 2010.
Hard contact rate is at a career low.
Quit
BABIP (1.36) and FIP (4.11) suggest luck has been a big factor in early success.
Strand rate of 91.5% is unsustainable.
K/9 is down on career numbers and BB/9 is up.
Verdict
Another one whose numbers suggest regression is imminent. But pump the brakes a bit before you look to sell. Santana has been a very good pitcher before, with ERAs of 3.38 (2011), 3.25 (2013) and 3.38 (2016).
2015's PED suspension seems to still linger over Santana but his 2016 numbers have almost been forgotten about and didn't seem to be considered during drafts. Whilst I don't foresee an ERA under 2 (or even 3) until the season's end, Santana should still be a very good starter for your fantasy teams.
It's not the right time to buy as any Santana owner will be expecting far more than you should be offering, which is what you should be expecting if you own him. Just temper your expectations on him and enjoy the good starts he'll continue to churn out.
52.0 IP, 5-3 W-L, 42 K's, 2.77 ERA, 1.13 WHIP
Triggs started the season with three straight starts without giving up and earned run and the pre-season intrigue soon turned to hype. A couple of bad outings since then have cooled things off a bit but Triggs is still putting together a very nice year in what is his first full season in the Majors.
But can it last?
Legit
.272 BABIP and 3.26 FIP trends towards his numbers being pretty genuine.
Plays in a pitcher friendly ballpark.
Only two pitchers among qualified starters have a lower hard contact rate.
Quit
Only started 8 games before 2017 (has started nine this year), so questions about how many innings he can pitch the rest of the way.
Has MLB's worst defense behind him.
Only pitched 7 innings once this season and thrown 100+ pitches twice.
Relievers turned starters don't tend to pan out as well as the other way around. But Triggs is proving that it can work. His core stats are backed up by the numbers so nothing seems to suggest regression is looming at any point.
The elephant in the room is his workload. Having been a reliever in the minors, it's not practical to think a 28 year-old can suddenly go 180 innings in a season when he's never topped the 70 mark. Although at that age, there's not a massive desire to protect him from a heavy workload.
There's been nothing to suggest Triggs will be shutdown at any point but it's sensible to think at some point he will get his workload limited (skipping starts, ending the year in the bullpen) especially if the Athletics aren't challenging (which they won't be).
I won't be rushing out to trade for Triggs as I wouldn't know how long I'd have him for. So sitting tight with him for another month or so then cashing in on his success might be the best plan. Just monitor the news about his usage going forward.
57.2 IP, 5-3 W-L, 65 K's, 4.06 ERA, 1.37 WHIP
It was unclear where Morton would even fit into the Astros plans heading into the season and despite an ERA north of 4.00, Morton's strikeouts have kept him very much fantasy relevant.
But what has led to this renaissance in Houston and should believe in it?
Legit
Fastball velocity is significantly up on previous years.
His 3.87 FIP suggests he's actually unlucky to have an ERA over 4.00.
Averaging more than one strikeout per inning.
Quit
Hard contact rate is 10% higher than career mark.
Has never topped 175 innings in the Majors.
Only managed 3 quality starts so far.
Verdict
Given Morton's limited success and 4+ ERA, he should be someone you can get for less than anyone else on this list. And it's something you should look into.
Morton's biggest asset this year has been the strikeouts and there's nothing to suggest they will decline any time soon. If strikeouts are something your team needs, Morton should be a top target without having to trade away a star.
Morton also has the luxury of playing for the best team in baseball right now so even wins (which are always flukey) should be something you can enjoy for the remainder of the year.
I would not be surprised if Morton manages to lower his ERA and end the year with it sat around the 3.80 mark. Given his last (and very good outing) came on the back of two poor starts, now could be the time to strike for Morton.
54.2 IP, 5-3 W-L, 49 K's, 2.30 ERA, 1.04 WHIP
The second oldest player on this list is the second highest ranked player on this list according to the ESPN Player Rater (11th among starting pitchers). Given his low ERA, very low WHIP and solid strikeout numbers, Vargas is a guy people in deeper leagues was excited about for 2017.
Now, players in every format are excited about Vargas. But is it validated?
Legit
FIP (2.96) and BABIP (.268) suggest Vargas has pitched well without being overly fortunate.
Plays for MLB's best defensive team.
Likely to be traded to a competing team before the trade deadline.
Quit
Managed only 55 Major League innings in last two seasons combined.
Plays for MLB's worst offensive team.
Verdict
There's nothing to suggest Vargas will suddenly fall off a cliff and with his last couple of starts being his worst back-to-back trips to the mound all season, his value is probably at its lowest since draft day.
Given his next two starts are against the Indians, it might be wise to see how he fares against them and then try to trade for Vargas (hoping he scuffles a bit). His ERA will climb up a bit, along with his WHIP before the end of the year.
But if Vargas stays healthy, he should remain a solid fantasy asset throughout the remainder of 2017.