2017 Fantasy Baseball: NL Starters L-W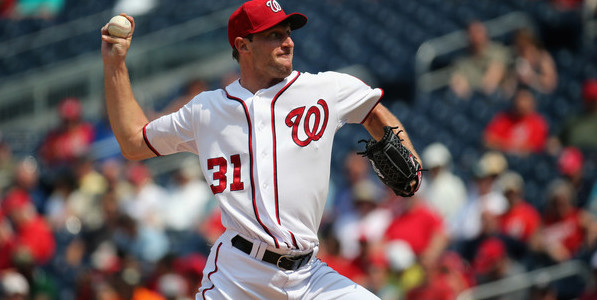 Welcome to the new year. 2016 wasn't kind to a number of people and the month of December alone saw some high-profile celebrity deaths. October and December also saw a great number of fantasy deaths. They do every year. Here is your first opportunity to get a jump start on the new fantasy year by looking at the second half of the National League starting pitching population.
We have ranked this second group according to their three and five year averages in the four major categories and with quality starts added as a fifth category. The rankings are only amongst this group of pitchers and based primarily on past performance. There might be some adaptations based on current circumstances.
John Lackey—Chicago Cubs (12.0 wins, 3.37 ERA, 1.176 WHIP, 170.0 SO, 21.8 QS)
3 Year 4 Category- 6
3 Year 5 Category- 5
5 Year 4 Category- 9
5 Year 5 Category- 9
On the one hand, it is exciting to think of Lackey as a fourth starter. On the other hand, after the first week of the season, teams rarely match up fourth starter versus fourth starter. So, you are set looking at the quality of the pitcher overall and while Lackey is certainly solid, he isn't spectacular in any of the four major categories. Rank: 7th
Mike Leake—St. Louis Cardinals (10.6, 4.01 ERA, 1.266 WHIP, 129.2 SO, 17.6 QS)
3 Year 4 Category- 14
3 Year 5 Category- 14
5 Year 4 Category- 15
5 Year 5 Category- 13
Leake has made a good living out of being average. Being average in St. Louis probably makes you above average overall and that is where he grades out. In fantasy terms you are looking at a fourth or fifth fantasy starter. That actually fits where he stands in the current Cardinals rotation. Rank: 14th
Jon Lester—Chicago Cubs (14.0 wins, 3.36 ERA, 1.183 WHIP, 193.4 SO, 22.2 QS)
3 Year 4 Category- 2
3 Year 5 Category- 2
5 Year 4 Category- 4
5 Year 5 Category- 3
2016 saw career highs in wins, ERA, and WHIP. Other than that and the World Series title it wasn't much of a season for him. He's finished under a 3.00 ERA in two out of the last three seasons, so the five-year average may be a bit on the high end. That being said, it is common for players to have a hangover after their best season. Rank: 2nd
Lance Lynn—St. Louis Cardinals (15.0 wins, 3.38 ERA, 1.312 WHIP, 181.5 SO, 19.5 QS)
3 Year 4 Category- 7
3 Year 5 Category- 7
5 Year 4 Category- 8
5 Year 5 Category- 8
Even just five years ago, putting anyone returning from season ending arm surgery would be catastrophically stupid. Today, pitchers recover pretty seamlessly from those procedures. Lynn is basically the same guy as John Lackey, but has been lucky to win more games. He gets bumped a couple of spots because of the surgery. Rank: 9th
Kenta Maeda—Los Angeles Dodgers (16.0 wins, 3.28 ERA, 1.092 WHIP, 176.0 SO, 14.0 QS)
3 Year 4 Category- 3
3 Year 5 Category- 4
5 Year 4 Category- 3
5 Year 5 Category- 4
Quality starts may not be the best statistic in the world, but in this case it is a window into the soul of Maeda. Most high profile Japanese pitchers pitch once a week in Japan. In that world you can easily let it go and throw 120 to 130 pitches. Pitching twice a week requires you leave something in the tank. If he improves to just six innings per start he will reach nearly 200 innings and likely see those quality starts explode. Rank: 4th
Carlos Martinez—St. Louis Cardinals (10.7 wins, 3.36 ERA, 1.307 WHIP. 147.3 SO, 13.3 QS)
3 Year 4 Category- 11
3 Year 5 Category- 13
5 Year 4 Category- 11
5 Year 5 Category- 12
Of the first six guys we have profiled, one one (Leake) has had a collective ERA outside of 3.28-3.38. There are any number of ways to interpret that, but the primary one is that there are a number of quality pitchers in the league, so you don't have to go nuts on draft day in search of good pitching. Martinez is still only 25 years old, so there is room for him to take the next step. Rank: 12th
Shelby Miller—Arizona Diamondbacks (8.5 wins, 3.99 ERA, 1.350 WHIP, 134.3 SO, 13.0 QS)
3 Year 4 Category- 17
3 Year 5 Category- 17
5 Year 4 Category- 18
5 Year 5 Category- 16
Occasionally you get a player that just needs a reboot. You have to include 2016 as part of the aggregate, but we can read too much into it. The numbers you see above are probably a much better predictor for him. That's still not enough to get excited about, but he should find his way onto someone's fantasy roster. Rank: 17th
Matt Moore—San Francisco Giants (8.8 wins, 3.86 ERA, 1.395 WHIP, 109.6 SO, 10.0 QS)
3 Year 4 Category- 18
3 Year 5 Category- 18
5 Year 4 Category- 17
5 Year 5 Category- 18
Moore lost much of 2014 and 2015 to injury, but managed 33 starts last season. So, like Rich Hill on the last list, he is much better than his 18th ranked rating would suggest. Unfortunately, attendance does matter and the track record indicates that attendance is a serious issue. It will be interesting to see where the projections have him. Rank: 18th
Tanner Roark—Washington Nationals (11.7 wins, 3.35 ERA, 1.189 WHIP, 126.7 SO, 16.0 QS)
3 Year 4 Category- 10
3 Year 5 Category- 10
5 Year 4 Category- 10
5 Year 5 Category- 11
Oh look, it's another pitcher with an ERA between 3.25 and 3.40. There obviously isn't a whole lot of separation between Roark and most of the other pitchers on this list. Like Lackey, he has the added benefit of having some high-profile arms above him in his own rotation, but matchups rarely ever match up during the season. Rank: 10th
Jeff Samardzija—San Francisco Giants (10.0 wins, 3.92 ERA, 1.186 WHIP, 177.3 SO, 18.3 QS)
3 Year 4 Category- 13
3 Year 5 Category- 12
5 Year 4 Category- 12
5 Year 5 Category- 10
Looking at pitching numbers is a lot like peeling layers of an onion. At its most basic level, Samardzija doesn't look special at all. However, the interplay between his ERA and WHIP is a beginning clue to the inner layers. His career ERA is higher than his career FIP (Fielding Independent Pitching) and that is a similar phenomenon when you look at the other ERA estimates. Rank: 11th
Max Scherzer—Washington Nationals (17.8 wins, 3.11 ERA, 1.061 WHIP, 256.6 SO, 23.2 QS)
3 Year 4 Category- 1
3 Year 5 Category- 1
5 Year 4 Category- 1
5 Year 5 Category- 1
Every once in a while, a big time signing is worth the money. Scherzer broke the bank, but he won the Cy Young award this season and was a finalist in 2015. He's also had big individual games with a no hitter and a 20 strikeout game to his credit. Scherzer is not better than Clayton Kershaw, but I could see an argument for him based on the fact that he has been extremely durable. Rank: 1st
Stephen Strasburg—Washington Nationals (13.3 wins, 3.40 ERA, 1.111 WHIP, 193.3 SO, 16.7 QS)
3 Year 4 Category- 5
3 Year 5 Category- 6
5 Year 4 Category- 5
5 Year 5 Category- 7 
Strasburg has been up seven seasons and has six full seasons where he has technically been on the major league roster. He's reached 30 starts in just two of them. If one were to take all percentage stats (wins per start and quality starts per start) then Strasburg would rank much higher. The question as always is whether he will be healthy enough when the Nationals need him the most. Rank: 5th 
Noah Syndergaard—New York Mets (11.5 wins, 2.42 ERA, 1.098 WHIP, 192.0 SO, 17.0 QS)
3 Year 4 Category- 4
3 Year 5 Category- 3
5 Year 4 Category- 2
5 Year 5 Category- 2
When he first came up, Greg Maddux threw 95 MPH. He learned he could be more effective pitching around 90 MPH because he could pinpoint his pitches and last longer. Syndergaard doesn't have control issues, but you have to wonder if living around 100 MPH is good for his long-term health. For every Nolan Ryan, there are several guys that just aren't durable doing that. Otherwise, he is as dominant as they come. Rank: 3rd
Julio Teheran—Atlanta Braves (11.5 wins, 3.34 ERA, 1.153 WHIP, 173.5 SO, 19.8 QS)
3 Year 4 Category- 9
3 Year 5 Category- 8
5 Year 4 Category- 7
5 Year 5 Category- 5
Picking starting pitchers has a number of pitfalls. We talked about the onions before. Teheran has the appearance of being better because he has been durable (180 or more innings four seasons in a row) and because he has been head and shoulders better than the other pitchers on his staff. The Braves will hopefully be better in 2017, so he should be too, but there isn't a lot of separation between him and most of the other starters. Rank: 6th
Edinson Volquez—Miami Marlins (11.2 wins, 4.36 ERA, 1.424 WHIP, 150.0 SO, 16.0 QS)
3 Year 4 Category- 12
3 Year 5 Category- 11
5 Year 4 Category- 13
5 Year 5 Category- 14
Volquez is the girl with the curl. He's never been as good as when he's at his best or as bad when he is at his worst. The bet here is the ol' every other year bet. It's the same bet veteran stock brokers make after a blue chip stock tanks. Plus, with the change of leagues back to the pitcher's league, his ERA should have a natural dip. This is where Lou Brown bellows, "I've got a hunch he's due." Rank: 13th
Michael Wacha—St. Louis Cardinals (8.3 wins, 3.57 ERA, 1.244 WHIP, 106.3 SO, 12.3 QS)
3 Year 4 Category- 15
3 Year 5 Category- 15
5 Year 4 Category- 16
5 Year 5 Category- 17
Wacha came up in 2013 and went a collective 8-2 between the regular season and post-season. He went 17-7 in 2015 as well, but he has never duplicated the success he had in that initial season. He represents as good an example as any of the problems of projecting young players. He took a step backwards last season and may be on his way out unless he is able to turn it around. Rank: 16th
Adam Wainwright—St. Louis Cardinals (13.6 wins, 3.10 ERA, 1.157 WHIP, 152.6 SO, 18.0 QS)
3 Year 4 Category- 8
3 Year 5 Category- 9
5 Year 4 Category- 6
5 Year 5 Category- 6
Wainwright's closest 2016 comparison is probably Andrew McCutchen. Sure, they play different positions, but both players showed glimpses of their former selves at different times, but never got back on track. He led the league in hits surrendered and earned runs surrendered. I suppose you have to be decent to pull that off because if you really sucked you would get pulled long before then. A bounce back campaign is somewhat likely. Rank: 8th
Taijuan Walker—Arizona Diamondbacks (9.5 wins, 4.39 ERA, 1.216 WHIP, 138.0 SO, 13.0 QS)
3 Year 4 Category- 16
3 Year 5 Category- 16
5 Year 4 Category- 14
5 Year 5 Category- 15
If at first you don't succeed, try and try again. The Dbacks acquired Zack Greinke and Shelby Miller last season in the hopes they would lead them to contention. This offseason they traded Jean Segura for another talented pitcher. Unlike those guys, Walker hasn't quite put it together yet. Moving to the pitcher's league will help those numbers some and there is always the chance he will put it all together. Rank: 15th