2017 Fantasy Baseball: Shortstop PECOTA Projections A-I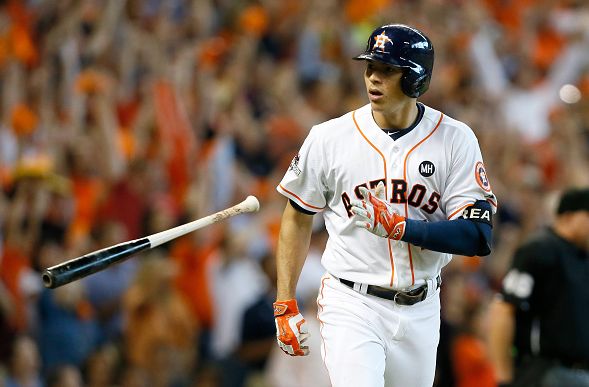 Shortstops are the quarterbacks of baseball. Whether you are playing Little League in the United States or playing on the sandlots of the Dominican Republic (or anywhere in between), the best players are always shortstops. The same thing normally happens in the minors. Teams prioritize players that start in the middle of the diamond. They can always move them to the corners if they are unable to hold down their spots. Like in reality, the position is exploding on the fantasy landscape. There are as many as a half dozen prominent fantasy shortstops under the age of 25.

Instead of ranking the shortstops we will be comparing them with the median numbers. The median is found by averaging the 12th and 13th best score for each of the five categories. Players that meet or exceed the median will see their numbers in green font. Players that do not meet the median will see their numbers in red font. Obviously, it is also important to look at how much they exceed the median by. So, it is not simple enough to simply look for five category guys.
Median: .263/15 HR/71 Runs/64 RBI/11 SB
Tim Anderson— Chicago White Sox
PECOTA: .267/13/77/58/23 (+3)
3 Year: .283/9/57/30/10
Normally, the fantasy world would be excited about a player of Anderson's potential. He appears on the verge of hitting ten or more home runs and stealing more than 20 bases. However, this is a banner time for young shortstops, so he could slip by the guys in your league. He is a good guy to input into your starting lineup if you want to plug holes at other positions first.
Elvis Andrus— Texas Rangers
PECOTA: .274/6/68/50/26 (+2)
3 Year: .274/6/72/57/25
At least we don't have to ask the folks at BP how they came up with the numbers for their PECOTA projections. Andrus has been a steady performer even if he has been a bit disappointing. If you leave the disappointment behind you get a steady performer that should be a borderline fantasy regular. It all depends on how badly you need the steals.
Orlando Arcia— Milwaukee Brewers
PECOTA: .248/15/74/58/16 (+3)
3 Year: N/A
Minor league numbers are best looked at in the aggregate. Even then, they don't necessarily mean what we hope they mean. Arcia stole 104 bases in 540 career games. So, he steals 21 bases per 108 games. If he plays 150 games at the big league level he could get to 30 steals. Those steals won't come with much power if we believe the minor league numbers, but power does come late in a prospect's development, so maybe PECOTA will be right.
Xander Bogaerts— Boston Red Sox
PECOTA: .287/15/70/72/9 (+4)
3 Year: .285/13/86/72/8
Past is prologue, so it makes perfect sense that PECOTA would project a step backwards so to speak. The aggregate usually makes more sense, but in some cases it is counterintuitive. Bogaerts appears to be getting better with each passing season. A career .337 BABIP seems unsustainable and in that case a step back could happen. Maybe those BP guys really know what they are doing.
Asdrubal Cabrera— New York Mets
PECOTA: .248/15/60/60/6 (+1)
3 Year: .262/17/68/60/7
He is entering his age 31 season and PECOTA is predicting a downward turn. That makes some sense given the fact that Cabrera had a higher than normal BABIP (.310) and also doesn't walk a lot. Combine both of those elements and we can predict a change in batted ball luck to go along with regression based on age. Like last season, he is a decent fringe starter candidate who might be a good middle infielder in leagues that employ the extra infielder.
Carlos Correa— Houston Astros
PECOTA: .272/22/81/82/17 (+5)
3 Year: .277/21/64/82/14
Where Correa goes depends largely on what you think the future has in store for him. Some have likened him to a 2010s version of Cal Ripken Jr. He has tremendous insticts for the game, so it is just a matter of time before he takes the next step. Whether that happens in 2017 or later is the question. If it happens now he is worthy of a first round pick. If not, he could wait a round or two.
Zack Cozart— Cincinnati Reds
PECOTA: .243/15/70/61/5 (+0)
3 Year: .244/10/48/39/5
He had a better year last year, so there is some hope that he can repeat that. PECOTA is buying into the power, but not anything else. He has been on the trade block since this past July, but there haven't been any takers yet. The Reds just want to move on with some younger players. Overall, Cozart is average, so you would think they would find a taker somewhere, but it hasn't happened yet.
Brandon Crawford— San Francisco Giants
PECOTA: .251/13/60/64/6 (+1)
3 Year: .259/14/62/79/6
As it turns out, 2015 might have been the apex of Crawford's career. He came up as a glove first shortstop and managed to work himself into a solid offensive shortstop. One of the benefits of going with a median based approach is that you are forced to look at numbers in context. In most eras, the above numbers would look pretty good. We aren't living in most eras.
Aledyms Diaz— St. Louis Cardinals
PECOTA: .270/21/83/73/6 (+4)
3 Year: .300/17/71/65/4
A commenter scoffed at how Diaz went unrated through the opening round of rankings. The 2016 numbers certainly warranted a top ten ranking. The problem for him is that both Jhonny Peralta and Jedd Gyorko can play shortstop. Add that to the fact that there are so many good shortstops and you can see how ranking him is so difficult.
Alcides Escobar— Kansas City Royals
PECOTA: .261/5/72/48/21 (+2)
3 Year: .268/4/69/51/22
The luster is off of the Royals at this point. They have some good players, but most of their roster is made up guys like Escobar. They play regularly and so they put up some decent numbers, but when you peel back the facade you find some very flawed players. Escobar doesn't hit for high average or walk a lot, but he can steal second base when he manages to get to first base. That just doesn't happen nearly often enough.
Didi Gregorius— New York Yankees
PECOTA: .259/14/59/65/5 (+1)
3 Year: .256/12/53/51/5
He has 5.5 bWAR in two seasons as a regular shortstop in New York. That may not seem like much, but you have to go back to 2008-2009 since a Yankee shortstop was able to put back to back seasons like that together. A lot of that value comes on the defensive end, but it does show that he might be under appreciated in New York. In fantasy terms, he would be a very appreciate bench piece for someone.
Jose Iglesias— Detroit Tigers
PECOTA: .271/7/52/46/8 (+1)
3 Year: .278/3/51/28/9
Real baseball and fantasy baseball are often connected, but they aren't here. When healthy, Iglesias' above average defense makes him a decent regular. When healthy, Iglesias offers virtually nothing in terms of fantasy baseball. He will keep your average afloat, but he just doesn't do enough to justify a roster spot unless you are in an AL only league.