2017 Fantasy Baseball: Shortstop Rankings A-H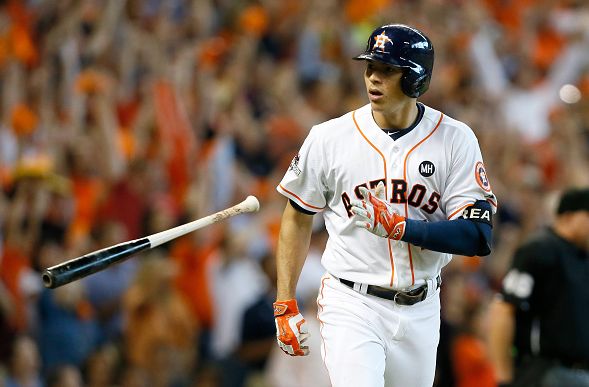 Traditionally, shortstop has been one of the weaker positions on the fantasy baseball landscape, but there have been a rush of dynamic prospects that have come through the sport in the last several years. Now, shortstop is one of the deepest positions on the diamond. The argument over who should be the top choice will be an intense one when fantasy players make their selections in February and March.
As we have done with the rest of the positions, we are looking at the top 24 guys at the position. We will look at them over the five major categories and six categories. We will see how they rank over three and five year internals. At the end, we will rank each player roughly based on those rankings, but also based on comment sense considerations.
Tim Anderson—Chicago White Sox (.283, 9.0 HR, 57.0 Runs, 30.0 RBI, 10.0 SB, 13.0 BB)
3 Year 5 Category- 15
3 Year 6 Category- 18
5 Year 5 Category- 15
5 Year 6 Category- 17
It's hard not to like Anderson based on the abbreviated time we saw him last year. He blends surprising power to go along with above average speed. The trouble with him is two-fold. First, the White Sox are embarking on a total rebuilding effort. Secondly, he showed a remarkable lack of patience. Those two developments put together could derail him before he even gets started. Rank: 17th
Elvis Andrus—Texas Rangers (.274, 5.7 HR, 72.0 Runs, 57.3 RBI, 25.3 SB, 46.3 BB)
3 Year 5 Category- 9
3 Year 6 Category- 9
5 Year 5 Category- 7
5 Year 6 Category- 6
Andrus seems to be ranked a lot higher than we would think, but that is the power of speed. It is so rare even at shortstop that it serves to inflate value. He did have a bit of a renaissance last season, so there is some reason to think he can continue to be a starting fantasy shortstop. I don't like him personally at this value spot. Rank: 8th
Xander Bogaerts—Boston Red Sox (.285, 13.3 HR, 86.3 Runs, 72.0 RBI, 8.3 SB, 43.0 BB)
3 Year 5 Category- 5
3 Year 6 Category- 4
5 Year 5 Category- 5
5 Year 6 Category- 4
Do you buy last season as the new norm for Bogaerts? If you do then these rankings are completely inappropriate. The Red Sox offense is taking a step back with the retirement of David Ortiz. They could bounce back with the presence of Yoan Moncada at third base and whoever they sign to be the designated hitter. Either way, I'd probably rank him higher than this. Rank: 4th
Asdrubal Cabrera—New York Mets (.262, 17.3 HR, 68.3 Runs, 60.3 RBI, 7.0 SB, 41.0 BB)
3 Year 5 Category- 8
3 Year 6 Category- 11
5 Year 5 Category- 6
5 Year 6 Category- 8
Eventually, everyone finds their level. When he first started playing regularly, he seemed to get on Web Gems every week. People assumed he must have been the best shortstop on the planet. More advanced rating systems said otherwise so people soured on him. The reality is always somewhere in between and as overrated as he was defensively, he is underrated offensively. Rank: 9th
Carlos Correa—Houston Astros (.277, 21.0 HR 64.0 Runs, 82.0 RBI, 13.5 SB, 57.5 BB)
3 Year 5 Category- 2
3 Year 6 Category- 1
5 Year 5 Category- 2
5 Year 6 Category- 1 
There are those would put Correa number one and they have a compelling argument. Projection systems have the Astros new lineup as the second best in the sport. Take that and another year of development and it is easy to believe he will take the next step. Unfortunately for him, Corey Seager is already better and he could take another step forward himself. You really can't go wrong either way. Rank: 2nd
Zack Cozart—Cincinnati Reds (..246, 11.2 HR, 57.8 Runs, 42.8 RBI, 3.6 SB, 26.6 BB)
3 Year 5 Category- 23
3 Year 6 Category- 23
5 Year 5 Category- 23
5 Year 6 Category- 24
Cozart was better than this last season. He hit 16 home runs in a surprising performance that got lost in their lackluster season. There have been rumors circling for several months that he will be dealt to make room for Jose Peraza. If that happens his ranking could improve. As it stands, he might or might not get drafted. Rank: 23rd
Brandon Crawford—San Francisco Giants (.259, 14.3 HR, 62.0 Runs, 79.0 RBI, 6.0 SB, 51.7 BB)
3 Year 5 Category- 12
3 Year 6 Category- 10
5 Year 5 Category- 14
5 Year 6 Category- 13
Crawford is one of those old-fashioned kind of feel good baseball stories. He has progressively gotten better each and every year steadily becoming a top ten shortstop in six category leagues. Even if you don't like him that much you still have to consider him a regular in 12 team leagues and that is considerable progress from when he first came up. Rank: 12th
Alcides Escobar—Kansas City Royals (.268, 4.3 HR, 69.0 Runs, 50.7 RBI, 21.7 SB, 25.3 BB)
3 Year 5 Category- 13
3 Year 6 Category- 14
5 Year 5 Category- 8
5 Year 6 Category- 12
We can allow ourselves to be overly excited over a single category. Escobar does offer good speed, but he simply doesn't get on base often enough to make it worth your while. He would make a good fantasy backup as someone that plays regularly and will put up some basic numbers through osmosis. Rank: 13th
Freddy Galvis—Philadelphia Phillies (.252, 13.5 HR, 62.0 Runs, 58.5 RBI, 13.5 SB, 27.5 BB)
3 Year 5 Category- 14
3 Year 6 Category- 14
5 Year 5 Category- 13
5 Year 6 Category- 14
Galvis is on the same kind of career trajectory as Crawford. He's simply a year or two behind schedule. He is due to take another step forward and if he does he could be one of the biggest sleepers in the draft. Unlike Crawford, he adds the element of speed to his game and that could make him a borderline top six candidate. For now, treat him like an excellent fantasy backup. Rank: 14th
Didi Gregorius—New York Yankees (.256, 11.7 HR, 53.3 Runs, 51.0 RBI, 5.0 SB, 24.7 BB)
3 Year 5 Category- 19
3 Year 6 Category- 21
5 Year 5 Category- 21
5 Year 6 Category- 22
Gregorius is an interesting study in value. He is not particularly brilliant at any one facet of the game, but he is solid offensively and above average defensively. The combination makes him a more valuable shortstop than Derek Jeter was in all but his prime. For fantasy purposes he is strictly a backup, but he can put up some sneaky numbers. Rank: 21st
Jedd Gyroko—St. Louis Cardinals (.233, 18.7 HR, 43.0 Runs, 55.7 RBI, 1.0 SB, 33.3 BB)
3 Year 5 Category- 21
3 Year 6 Category- 22
5 Year 5 Category- 22
5 Year 6 Category- 21
Gyorko has settled in as a super utility guy that can play second, short, or third base with equal proficiency. That is to say, he won't be brilliant at any of them and I'm sure the Cardinals would prefer him not be a regular at any of those spots, but he could get between 400 and 500 plate appearances anyway. He might be a better bench piece because of the flexibility than some of the other shortstops immediately above him. Rank: 22nd
J.J. Hardy—Baltimore Orioles (.252, 8.7 HR, 48.0 Runs, 45.7 RBI, 0.0 SB, 25.0 BB)
3 Year 5 Category- 24
3 Year 6 Category- 24
5 Year 5 Category- 18
5 Year 6 Category- 19
The rankings above tell the whole story. Hardy was a borderline functional fantasy player a few years ago, but he has regressed offensively. Now, he's not really worth a draft pick, but sometimes guys rediscover the magic and he could next season. So, keep tabs on him just in case, but don't draft him. Rank: 24th