2017 Fantasy Baseball: Three to Add, Three to Keep, Three to Drop– Third Basemen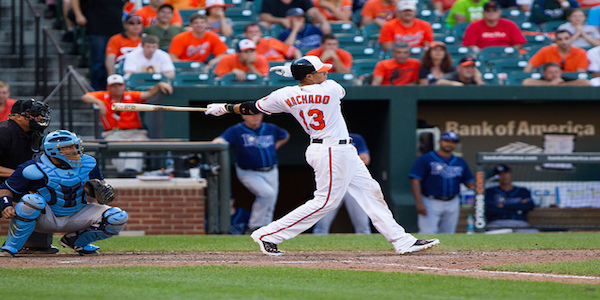 Welcome to deadline day. There are days that should be national holidays, but sadly aren't. Opening day is one of those days and deadline day is also one of those days. However, we take a break from the craziness that is the deadline to look at third basemen. Ironically, the deadline has had an affect on who winds up in this edition of the three by three by three.
Three to Add
Matt Chapman— Oakland Athletics
Key Stats: .191, 6 HR, 11 Runs, 10 RBI, 0 SB
There are two sides to every deadline. On the one hand, you have contenders that want to upgrade every weakness. On the downside you have teams that want to spend the last two months evaluating young players for the future. Chapman has gotten off to a slow start, but he has shown impressive power. Adding Chapman may seem counterintuitive and if you have strong third base play you don't need him. If you are suffering through a mediocre season you might do well to add him and take a chance.
Barriers to Launch: He never makes consistent contact.
Rafael Devers— Boston Red Sox
Key Stats: .294, 1 HR, 3 Runs, 2 RBI, 0 SB
The acquisition of Eduardo Nunez complicates this advice, but Nunez plays a multitude of positions, so Devers still has a chance to stick long-term as the Red Sox third baseman. He hit a home run in his first start, so there is always a chance. He hit a combined 20 home runs betweeen AA and AAA this season and hit a combined .311 between those two levels.
Barriers to Launch: He never gets consistent playing time.
Yoan Moncada— Chicago White Sox
Key Stats: .118, 1 HR, 3 Runs, 6 RBI, 0 SB
Moncada was highly drafted when people thought he would start the season in Chicago, but he is currently available in more than half of ESPN leagues. That varies from platform to platform, but the idea is that the numbers above don't reflect the obvious talent. He has power and speed to burn, so adding him could be a nice boost for the remaining six weeks of the fantasy baseball.
Barriers to Launch: He never makes consistent contact.
Three to Keep
Josh Donaldson— Toronto Blue Jays
Key Stats: .239, 10 HR, 26 Runs, 30 RBI, 1 SB
Sometimes it's hard to tell the difference between a player that is permeanently struggling and someone that has had their season derailed by injuries and ineffectiveness. Still, there are two months worth of games and time for him to add ten home runs and 40 RBI for the remainder of the season. If I were in need of a third baseman, I would probably throw a lowball offer at his owner and steal him for myself. Don't be the guy that gives up on him too soon.
Drop if: He has more health problems.
Todd Frazier— New York Yankees
Key Stats: .209, 17 HR, 45 Runs, 46 RBI, 4 SB
The numbers don't look good, but you have to give Frazier some time to adjust to his new surroundings. The Yankees have more offense in that lineup and Yankee Stadium is a good offensive environment overall. Plus, Frazier is a valuable player in six category or total points formats where his high walk rate plays up.
Drop if: He continues to scuffle. 
Manny Machado— Baltimore Orioles
Key Stats: .238, 18 HR, 46 Runs, 53 RBI, 6 SB
Like Donaldson, he has been scuffling all season, but he is traditionally one of the top five third basemen in the game. Unlike Donaldson, he has been healthy all season, so if he gets on a hot streak he could end up approaching career norms in runs and RBI. He already is producing enough power to come close to his career norms there and he is on pace to get close to ten stolen bases as well.
Drop if: He continues to scuffle.
Three to Drop
Chase Headley— New York Yankees
Key Stats: .271, 5 HR, 46 Runs, 40 RBI, 6 SB
At least he's been healthy all season. He's a nice defensive player that can play third base or first base. He isn't a terrible hitter, but he is far removed from the guy that put up huge numbers back in San Diego. There are just too many good third basemen to keep him around.
Keep if: You have absolutely nothing else.
Martin Prado— Miami Marlins
Key Stats: .250, 2 HR, 13 Runs, 12 RBI, 0 SB
Prado just went under the knife. It was a minor surgery, but it probably will have him out for at least the month of August. He has missed most of the season anyway, so I'm not sure who would own him at this point. The third base position is pretty loaded.
Keep if: Don't.
Yunel Escobar— Los Angeles Angels
Key Stats: .274, 6 HR, 39 Runs, 28 RBI, 1 SB
Escobar is a perfectly decent player offensively and defensively, but you can do better.
Keep if: He discovers power out of nowhere.