2018 Fantasy Baseball: Midway Checkup– First Basemen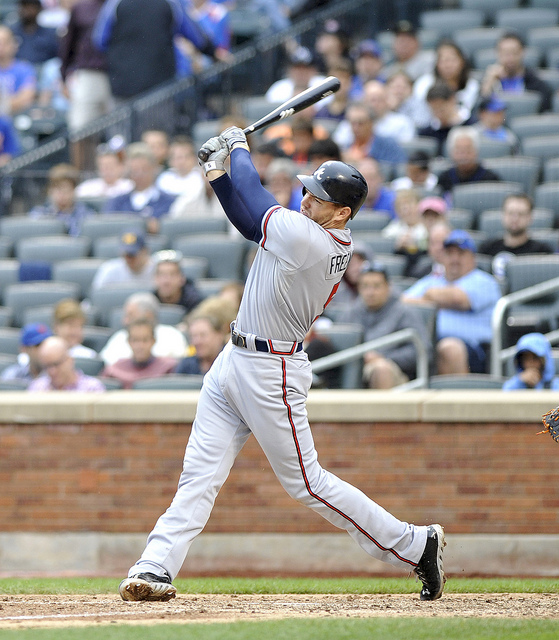 The midway point is always a good time to take a look at back and see how positions are shaping up. I like to use total points for a number of reasons. First, it is a growing format due to the popularity of daily fantasy sports. Moreover, more and more full season leagues are using it. Secondly, it more accurately shows how players are actually performing. Of course, every platform has their own formula, so we will be using our own for our own purposes.
Total Points = TB + Runs + RBI + SB + BB + HBP – SO – GDP – CS
Freddie Freeman– Atlanta Braves
Total Points: 255 (1st)
Yahoo: 3rd
Total points is a marriage between pure 5×5 fantasy production and a more sabermetric approach. Freeman has always been good, but he is on top of the heap partially because the rest of the position is down and partially because the team around him is much better. This isn't meant to disparage him because he has always been good, but I'm not sure if he really is the best guy on the board over the long haul.
Joey Votto– Cincinnati Reds
Total Points: 219 (2nd)
Yahoo: 2nd
People make a lot of Votto's loss of power. He has only eight home runs as of this writing, but he is on pace for yet another 100+ walk season. As we have seen with the likes of Evan Gattis and Paul Goldschmidt, production can come out of nowhere. So, all he is needs is a strong week or two to get his power numbers back to career norms.
Carlos Santana– Philadelphia Phillies
Total points: 215 (3rd)
Yahoo: 18th
The ranking from Yahoo is a bit deceiving. You have a number of guys eligible at first that are eligible somewhere else. Santana himself is eligible in right field in some platforms. Of the first 18 guys, seven are eligible at other positions and most of those play those positions primarily. Still, that seemed awfully low for a guy of his caliber. As he has shown this season, most players with a long enough track record end up right around where they have always been.
Paul Goldschmidt– Arizona Diamondbacks
Total Points: 204 (4th)
Yahoo: 1st
Goldschmidt was on the disappointment list and immediately went on a hot streak. Players almost always eventually get back to what is on the back of their baseball cards. Goldschmidt is a bit behind in terms of runs and RBI, but he is producing power numbers that are in line with what he has always done. Those run producing numbers will come as well.
Jose Martinez– St. Louis Cardinals
Total Points: 194 (5th)
Yahoo: 39th
In a more comprehensive way, Martinez ranked 273 on the preseason list for all players. That means he could have been a waiver wire pick up in a lot of leagues. There is a guy like Martinez at every position. You could literally phone the draft in every season and field a competitive team if you get the pick of the litter on the waiver wire.
Anthony Rizzo– Chicago Cubs
Total Points: 184 (6th)
Yahoo: 4th
Here is another guy that will eventually get back to where he has been on the back of his baseball card, but he's not there yet. Unlike Goldschmidt, he is there in terms of runs and RBI, but has not been there in the sabermetric categories. All he needs is a hot week or two to get there.
Jose Abreu– Chicago White Sox
Total Points: 178 (7th)
Yahoo: 6th
He is about where he should be. Should the White Sox deal him? That always depends on what they could possibly get in return. First base/Designated hitter is not really a position of need for most playoff contenders. If Abreu could find a new home he could end up higher on this list, but given his place on one of the worst teams in baseball it is not looking good for him.
Matt Olson– Oakland Athletics
Total Points: 167 (8th)
Yahoo: 19th
In order to win with a poor man's payroll you must have young players step up and produce better than expected. Olson has been about as good as expected overall. He and Matt Chapman are a large part of the future. If they add a little pitching before the deadline the future could be now.
Brandon Belt– San Francisco Giants
Total Points: 166 (9th)
Yahoo: 33rd
Those that play DFS really don't care what your total points are. They care about what you do on a per game basis. If you go on a per game basis then Belt is nearly a top five performer this season. If he can remain healthy down the stretch then the Giants have a chance to compete for a wild card.
Edwin Encarnacion– Cleveland Indians
Total Points: 165 (10th)
Yahoo: 7th
Notice the difference between the 8th ranked first baseman and the 10th best first baseman. Encarnacion rolls out of bed every year and hits 30+ home runs and 100+ RBI. He is on pace to do it again and really hasn't had a hot streak yet.