2018 Fantasy Baseball: Top Trade Candidates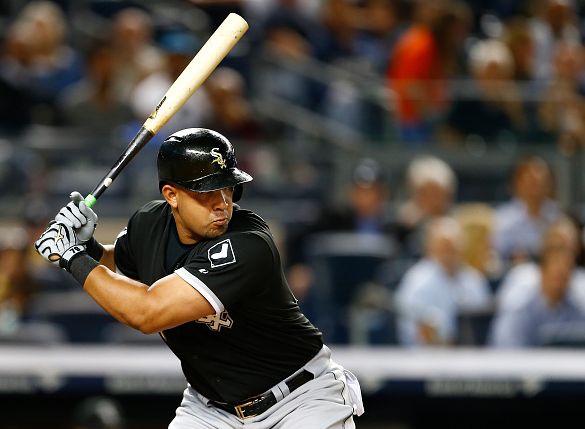 As the calendar nears July, it comes time to analyze the trade market and how it might impact the fantasy baseball world. So, we will take a look at the best player at each position that might be traded and a cheaper alternative. Before we get started we should look at some ground rules. We are only looking at likely sellers. Ten teams are on pace to lose 90 or more games this year. We can safely assume they will be sellers. We will take a look at the best from those teams and where they might end up. Numbers are updated through June 27th.
Catcher: J.T. Realmuto— Miami Marlins
Numbers: .308, 10 HR, 38 Runs, 32 RBI, 1 SB, 16 BB
Realmuto missed the first couple of weeks and still is arguably the most productive catcher in the game. He has also been good defensively this season on top of these numbers, but they don't necessarily mean anything. Moving to another team not only improves production around him but likely also puts him in a better hitter's park.
Good alternatives: Hoouston, Washington
First Base: Jose Abreu— Chicago White Sox
Numbers: .269, 11 HR, 37 Runs, 45 RBI, 1 SB, 19 BB
He may not be the best first baseman this year on the board, but he has four consecutive 100+ RBI seasons to his name. The White Sox may want to keep him as a part of the rebuild, but having a big time RBI guy seems like a luxury at this point. The question is who among the contenders really needs a big time first basemen. We analyze the market here and don't necessarily give into rumors. So, we think of some logical destinations.
Good alternatives: New York, Colorado, Houston
Second Base: Scooter Gennett— Cincinnati Reds
Numbers: .334, 13 HR, 44 Runs, 52 RBI, 2 SB, 19 BB
This is one of those great sell high moments. Gennett is playing better than he ever has, but the Reds can get some prized prospects for him. They have some prized prospects of their own that can take his place. The sticking point is finding a team desperate enough to add him.
Good alternatives: Los Angeles, Cleveland
Third Base: Adrian Beltre— Texas Rangers
Numbers: .309, 4 HR, 18 Runs, 25 RBI, 0 SB, 19 BB
Ignore the overall numbers here. He has missed significant time, but the production is still there. He is also a plus defender, so any team looking for a third baseman would probably love to add a veteran of his caliber. If he produces at this level he could end up with 20 home runs and close to 75 RBI. Add in the defense and he is an easy upgrade for a few teams.
Good alternatives: St, Louis, Atlanta
Shortstop: Manny Machado— Boston Red Sox
Numbers: .301, 19 HR, 37 Runs, 55 RBI, 5 SB, 35 BB
Machado looks ready to break the bank and that is but one obstacle to a deal. The Orioles are famously finicky when it comes to taking on minor league talent. It could be a philosophy, disagreements within the ranks, or sheet imcompetence. That being said, if they handle this right they could restock their minor league corps considerably.
Good Alternatives: Chicago, St. Louis, Los Angeles
Outfield: Adam Jones— Baltimore Orioles
Numbers: .289, 10 HR, 32 Runs, 31 RBI, 0 SB, 9 BB
It's hard to call Jones a frontline player. He does some frontline things, but anyone that can't get on base efficiently isn't a frontline guy. Still, he can play all three outfield positions and has never hit fewer than 25 home runs or driven in fewer than 73 runs since 2010. Surround him with better players and it might cover up some of those holes.
Good alternatives: Seattle, Cleveland
Outfield: Billy Hamilton— Cincinnati Reds
Numbers: .209, 3 HR, 40 Runs, 17 RBI, 15 SB, 30 BB
Hamilton has been on the block for a few years. The question is the threshold required to make a deal. He isn't a regular on a playoff team. He is the best basestealer in the game and a plus defender, but he can't steal first base. So, if they are willing to take a B or C level prospect they can probably find a taker for him.
Good alternatives: San Francisco, Cleveland
Outfield: Shin Soo Choo— Texas Rangers
Numbers: .284, 14 HR, 48 Runs, 37 RBI, 3 SB, 52 BB
I like Choo as a player more than most. It's all about the walks. It has helped him produce a 132 OPS+ this season but his salary numbers are horrible. So, the Rangers would have to take on considerable salary and only teams with deep pockets would be able to make a play for him. So, not only would they need a corner outfielder or DH but they would also need a stack of cash to be lying around.
Good alternatives: Colorado