2019 Fantasy Baseball: Final Third Base Rankings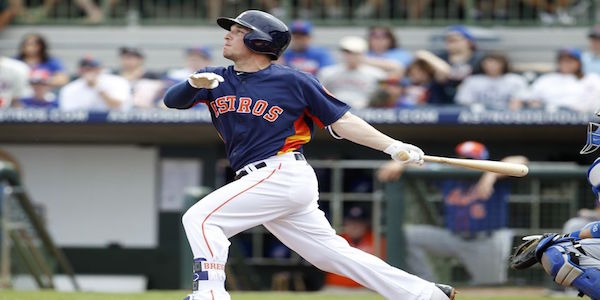 As an admitted Houston Astros fan I want to give my full-throated congratulations to the Washington Nationals and their fans. Their team deserved that victory after knocking off two juggernaughts in the Dodgers and Astros. Their hitters came up big when they needed to and their pitchers kept a number of runners on base. It's always a great thing in sports when a city and its fans get to celebrate after decades of coming up short. I certainly know the feeling.
That being said, we return to our postseason rankings of the top 15 players at each position. These rankings are based on six categories, total points, and total points per game. Additionally, we ran down the stats for every third baseman with 300 or more plate appearances. We will also compare each player in the top 15 with the positional average in each individual category. As you might imagine, future projections will come later and that might impact future rankings.
Average Third Baseman: .271/25 HR/76 Runs/79 RBI/4 SB/53 BB
Total Points= Total Bases + Runs + RBI + SB + Walks + HBP – SO – CS- GIDP
Alex Bregman– Houston Astros
Six Categories: .296/41/122/112/5/119 (1st)
Total Points: 602 (1st)
Points Per Game: 3.86 (1st)
Bregman is one of the three finalists for the MVP award in the AL. He is competing with Mike Trout and Marcus Semien. In a game of numbers, total points is just another one. Bregman leads all big league players in total points, but Trout has him in total points per game. Should attendance be the ultimate judge, or are we looking for quality over quantity? I'll let the BBWAA make that call, but it should be a close race.
Anthony Rendon–Free Agent
Six Categories: .319/34/117/126/5/80 (2nd)
Total Points: 556 (2nd)
Points Per Game: 3.81 (2nd)
Rendon is a part of another debate. Who should be the number one free agent on the board between Rendon, Gerrit Cole, and Stephen Strasburg. Strasburg was the World Series MVP, but you could have made a case for Rendon based on Games 6 and 7 alone. I've always put more stock in position players. They maintain their value longer and they impact your team every day. The same is true in fantasy terms.
Rafael Devers–Boston Red Sox
Six Categories: .311/32/129/115/8/48 (3rd)
Total Points: 528 (3rd)
Points Per Game: 3.38 (3rd)
The only blemish in Devers' game is that he doesn't draw a lot of walks. However, he probably comes close to the median total at the position, so everything is relative. He is still very young and he took a huge step forward this past season. You never know if or when Devers will add that last skill to his game. Some guys never do, but until he does he likely takes a step back next season.
Nolan Arenado–Colorado Rockies
Six Categories: .315/41/102/118/3/62 (4th)
Total Points: 523 (4th)
Points Per Game: 3.37 (4th)
Arenado just won his seventh consecutive Gold Glove award. I don't put much stock in those, but his awards seem to be deserved for the most part. That being said, with his lengthy extension this past offseason he will spend the bulk of his career in Denver. Will he be the first Rockie to spend most of his career in Denver and get in the Hall of Fame? His numbers may be inflated, but as long as he stays in Denver then who cares?
D.J. LeMahieu–New York Yankees
Six Categories: .327/26/109/102/5/46 (5th)
Total Points: 470 (5th)
Points Per Game: 3.24 (5th)
Some fans in New York were clamoring for LeMahieu to get into the MVP race. It's a lovely thought, but while you could call him a glue guy for them this year and they had one heck of a season, there is no way he was better than Bregman, Trout, or Semien. What he is a contact hitter that developed more power than we expected. I don't see those power numbers continuing in the future.
Eduardo Escobar–Arizona Diamondhacks
Six Categories: .269/35/94/118/5/50 (7th)
Total Points: 459 (6th)
Points Per Game: 2.91 (6th)
The red and green ink can be decieving. It's all part of a caserole that has to be considered in cancert. His red numbers are barely below average and the other numbers are well above average. He's not quite elite, but he is right there on the cusp after two consecutive really good seasons. Some of those doubles and turned into home runs. They may turn back into doubles, but even then he has considerable value.
Josh Donaldson–Free Agent
Six Categories: .259/37/96/94/4/100 (6th)
Total Points: 418 (7th)
Points Per Game: 2.70 (11th)
Donaldson might end up being a relative bargain with most of the big spenders going after Rendon. At this point in his career he will probably get only two or three seasons, but those seasons should be productive. The biggest key this past season was proving he could stay on the field. Going back to the AL where he can DH on occasion makes some sense. MLBTR has him pegged to go to Arlington. That could be huge.
Kris Bryant–Chicago Cubs*
Six Categories: .282/31/108/77/4/74 (9th)
Total Points: 406 (9th)
Points Per Game: 2.76 (9th)
We put an asterisk here because Bryant has a hearing to determine whether he has one more year of arbitration or if he will be a free agent. Either way, he doesn't seem likely to be a Cub. If he is traded it could be a very underrated story of the winter. Bryant is still the guy that won the NL MVP back in 2016. If you put him in the right environment he could eplode. Plus, he is eligible in the outfield in some formats.
Matt Chapman–Oakland Athletics
Six Categories: .249/36/102/91/1/73 (11th)
Total Points: 413 (8th)
Points Per Game: 2.65 (12th)
Chapman would be top five material if they included defensive runs saved in fantasy baseball. As it stands, he is a guy that seems to grow a little at the plate every year. So, maybe he becomes a .260/40/100/100 guy next season. Add that to the patience that he has developed at the plate and he could become a top five guy. If you can wait this long to get him on your squad then thank your lucky stars.
Eugenio Suarez–Cincinnati Reds
Six Categories: .271/49/87/103/3/70 (8th)
Total Points: 400 (10th)
Points Per Game: 2.52 (15th)
No other position has ten guys with 400 or more points. Suarez is a flawed guy as you can see by the total points. He strikes out a little too often to be an elite player, but the raw power is certainly there and when you dip down to the bottom of the top ten at a position you normally can't expect to get someone this good. Third base just happens to be the deepest position on the diamond.
Mike Moustakas–Free Agent
Six Categories: .254/35/80/87/3/53 (12th)
Total Points: 389 (11th)
Points Per Game: 2.72 (10th)
With Kris Bryant being at least available, there are three big names on the open market above Moustakas. Fortunately, he showed he could play second in a pinch. That makes him eligible at both positions for fantasy purposes, but it also means he might get a multi-year contract somewhere this time around. It's really not his fault that he seems to enter the market when a few guys are above him on the list.
Jose Ramirez–Cleveland Indians
Six Categories: .255/23/68/83/24/52 (15th)
Total Points: 374 (12th)
Points Per Game: 2.90 (7th)
Ramirez got off to a horrible start, but by the end of the season he was producing the numbers he had produced the last couple of seasons. He missed about a month's worth of time or he would have surpassed the averages in every single category except for batting average. So, it is reasonable to put him in the top ten based on the strength of his speed alone.
Justin Turner–Los Angeles Dodgers
Six Categories: .290/27/80/67/2/51 (16th)
Total Points: 359 (13th)
Points Per Game: 2.86 (8th)
One of the big mistakes that fans often make is that they get caught up in what I would call magical thinking. It goes something like this: if Justin Turner could just play 150 games he would be one of the top ten third basemen in baseball. Yes, but when a player consistently gets bumps and bruises and misses 20 to 30 games every year you should count on that being the norm.
Manny Machado–San Diego Padres
Six Categories: .256/32/81/85/5/65 (10th)
Total Points: 358 (14th)
Points Per Game: 2.29 (17th)
On the one hand, Machado was above average in five out of six categories. On the other hand, he disappointed for much of the season, Maybe the expansive dimensions of Petco Park didn't agree with him. Maybe he didn't get enough time to prepare for the season after signing so late. Maybe he put too much pressure on himself to live up to the contract. Either way, it is fair to believe he will do better next season.
Yoan Moncada–Chicago White Sox
Six Categories: .315/25/83/79/10/40 (13th)
Total Points: 338 (15th)
Points Per Game: 2.56 (13th)
Experts expect the White Sox to make a big splash this offseason, but there is nothing more exciting than watching young players get better. The Sox already have two good ones in Moncada and Eloy Jimenez. If they can keep Jose Abreu and add one more significant free agent then they could be contenders in a fairly weak AL Central. The next step for Moncada will be cutting down on a very healthy K rate.