2019 Fantasy Baseball Rest of Season Rankings: Hitters on the Rise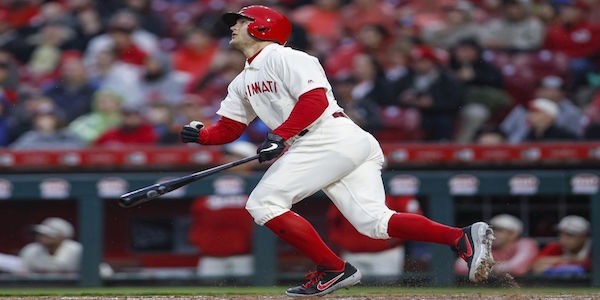 We published our rest of season rankings this past weekend and there's some standout changes since the preseason ranks were published around six weeks ago. There's obviously been injuries which have impacted them but also some surprising performances, interesting call-ups and unusual usages. Therefore, it only seems right that I look at the biggest changes since my preseason ranks and give an explanation as to why I have altered my outlook on certain players so much. We'll start with hitters who have moved up significantly.
Pete Alonso | Mets: Preseason 153 – RoS 39
The biggest jump in my rankings is the Mets' first baseman. I moved him up this much as I would've had him around the 80 mark if I knew he'd be the Mets' everyday first baseman from Opening Day. Given how he's hit since then (ten homers and a .271 average in 35 games), he's someone I feel will be a top-50 player by season's end. Even if you lazily multiply his first 35 games by four to give an end of year prediction, he'll have 40 homers, 84 runs, 98 RBIs and a good average. The Mets and Alonso have slowed a bit but I see no reason why they won't pick up soon and Alonso will be a big part of that. I wouldn't be surprised if he ends the year as the home run leader in the Majors with 50+.
Paul DeJong | Cardinals: Preseason 92 – RoS 58
DeJong's rise isn't as high as some might think but that's purely because I was significantly higher on him than most everyone else in preseason. His .336 average is likely inflated due to his .371 BABIP, but he's hitting third in the Cardinals' lineup, has seven homers in 35 games and has cut his strikeouts down significantly (25.1% K% last year to 16.3% this year). Having stolen just one base in each of the last two seasons, he's already got three in 2019 and is in contention to have a 30/10 season while scoring 100 runs.
Victor Robles | Nationals: Preseason 121 – RoS 78
Perhaps I've seen the light as I wasn't that keen on Robles in preseason. That reticence was borne out of concerns how much he'd actually play, which have been allayed having now played 34 times for the Nationals. The speed is there as expected, with eight steals already, but his six homers are most eye catching considering most projections had him with around 10-12 for the season. On course for a 20/30 season, I've tempered my ranks a bit based on his BABIP (.342) and strikeouts (29.9% K%).
Luke Voit | Yankees: Preseason 143 – RoS 81
Another player I was higher on than most but probably still too low. The threat of a slow start leading to playing time loss to Greg Bird ended after Voit continued his 2018 Yankees form and Bird got his annual significant injury. Even before the rash of injuries, Voit was hitting cleanup and has already reached double digits homers, has a .260 average and is on track for triple digit runs and RBIs. He's likely to rise further in season if anything.
Josh Bell | Pirates Preseason 203 – RoS 137
I fell out of love with Bell after last year, but like all great ex's, I'm still harbouring feelings now his power seems to be bouncing back. On track for a career high homers (I'm sensing a trend), his increased strikeout rate (I'm sensing another trend) isn't causing any batting average drop and his jump in HR/FB% can be in part attributed to the increase in his hard-hit rate too. The Pirates have scored just 109 runs in 31 games with Bell scoring 20 and driving in 25 of them. If he was on a more potent offensive team he'd almost certainly be in my top-100
Domingo Santana | Mariners: Preseason 186 – RoS 145
Santana's Tokyo performances to start the season had me worried his ADP would inflate leading to Opening Day given how much higher I had him ranked than the consensus. I was hopeful he'd be more like the 2017 version with regular playing time and he's certainly heading that way. He's on course for a repeat of that 30/15 season and as someone who has always had an inflated BABIP, I'm not concerned that his average will plummet any lower than the .238 it currently sits at.
Ketel Marte | Diamondbacks: Preseason 257 – RoS 158
I didn't see Marte as someone other than a late round vanilla pick to fill a roster spot and chip in with some stats without doing anything significant. But he's hitting the ball consistently harder than ever and hitting more flyballs than ever, culminating in nine homers already. I don't think he'll end the year with thirty, but 25 is within reach along with double digit steals. He'd need to continue his early season form and put together a career year which is why I'm still not going to put him too high but he's certainly trending the right way.
Jorge Polanco | Twins: Preseason 293 – ROS 164
Like Marte, I wasn't sure Polanco would contribute enough anywhere to represent much value. But he's entrenched as the Twins' no.2 hitter and we've seen how powerful that lineup can be. Polanco has only hit six homers himself and has yet to steal a base, but he's taking walks and avoiding strikeouts (14/19 BB/K) to go with his 20 extra base hits already. He'll be a good source of runs to go with some pop and a high-level average for the rest of this year.
Brandon Lowe | Rays: Preseason Not Ranked – ROS 198
I wasn't sure what role (if any) Lowe would have with the Rays but he's hit himself into a key part of the Rays' lineup and should continue to do so. He does have a .418 BABIP so there's no chance his .307 average will hold up, but he's shown decent pop with seven homers and has three steals. He should contribute across the board but I'm just too wary of the BABIP and how far the performance could drop off. Providing it's not huge, Lowe will be a solid contributor the rest of the year.
Michael Chavis | Red Sox: Preseason Not Ranked – ROS 204
Seeing how Dustin Pedroia started the season on the IL and Chavis still wasn't being considered a viable option for the Red Sox, his call up in April was something of a surprise. The fact he was starting the year in the minors despite the obvious need made me think it was unlikely Chavis would see much time in Boston, but now he's established in the lineup, his power potential is already being displayed and there shouldn't be any concerns he can't be a factor the rest of the year.
Jeff McNeil | Mets: Preseason 255 – RoS 210
It might seem strange to move up a hitter with one home run and no steals despite playing 34 games, but McNeil has managed to hit .352 during that time too. He's been leading off for the Mets and managed to score 15 runs despite their offensive struggles. His eligibility as an outfielder, second and third baseman too means McNeil is probably the best super-utility type player you can roster.
Nate Lowe | Rays: Preseason Not Ranked – RoS 222
Lowe has only played seven games for the Rays and is yet to homer, but provided he's here to stay, it won't be long until that changes and his minor league power potential should also see him keep hitting for power as the season progresses. His ability to take a walk in the minors should also see him in good if he can translate that into production in the Majors.
Nick Senzel | Reds: Preseason 298 – RoS 229
I've not been much of a Senzel truther, but his low ranking was mainly as I didn't think he'd join the Reds this early. I expected him to stay in Triple-A for a prolonged period while they tried him out as a centre fielder. Senzel has already hit three homers in his first four games despite being moved around the order. The Reds' unpredictability is the only thing holding me back from moving Senzel further up my ranks, but he should be able to produce enough going forward to move up more.
Jason Heyward | Cubs: Preseason Not Ranked – RoS 243
I can safely say I have never rostered Heyward in any league in any year. This year he's had more walks than strikeouts and is on course for a 20/20 season, something he's not done since 2012. He's not actually hitting the ball any harder and has experienced some HR/FB% fortune, but his .299 average isn't far off his .308 BABIP so although I'm treading cautiously, I think he can continue to have some success this year, enough to be rostered in pretty much all leagues.
Dan Vogelbach | Mariners: Preseason Not Ranked – RoS 246
Another success story from the Mariners' early season achievements, Vogelbach has nine homers already and is seeing regular playing time to cement himself as a decent power option. His .279 average is backed up by his .278 BABIP although his 27.3% HR/FB% may scale back his homers as the season goes on. His success could come down to whether he can maintain his 20.7% BB% (second only to Mike Trout) but the power will be the main source of value here.