AL-Only Target: Athletics' Outfielder Chris Young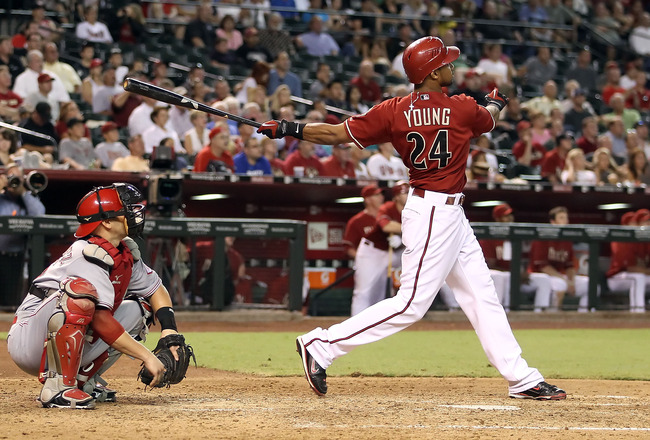 After two stellar fantasy seasons for the Arizona Diamonds where Chris Young posted multiple 20-20 seasons, Young experienced a disappointing 2012. While a majority of his peripheral numbers stayed the same, he struggled through injury all season and was only able to accrue 363 plate appearances. At the age of 30, it is possible that Young's skill set is eroding slightly, but even in those limited at-bats, he was able to hit 14 home runs and swipe 8 bags. After being unceremoniously traded to the Athletics, Young has set himself up as a 4th outfielder behind Yoenis Cespedes, Josh Reddick and Coco Crisp.
Last season, Crisp was only able to play in 120 games, a slightly better tally of 136 in 2011, before dropping back to an abysmal 75 in 2010. Cespedes, by all accounts, seems to be made of some inhuman supermaterial, but even he had a DL stint in 2012. Before last season, Reddick had never hit more than 18 home runs at any level of professional baseball and had never stolen double digit bags. If Reddick performs exactly as well and as healthily as he did in 2012, there may not be much leeway for Chris Young in his slot. However, Reddick's 14.1% HR/FB ratio, 5 points higher than any other season, shows that he may turn back into a pumpkin. That idea, combined with Coco Crisp's injury risk, begins to crack open the door for Chris Young's AL-Only fantasy value.
Beyond just outfielders, Oakland's DH options are none too attractive. While it certainly is not the most likely outcome, there is a way to paint a narrative in which Chris Young receives 500 at-bats. Even if he doesn't achieve that number, he will still very likely be a valuable fantasy asset. Currently coming in as the 37th ranked AL-Only outfielder in the consensus ranks on fantasypros.com, there is a very strong chance he outperforms the Micheal Brantley's of the world. Despite suffering from injury and a reduction in counting stats, many of Young's peripheral numbers stayed at a reasonable level. His SLG and wOBA were both right around career norms, and his .ISO was also higher. Young posted a career high in contact percentage at 81.7%, clearly evidence that he is still seeing the ball well. Additionally, he also recorded the lowest swinging strike percentage of his entire career. Young is not a player whose skills as a whole are eroding. He did suffer an injury that sapped him of some power and plate appearances, but he is still a good ballplayer.
In deeper and more challenging formats like AL-Only, owners should be looking to make calculated risks. While every analyst and player will have their own strategy, the ideology of aiming for the stars makes the most sense to me. When the underlying numbers correlate to my already-held perception, it inspires confidence. Chris Young is a good baseball player who got caught up in Arizona's clubhouse change the same way that Justin Upton did. While Young is nowhere near the player Upton is, he can still provide solid value for fantasy baseball leagues. Let owners in your league select Leonys Martin and Emilio Bonifacio; after solidifying your first and possibly second outfield slot, a calculated gamble on Chris Young is a perfect one to make.