Boston Red Sox Acquire Chris Sale, Mitch Moreland, and Tyler Thornburg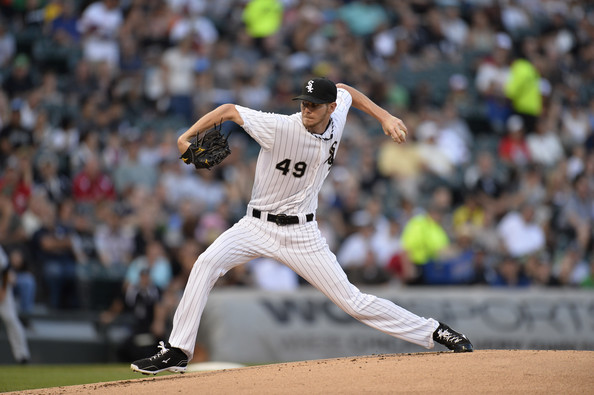 Tuesday was moving day for the Boston Red Sox. They began the day by acquiring reliever Tyler Thornburg from the Milwaukee Brewers for Travis Shaw, Mauricio Dubon, and Josh Pennington. Then, they pulled off the blockbuster of the offseason when they traded Yoan Moncada, Michael Kopech, Luis Alexander, and Victor Diaz to the Chicago White Sox for Chris Sale. Finally, they completed the day by signing free agent first baseman Mitch Moreland.
Why the Red Sox Acquire Tyler Thornburg
The Red Sox are set to lose Brad Ziegler, Koji Uehara, and Junichi Tazawa in free agency. Uehara and Tarawa were amongst the top five in games pitched for the Red Sox last year and Uehara served as the closer while Craig Kimbrel was on the shelf. Ziegler served as the Dbacks' closer before he was dealt to the Red Sox at the deadline and Tarawa was a reliable middle reliever for the Red Sox for four seasons. Obviously, if they lose all three then their bullpen will be very depleted. Thorn burg finished the season for the Brewers as their closer when they dealt away virtually their entire pen.
The Brewers get Travis Shaw out of the deal. He will likely serve as their everyday third baseman so that Jonathan Villar can return to shortstop. When you are a rebuilding team like the Brewers, getting an every day player for a reliever is a no brainer. They add a couple of additional minor leaguers in the exchange. The Sox have Pablo Sandoval coming back from injury and nothing is standing in his way of reclaiming his position after the club dealt both Shaw and Moncada in separate deals.
Fantasy Impact
There are only 30 closer spots available in baseball and Thornburg just lost his spot. If your league counts holds then he could be even more valuable. Even in traditional leagues he could have late round value as a guy that can put up gaudy strikeout and ERA numbers. As for Shaw, he gets every day reps, so he becomes a solid late round selection where he might not have rated that before.
Why the Red Sox Acquire Chris Sale
This one is one of those deals that shifts the tectonic plates of the game. The Sox have the defending Cy Young Award winner (Rick Porcello) and one of the best lefties in the game in David Price. Sale was arguably better than both of them last season even if he didn't have the won-loss record to show for it. Bill James Online has a statistic it calls "pitching runs created". Sale topped both Porcello and Price in that category last season.
If you throw in Stephen Wright and Drew Pomeranz, the Sox may have the best rotation in the game. At the very least, they have a playoff rotation that is ready to go. Losing Moncada and Michael Kopech really hurts. They were consensus top three prospects for the Red Sox this past season and MLB.com had Moncada as the number one prospect in the game. He will settle in as the White Sox' everyday second baseman next season. Kopech has electric stuff that could rival Sale's stuff. The other two prospects were also top ten prospects for the Red Sox. So, they got a king's ransom. The Sox are clearly putting all their chips in on the next couple of seasons.
Fantasy Impact
There is no statistic (other than saves) that is more overrated in the game than wins. Winning baseball games takes a lot of luck and a lot of support from teammates. Sale will have the opportunity to win more games than he did in Chicago. Other than that, he is still the same pitcher. The big winner here is Moncada. Not only does he get guaranteed playing time, but he gets it at a premium defensive position. His draft stock might very well go through the roof.
Why the Red Sox Signed Mitch Moreland
The retirement of David Ortiz had the Sox scrambling for a solution at designated hitter. Moreland gives them a bonus as a positive impact defensive first baseman. He might actually claim that slot and push Hanley Ramirez to DH. Moreland has some pretty nasty splits. He mashes right handed pitching, but becomes a mere mortal against lefties (.240/.295/.378). The Red Sox have reportedly been kicking the tires on Pedro Alvarez and that infatuation is probably now dead. Instead, the Sox may do better if they have a reunion with Mike Napoli. He has a career .276/.387/.517 slash line against lefties. If you put that up against Moreland's .258/.321/.457 slash line against right-handed hitters then you could approximate David Ortiz's total numbers for about the same cost.
Fantasy Impact
Moreland was at his best in 2015 when he threw up a .278/.330/.482 slash line in 515 plate appearances. He is at his best when you can limit his exposure to left handed pitching. That means his ceiling is likely 500 plate appearances and somewhere between 20 and 25 home runs. However, in a deep Red Sox lineup that could come with more runs and RBI than he got in Texas. He probably isn't draft worthy in standard leagues, but he could be a nice waiver wire addition for the fantasy owner that needs an injury replacement.