Can Patrick Corbin Really Be This Good?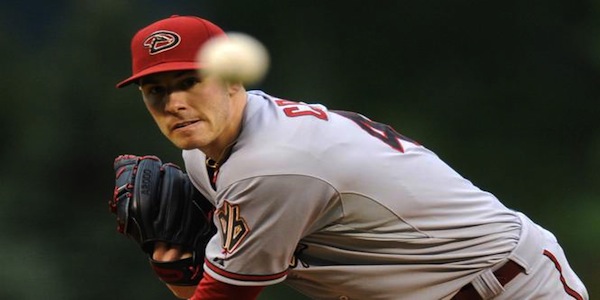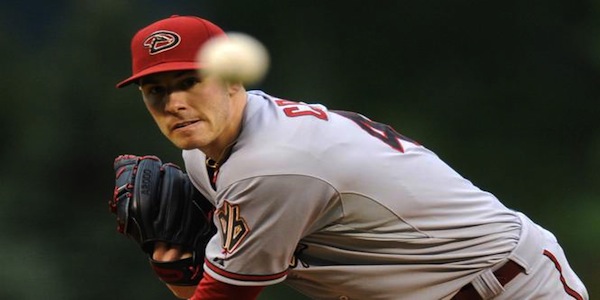 Patrick Corbin has been one of the more fascinating players of the 2013 season to me. He did not get much publicity coming into the 2013 campaign and was even battling Randall Delgado in Spring Training for the last spot in the DBacks rotation. Corbin's been a bonafide ace in the first half. Corbin had an ADP of 260 in ESPN leagues and currently ranks 18th on their player rater. Very rarely do late round fliers work out this well. The elephant in the room is whether or not this performance is sustainable. I believe it is to a certain extent. Obviously not many people can sustain a 2.35 ERA for an entire season, but I'm perfectly fine with expecting Patrick Corbin to remain a top 15 or 20 fantasy starter for the rest of the season.
Corbin has always had the talent to be a good major league pitcher. His minor league track record is strong. He did struggle a little in his initial phase in rookie ball and a little in AA in 2011, but he showed promise the entire time. What allowed him to blossom?
Velocity & Pitch Mix
Corbin is throwing his fastball a little faster in 2013 than he did in 2012, which is somewhat strange due to a lot of those 2012 innings coming out of the bullpen. His average velocity on his fastball in 2013 is 92.76 mph versus 2012 when it was 91.39 mph. That may not seem like much, but that 1 mph or so can mean the difference in a hard hit ball or a hitter getting jammed.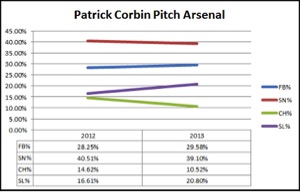 As you can see from the graph above, Corbin is throwing his slider more in 2013 than he did in 2012. He's done a fantastic job keeping lefties in check to the tune of a .150/.216/.234 line. Most of his work against lefties can be credited to his fantastic slider. Lefties whiff 27.19% of the time in Corbin's career versus his slider. Corbin has realized what a good weapon his slider is and has begun to utilize it more. By the way, righties also whiff on his slider 26.32% of the time, so it is by no means a platoon pitch at this point. Another takeaway from this data to me is that Corbin isn't letting his change-up hurt him anymore. Since Corbin debuted, hitters have crushed his change resulting in a .300 batting average and a .527 slugging percentage. He's now using his most effective pitch more; and throwing his least effective one less. That's one way to cut down on the damage.
Going Forward
I believe in Corbin a tremendous amount going forward. We've noted how his pitch mix has been tailored to better utilize his more effective pitches, but he's also made fundamental changes in his approach it seems. He's now throwing a first pitch strike at a 70% clip compared with 58.6% last season. His walk rate is essentially the same as it was in 2012, but he's now striking out nearly 3% more of the batters he faces.
His ERA is bound to regress a little simply because a 2.35 ERA is tough to maintain in the first place. The low HR/FB rate is a little bit of a concern, but I don't project it will regress too severely. His FIP is sitting at 3.18 and his xFIP is hovering around 3.52. That's enough evidence to conclude he might be getting a little lucky, but if his ERA ends up at 3.18 like his FIP suggests I doubt many people will be disappointed.
Corbin is one of my favorite young arms in the game. With the added velocity, better pitch utilization, and increasing strikeout percentage I'm looking for big things out of Pat Corbin for the foreseeable future.  If you had the foresight to take a flier on him then you should be able to enjoy him at a premium discount for the next few seasons.
**All data from: Fangraphs, Brooks Baseball, and Baseball-Reference**
Written by Landon Jones exclusively for TheFantasyFix.com. You can follow Landon on Twitter @JonesLandon.