Chicago Cubs Trade Starlin Castro to the New York Yankees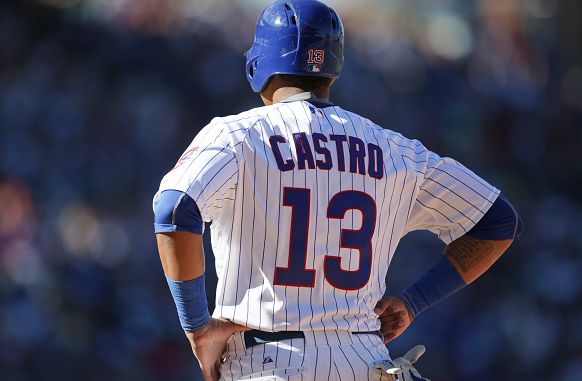 The New York Yankees have been rather quiet this offseason, though that changed quickly Tuesday afternoon when the team agreed to acquire shortstop/second baseman Starlin Castro from the Chicago Cubs in exchange for RHP Adam Warren and shortstop Brendan Ryan. Castro, who had been with the Chicago Cubs since signing as an international free agent at the age of 19, has long been rumored to be on the trading block. The trade comes in the wake of Chicago agreeing to a four year, $56 million dollar contract with Ben Zobrist, who will primarily play second base for the club headed forward. With that deal in place, Castro is the odd man out in Chicago, though he is welcomed with open arms in New York.
Why the Cubs made this trade
It is no secret that the Chicago Cubs are blessed with having a plethora of young, controllable position players on their team and in their minor league system. Not too long ago, it seemed set in stone that Castro would be one of the pieces the Cubs would try to build around, not trade away for a long reliever. As we know, things change, and things change fast. Over the past two years, Castro has regressed significantly, while others in the organization excelled; Kris Bryant, Javier Baez, etc. It wasn't until the Cubs acquired Addison Russell in the summer of 2014 that people really started to figure that Castro was going to be on the move.
Castro put up great numbers through his first few seasons in the major leagues, making his first All-Star appearance at the age of just 21. However, it feels like Castro has been in the league forever, as we have already seen the emergence and downfall of Castro, despite being just 25 years old (26 by Opening Day).
There was once hope that Castro could net a big time starting pitcher for the Cubs, with names like Zach Wheeler, Tyson Ross, and Andrew Cashner once being discussed, among others, though in the end the young infielder netted a solid bullpen piece. Adam Warren was an extremely valuable piece to the Yankees, as he posted great numbers out of the bullpen and was able to start whenever one of their pitchers got hurt or needed an extra days rest, which happened quite often. Warren posted a 3.29 ERA last season across 131.1 innings for the Yankees (43 appearances, 17 starts), and will provide the Cubs, at the very least, with depth in case anything were to happen to one of their starters.
Why the Yankees made this trade
Since losing Robinson Cano to free agency after the 2013 season, the New York Yankees have had some of the worst production in all of baseball from the second base position. In 2014, aka the Brian Roberts era, Yankees' second baseman produced a total of 0.0 WAR, while the Mariners, in their first year with Robinson Cano, received a 5.2 WAR from the position, good for second best in baseball. This past season, things weren't so good, as the Yankees received -1.1 WAR from their second baseman (a tip of the cap to you, Mr. Stephen Drew), which was good for 29th in baseball.
In acquiring Castro, the Yankees are betting on him regaining his All-Star form with a change of scenery, and a permanent switch to second base. Castro doesn't have to be Robinson Cano in order to provide value for the Yanks, considering what they've been running out at the position for the past two seasons. The original plan was to have a platoon of Dustin Ackley and Rob Refsnyder a the position, though with this move, it seems likely that Ackley will now be a bench piece while Refsnyder could get moved in a trade later in the offseason. On top of that, Castro was substantially better both offensively and defensively after moving to second base, posting his best defensive numbers in three years after the switch.
Joe Maddon praised Castro after he agreed to switch to second base, praising his professionalism and quickness at the position. In 115 at-bats after being move to second, Castro belted five home runs while driving in 22 runs, scoring 16 runs and hitting for a .339 average. While the Yankees shouldn't expect him to keep the pace that he was on, it was good to see a positive transition from one position to the other.
The trade further emphasizes what the Yankees front office is all about nowadays: young, controllable assets. Last offseason, we saw them get younger with the additions of Nathan Eovaldi and Didi Gregorious. This offseason, we have already seen them add Aaron Hicks and now Starlin Castro to the fold. Meanwhile, Greg Bird settled in nicely at the major league level and figures to slot in at first base after this season is over, while Luis Severino handled the big leagues tremendously, earning him a rotation spot for the 2016 season. These are not the Yankees that we once knew, as the team known for handing out huge contracts to aging players is quickly changing the course of their franchise. There is a youth movement happening in New York, and I'm not talking about the Mets.
What this trade means for you
If you're a Castro owner, there are plenty of reasons to be thrilled about this move. First off, you now have a guarantee that Castro has a starting job in 2016, which is thrilling. There is hope that new hitting coach Alan Cockrell will be able to tap into some of the potential that many believe is still there for Castro. Let's not forget, he will be just 26 years old this season. Nonetheless, owners should be happy with the switch, especially given the fact that he's playing in a hitter's heaven at Yankee Stadium. As a Castro owner myself, the hope is that he regains his old form and plays enough games at shortstop to qualify at the position for the 2017 as well, but I'm not exactly holding my breath on that one.
There is one downside, however, to Castro moving to the big apple. His attitude. He has been known for being a headache in the locker room and in the dugout, while he has also had a few off the field issues as well. Moving to New York isn't exactly the path you take when you're trying to better yourself, though I could be wrong and Castro may act like a completely different person with the move.