Fantasy Baseball Final: June 7, 2015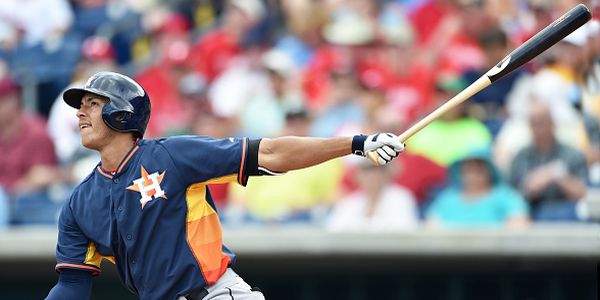 IF YOU READ ONLY ONE THING…
The Red Sox had undoubtedly their biggest win of the season on Sunday coming back from four runs down in the bottom of the eighth inning. In the bottom of the 8th, the Red Sox put up seven runs including a home run from Rusney Castillo and a big go ahead double from Xander Bogaerts. While the sweep was against the worst team in the American League, key members of the Red Sox offense showed signs of coming out of their collective slump.
To this point in the season, outside of Dustin Pedroia, Bogaerts has been the Red Sox most consistent hitter. While lacking in power statistics, Bogaerts is now batting .297 with a BABIP of .338. Owners looking for help at the SS position should try to get their hands on Bogaerts through trade or if he is still available as a free agent. Bogaerts K% is nearly 10 points lower this season than it was last season, which is critical as the second year player looks to rebound from his disappointing rookie season.
JUST AS WE EXPECTED…
Gerrit Cole is making a very good case to be the National League starter for this year's All Star Game. After a strong outing over the Braves on Sunday leading the Pirates to a 3-0 victory, Cole is now 9-2 with a 1.72 ERA. Cole went seven scoreless innings on Sunday striking out seven while walking three. The seven strikeouts shows how well Cole is currently pitching especially given his opponent, the Braves, were a team who rarely strikes out against right-handed pitching. Cole now has a very solid 10.01 K/9 and is 5th in the league with a 2.50 FIP.
Both Chris Archer and Cole were the two most expensive pitchers on the DraftKings slate today and both did not disappoint owners who went with them as safe, reliable options. Archer had a dominant seven innings over the Mariners, striking out 11 while walking none and only surrendering six hits. Archer is now the owner of a ridiculous 11.49 K/9. Given his great season thus far, Archer's 6-4 record is misleading and is more a product of a weak Tampa offense. As long as Archer continues to keep his walk rate low, with his strikeout potential, he should be a great daily option in cash games every time out regardless of his high price.
Jose Bautista now has four home runs in as many games after bashing two home runs on Sunday against the Astros. Bautista's first dong came against Astros starter Colin McHugh. After missing some time towards the end of May with a shoulder injury, Bautista now has an eight game hitting streak. His BABIP is slightly higher than his .250 average, which could mean that his batting average will wind up a little closer to the .286 avg. that he put up in 2014.
BUT WE DIDN'T SEE THIS COMING…
Mike Pelfrey moved his record to 5-2 after striking out seven over eight innings. Pelfrey kept the Twins in first place following the 2-0 victory over the Brewers. The eight innings is Pelfrey's longest start since April 21, 2012. Over Pelfrey's last 28 innings, he has allowed only three earned runs. Even with Pelfrey's hot stretch, he remains a skeptical daily play as his seven strikeouts on Sunday were largely an anomaly. Pelfrey is still giving up a lot of base runners and has an 80.5% LOB. It should only be a matter of time before these base runners come around to score on Pelfrey.
THE REST OF THE DETAILS
SAVE CHANCES
–Luke Gregerson, HOU (blown save)
–Tyler Clippard, OAK (blown save)
–Tommy Layne, BOS (1)
–Mark Melancon, PIT (18)
–Jonathan Papelbon, PHI (12)
–Glen Perkins, MIN (21)
–Joakim Soria, DET (16)
–Greg Holland, KC (9)
–Jason Motte, CHC (1) – Carlos Rondon pitched the 8th Inning for the Cubs before giving way to Motte.
–Jeurys Familia, NYM (17)
–A.J. Ramos, MIA (7)
–Kevin Jepsen, TB (4)
INJURIES
–Edwin Encarnacion received a cortisone injection for his left shoulder on Sunday but could play as early as Monday.
–Howie Kendrick remained out of the lineup with knee soreness and is still considered day-to-day.
–Hunter Pence could return to the Giants lineup by Tuesday after being out for a few days with left wrist tendinitis.
–Evan Longoria was not in the starting lineup again Sunday, although he pinch ran. Longoria remains day-to-day with a sore left wrist.
–Jake Odorizzi is considered to be day-to-day with left oblique tightness.
–Javier Baez, who had been having some success with the Cubs' Triple-A team, is out 4-8 weeks with a fractured hand.
LINEUP CHANGES
–Michael Brantley was scratched from the starting lineup with a back strain. The Indians are saying that he could return as early as Tuesday.
RUMORS & TRANSACTIONS
Big news came late Sunday from the Astros organization as they announced they will be calling up shortstop Carlos Correa. Correa was the team's No. 1 pick in the 2012 draft and is currently ranked as the No. 2 overall prospect in baseball by MLB.com. Correa is still only 20 years old despite spending three full years in the minor leagues. He was hitting .335 with 10 home runs and 44 RBIs while adding 18 stolen bases in combined time between Double-A and Triple-A. If Correa is still available in any leagues as of this writing, now is the time to go out and get him.