Fantasy Baseball Trade Outlook: Madison Bumgarner and five other starters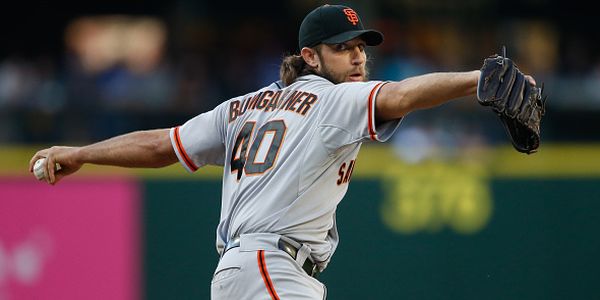 We're now two months into the season and have a pretty clear outlook on where our fantasy teams are and what we need to do the remainder of the year. That tends to lean towards trades, especially in deeper leagues where the waiver wire is an ugly and destitute place.
So today we're going to take a look at some starting pitchers who are good trade candidates, either to sell high or buy low. We'll start with the buy low targets you should be looking at if you need some pitching help.
Gerrit Cole

It might seem strange calling Cole a buy-low candidate, considering he's the first pitcher to reach triple digit strikeouts this year. But those K's have come to the tune of a 4.11 ERA and a 4-5 record in eleven starts. That 4.11 ERA is however a mirage. All other metrics measuring his expected runs against strongly supports the claim that Cole has been unlucky; FIP 3.00, xFIP 2.36, SIERA 2.62. They are slightly skewed by his high strikeout rates but even a 3.20 ERA the rest of the way is likely and he's on track to record 300 K's. Cole's LOB% is also a career low of 66.6% so everything is trending towards lowering that ERA the rest of the season. His strikeouts will mean his value is still going to be fairly high but he's still a top-10 starting pitcher the rest of the season but might come at an SP2 price.
Joey Lucchesi
I've maintained Lucchesi as the Padres' no.1 ranked starting pitcher the rest of the season and after his 11-strikeout performance on Friday night, his window for buying low is closing fast. Lucchesi is another one who has an unluckily high ERA (4.25) when compared to his FIP (3.43). He's got a strikeout rate just over 9 K/9 which is a bit down on last year, but he has reduced his walk rate from last year. Lucchesi's first two starts were scoreless, before he gave up 17 earned runs over his next four starts. He then had two good starts against the potent Dodgers' lineup and then in Coors Field and followed them with two quality starts (including Friday's 11 K performance). So Lucchesi is trending the right way and once that ERA drops below 4.00, he won't be traded away for the discount you currently could get him for.
Madison Bumgarner
Continuing the trend of unlucky pitchers, MadBum sports an ERA (4.10) half a run higher than his FIP (3.60) and also has a lower than normal strand rate (66.7%). His BABIP of .312 is another reason to believe his ERA will drop. He won't get back to the sub-3.00 ERA of his peak but he should see it lower towards the mid 3's. He's also striking out more than a batter per inning (9.26 K/9) and sports a very respectable 1.19 WHIP with more bad luck with homers contributing to that ERA (14.5% HR/FB%). I highly doubt Bumgarner will finish the season with the Giants and still see him in the Bronx by season's end, which may not help his ERA but will improve his current 4-5 record. Given his previous postseason performances, I don't foresee the bright lights of New York having a negative impact and if anything, could push MadBum to those October levels we became accustomed to.
So, there's three pitchers you want to target in trades and now let's look at three who you should consider trading away now before their value starts to drop.
Spencer Turnbull
Turnbull has been a nice surprise on what has been an otherwise disappointing season for the Tigers. Turnbull has an ERA of 2.68 which is 17th best among qualified starters. Only one of those with a better ERA has a higher FIP than Turnbull's though which sits at 3.85. His xFIP and SIERA paint an uglier picture with both being above 4.40. He won't win many games pitching for the Tigers either and with a 9.06 K/9 rate, is good but not great nowadays. I don't foresee Turnbull falling off a cliff, but he's only reached 6+ innings pitched four times out of ten starts, despite not giving up more than three earned runs in any start, so the Tigers seem (justifiably) keen to not overuse the 26-year-old. For someone who would have been undrafted in most leagues, you should be able to get a decent return on him right now.
Chris Paddack
This one might seem controversial given he's in the mix for NL Rookie of the Year and sits 3rd overall in ERA among qualified starters. Although his FIP suggests his sub-2.00 ERA will rise, it won't go up much and Paddack has been exceptional, something I don't believe will change. This selection is more about Paddack's innings limit which was expected to be between 120-140 innings before the season began. If the Padres do maintain a postseason push, it'll likely be nearer the 140-150 mark, but they might need to get creative to do that. Either shortening his innings, a phantom IL stint or two or even a move to the bullpen (albeit unlikely) is possible or simply shutting him down once he hits the mark. Regardless of what they do, having already thrown 51 innings, with every outing his 2019 upside is going down so if you can get a return worthy of a top 15 starting pitcher, now is the time to do it.
Mike Minor
Minor hit the headlines earlier this week after reaching 29 consecutive scoreless innings pitched at Globe Life Park (a Texas Rangers record). That helped lower his ERA to 2.64 and continuing the theme of the piece, that is something which will likely rise given his 3.24 FIP. If his ERA does reach his FIP, it's still a very solid performance, so why sell high on him? Minor currently has an 84.1% strand rate which is 6th highest among qualified starters and 10% higher than his career mark so should see that regress. Having not pitched in 2015 or 2016 due to injury, last year's 157 innings pitched were his most since his 203.2 in 2013 so whilst I don't like labelling someone as an injury risk, he's already thrown 64.2 innings this year so another 100 is likely the most you can reasonably expect the rest of this year. Minor is another one who's stock will not get any higher and wouldn't have cost you much in drafts if anything at all.