Jake Arrieta and the "Case of the Empty Bottle of Baltimore Magic Dust"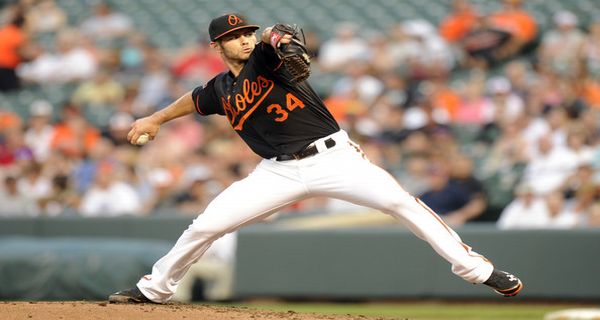 A sharp eye will reveal a possible sleeper heading into the 2013 MLB Season: Baltimore's Jake Arrieta.
Looking at his peripherals, (8.0 K/9, 3.5 BB/9, 1.1 HR/9, 15% HR/FB, .330 BABIP, and 58% strand rate) it's easy to cast off Arrieta as another Ricky Nolasco. If someone wanted to make that argument, it would be tough to disagree since Arrieta has failed to reach his xFIP or xERA (FanGraphs and Baseball HQ metrics respectfully) in each of his past two seasons.
However, Arrieta's loss of a starting gig last year seems to have come without merit. After looking through his Brooks Baseball player card, it is apparent that his trouble pitch right now seems to be his slider.
Arrieta's slider had a HR/(FB+LD)% increase of 14% over last season, which is a big culprit for his HR troubles. In 2011, his BA/Slugging/Isolated Power/TAv – True Average slash on the slider was .217/.325/.108/.217! In 2012, that slash line was an incredibly ugly .273/.655/.382/.315!!!
The seeds for improvement with Arrieta are absolutely there though. He increased his fastball velocity last year by a full 1%, as well as minor velocity increases on all other pitches.
The most impressive improvements have to be on Arrieta's curveball and fastball.
In 2011 Arrieta's fastball generated a Whiff/Swing ratio (percentage of times a batter misses when he swings) of 13.48%, and a GB/LD/FB/Pop-Up slash of 34.43/15.57/41.80/8.20 and a HR/FB % of 10%.
In 2012, his fastball generated a Whiff/Swing ratio of 17.58%. His GB/LD/FB/Pop-Up slash was 37.50/18.75/28.13/15.63 with a HR/FB % of 3.3!
Those are incredible improvements, especially the pop-ups! Those are the easiest outs to get! Combine that increase with his concurrent increase in velocity on the fastball –up to 94 mph now and the result is a much improved fastball.
The curveball also has gotten much better. In 2011 his BA/Slugging/Isolated Power/True Average slash was .327/.551/.204/.310 – not to mention a BABIP of .483!! In 2012, those numbers were .167/.218/.051/.163! – BABIP of .293
A Jake Arrieta with an arsenal of his usually strong sinker, modest changeup, 2011 slider, 2012 fastball, and 2012 curveball has some serious potential in 2013 for the Orioles, assuming he gets a shot at the rotation. I predict a strong spring training, yielding said job, which he will grab and achieve an ERA around 3.50 or lower.