Mallex Smith Promoted, If Only for a Few Weeks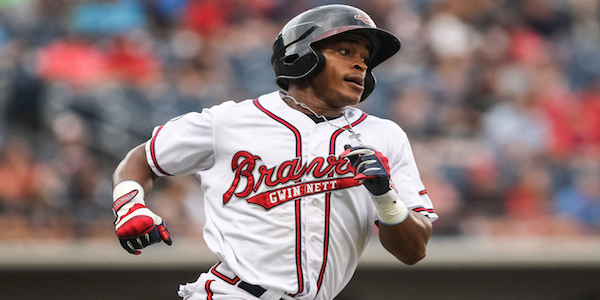 With Ender Inciarte being forced to the disabled list with a hamstring injury, prospect Mallex Smith has been called up to man centerfield for the time being. With Drew Stubbs as the only other centerfielder, it is possible that the Braves put Mallex into somewhat of a platoon, but I am betting they want to get a good hard look at Smith for as long as he is up and that he will be playing almost every day.
Unfortunately, even if Smith performs very well, it is difficult to see him being up for the long term unless another injury occurs to an outfielder. The Braves have invested a lot of assets into Hector Olivera (via trade) and Nick Markakis (via free agency), and even if Smith runs all over the bases over the next few weeks the team will want to make sure he is getting regular plate appearances. Triple-A is likely the only place that will offer those plate appearances to Smith.

For what to expect over the next two weeks, as I mentioned a bit already, speed is Smith's game and he will do his best to utilize it when he gets on base. He had a great spring that saw him hit a plethora of triples which impressed upper management, so a call up was expected early in the season but not quite in the second week. He only got three games in triple-A before he was promoted, in which he hit .400 with two doubles, a triple, and a stolen base. Smith offers very little, if any, power but the Braves will give him the green light to run for certain.
Smith would be a great replacement for a team looking to rely on Ben Revere. If you had to move Revere to the disabled list, Smith should replicate his numbers quite well for the time being – with a bit lower average but similar on base percentage as Smith has shown the ability to take a walk more frequently than Revere has.
When looking at the range of outcomes for Smith in the big picture, my estimate is that he will fit somewhere between Dee Gordon and Jarrod Dyson offensively, Gordon being the high end and Dyson being the low end. While Dyson is only going to get a chance to produce this year, his Steamer projections are nearly identical to those of Smith — .250/.309/.342 for Dyson and .256/.313/.338 for Smith. Both of them are reliable stolen base threats and with Dyson likely coming off the disabled list soon, if you miss out on Smith he is a solid target as well.
With Dyson likely being Smith's baseline, I like him a lot in long term leagues. He should get the opportunity to break through in the outfield eventually, as I have to imagine the Braves optimal scenario with their current outfield alignment includes both he and Inciarte. Even if he is used as a fourth outfielder or rotational player later on in the year, his stolen base skills will make him a useful player in deeper formats just like Dyson has been in limited playing time the past few seasons.
If you are bidding for Smith, just be cautious with how much you bid. Not because of his skillset, but because his playing time is likely limited to only the amount of time that Inciarte is injured. Of course things may change, but I would much rather let someone else overbid on a player that is going to be used for only a few weeks rather than having to pay a ton for a player who will most certainly spend much of the year in the minors. If you can get him for cheap, he is an ideal replacement for Ben Revere, but if you are looking for longer term similar production Dyson may be the more appealing option.