Mariners trade Taijuan Walker and Ketel Marte for Jean Segura, Mitch Haniger, and Zac Curtis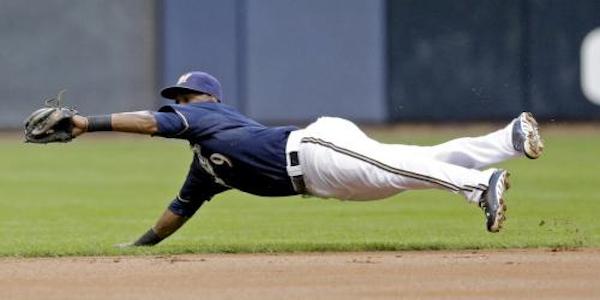 The Seattle Mariners and Arizona Diamondbacks pulled off the first blockbuster trade of the offseason when the Mariners sent young starter Taijuan Walker and shortstop Ketel Marte to the Diamondbacks for all-star shortstop Jean Segura and two younger players. The deal was the first significant move for new Dbacks general manager Mike Hazen.
Why the Mariners make this trade
There is an old adage that the team that acquires the best player in the trade wins the trade. I'm not so certain that this is really the case, but we will go along with it for the time being. On the basis of last season alone (.319, 20 HR, 102 Runs, 64 RBI, 33 SB) there is really no denying that it would appear that the Mariners have won the trade. It certainly makes perfect sense for them to make a move like this. It gives them one more all-star level performer without having to go out and commit significant dollars to do so.
When you combine Segura's 2013 season you have to really feel good about what he will bring to the table. By now, you've noticed that we have somehow skipped two seasons. Segura would probably prefer we do that for any number of reasons. He tragically lost his son prior to 2014 and many are blaming that for the malaise he suffered. No one can live inside someone else's head, so it is impossible to know whether this is true or not. Baseball-reference has Segura at 5.7 WAR last season while Fangraphs has him at 5.0 WAR. He combined for 0.6 WAR the two seasons previous to that. Then, he had the 4.0 WAR from 2013. Which one is the real Segura? If he manages to even split the difference it is probably still a solid move for the Mariners.
Why the Diamondbacks make this move

We should probably start with the recently departed Segura. Simply put, this is Hazen gambling on regression for the all-star shortstop. Given Segura's history, this is a pretty good bet. In exchange, they get a talented starter that has two full seasons under his belt. They will control him until 2020 and that is for a pitcher with a combined 22-22 record with a 4.18 ERA. That came in the American League where the DH is destined to inflate that ERA some. The Dbacks already have a relatively deep rotation, but as they saw with Shelby Miller last season, you just never know.
Ketel Marte represents a similar gamble that paid off when they acquired Segura a season ago. He is a speedy shortstop coming off of a disappointing season. He managed to produce 2.3 WAR in an abbreviated 2015 campaign, so he is capable of being a productive overall player. 2016 saw him take a step back with the bat and the glove. Still, he will be only 23 years old during the 2017 season, so he has plenty of time to get it right.
What this trade means for you
I'm not sure this trade has any dramatic impact on the fantasy landscape. Marie might have a longer rope since the Dbacks aren't expected to be that competitive in the division. That being said, the Dbacks do have an offense that is very underrated. A healthy A.J. Pollock could help Marte at the top of the order become a similar player as he was in 2015. In that case, he could end up being a decent backup shortstop.
Segura is a lot more difficult to project. He is a top ten shortstop based on last season's numbers. He's a backup shortstop in the aggregate. Safeco Field has been a pitcher's park for most of its existence, so the sudden 20 home run power will likely recede back to previous levels. However, he still has that speed and that speed could help him sneak into the top 12 if you everything else is equal.
The biggest mover could end up being Walker. The DH tends to be worth half a run on a pitcher's ERA. That could get him below 4.00 and could sneak him into the draft day discussion. If he gets a full complement of starts he could end up getting to double digit wins and 150 strikeouts. That's maybe fourth or fifth fantasy starter material.