2016 Fantasy Baseball: Week 4 Two-Start Pitchers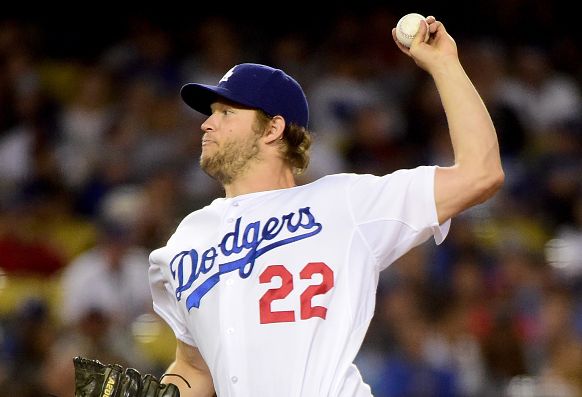 A fantasy owner's best friend is the waiver wire—where finding value can make the difference between a great week and a very disappointing week. Most pitchers see the mound once a week, but if you want to maximize the number of starts per week, it's important to look for pitchers pitching twice and exploit favorable matchups if they exist. With that, let's take a look at some pitchers you should be starting this week and some you should just leave on your bench.
Elite
Clayton Kershaw | Los Angeles Dodgers
Opponents: Tom Koehler (MIA), Drew Pomeranz (SD)
Clayton Kershaw is having himself another fine start to the season. The lefty is 2-0 with a 1.50 ERA and averaging a strikeout per inning. The Marlins have had some success this season hitting against lefties, while the San Diego Padres are hitting .297 against southpaws. Both sample sizes are pretty small, so it wouldn't be wise to bench Kershaw at this point in the season because of small sample sizes. He's an elite option every time he takes the mound, and this week should be no different.
Noah Syndergaard | New York Mets
Opponents: Rasiel Iglesias (CIN), Madison Bumgarner (SF)
No pitcher in baseball right now is hotter than Noah Syndergaard. The 23-year-old is 2-0 and has an ERA of 0.90 in three starts this season. The Giants and Reds don't strike out very often, but Syndergaard has stuff that can make opposing teams look silly. His slider is almost unhittable, and his fastball is—well, fast. Fantasy owners should just leave the righty in their lineups and move on to more important matters.
Danny Salazar | Cleveland Indians
Opponents: Tommy Milone (MIN), Vincent Valasquez (PHI)
Both the Minnesota Twins and Philadelphia Phillies are in the top half in strikeouts per game, which is great news if you're a Salazar owner. The 26-year-old is 2-1 with a 1.47 ERA and a 0.93 WHIP. He's also picked up 23 strikeouts in 18.1 innings of work. This could be a massive week for Salazar is everything goes according to plan. The Twins and Phillies are bound to strikeout a ton, which means we could see double-digit strikeouts. He's a must-start this week if you have him on your team
Other Must-Start Pitchers: David Price, Vincent Velasquez, Marcus Stroman.
Mediocre
Chris Sale | Chicago White Sox
Opponents: Marcus Stroman (TOR), Ubaldo Jimenez (BAL)
Don't get me wrong—Chris Sale is an excellent pitcher—but the fact that he has to take on both the Jays and O's on the road is a bit frightening. The Blue Jays haven't had a ton of success against lefties so far this season, but every one knows how good they can be. The Orioles on the other hand are ranked 12th in batting average against lefties, so they can do some damage. Sale has been dominant in his four starts this season, and there's a chance he goes out and dominates both his starts, but he could also get hit hard, so if you're risk adverse and have other options available, maybe you bench him this week and look for other options.
Madison Bumgarner | San Francisco Giants
Opponents: Drew Pomeranz (SD), Noah Syndergaard (NYM)
It hasn't been a picture perfect start for Madison Bumgarner this season, but the lefty remains one of the best pitchers in the game. He's given up quite a few hits in his first four starts (24 hits in 23 innings), but he's also struck out 29 batters, which is a good sign. Outside of one terrible outing, Bumgarner has been good, just not as good as we're used to. Both the Mets and Padres have hit lefties well this season, but it's hard to believe Bumgarner will continue to pitch this "average" for much longer. If he can keep the ball in the ballpark, things should be ok. Roll him out there and don't look back.
Other Options to Consider: Jordan Zimmermann, Zack Greinke, Gerrit Cole, Garrett Richards, Carlos Martinez, Ian Kennedy, Rasiel Iglesias, Brandon Finnegan, Joe Ross
Bench
Chris Archer | Tampa Bay Rays
Opponents: Ubaldo Jimenez (BAL), J.A. Happ (TOR)
Something is clearly wrong with Chris Archer so far this season. The 27-year-old is 0-4 in his first four starts, posting a 7.32 ERA and a 2.08 WHIP. His strikeout numbers are still there (29 in 19.2 innings), but the rest is just a real mess. Archer has the stuff to be a great pitcher in the Majors, but right now he's lost it. To make matters even worse, he gets to face the Orioles and Jays this week. Until he turns his game around, it's best to just leave him on the bench.
Doug Fister | Houston Astros
Opponents: Taijuan Walker (SEA), Rich Hill (OAK)
Fister should not be on anyone's fantasy team this season, ever. The 32-year-old has a 5.94 ERA so far this season, along with a 1.38 WHIP and nine strikeouts. Of those nine strikeouts, six of them came in his first start. The veteran righty doesn't have the stuff to make hitters miss, and the Mariners and A's don't exactly strike out very often. It's a mess in the making this week for Fister, so just avoid him completely and look for another option.
Julio Teheran | Atlanta Braves
 Opponents: Rick Porcello (BOS), Jason Hammel (CHC)
The Atlanta Braves are off to one of their worst starts in franchise history, and Julio Teheran has something to do with that. The 25-year-old is 0-2 so far this season, posting a 5.64 ERA and a 1.39 WHIP. His 17 strikeouts in 22.1 innings isn't very impressive and his 15 earned runs are pretty concerning. Even against teams that can strike out, Teheran has virtually no upside and shouldn't be targeted by fantasy owners who need some pitching help.
Other Pitchers to Avoid  Rick Porcello, Wei-Yin Chen, Chris Tillman, Mike Pelfrey, Chad Bettis, Matt Wisler, John Danks, Jamie Garcia.
Stats and references provided by www.MLB.com and www.ESPN.com