San Diego Padres trade Matt Kemp, Andrew Cashner, and Colin Rea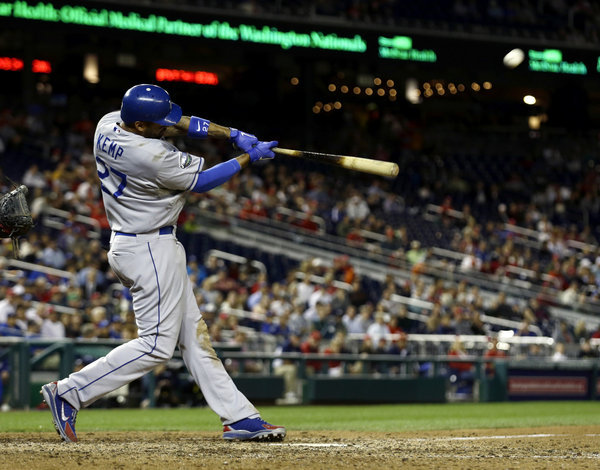 Everyone is captivated by success in some form or fashion. For baseball fans, we love to see teams succeed and certainly love seeing teams succeed when they don't have nearly the same resources as other teams. Occasionally though, watching how teams deal with failure is just as fascinating. The San Diego Padres have been a failure by most people's estimations, but A.J. Preller has dealt with the failure quickly and decisively. As someone years ago once said, "will the last guy out of town please turn the lights off and lock the door."
We've covered a few Padres deals in the last several weeks, but they made a couple more over the last couple of days. First, they traded Andrew Cashner and Colin Rea to the Marlins and then they turned around and traded Matt Kemp to the Braves. The returns were mixed, but hopefully we can cover both deals in concert because they both serve the same ends for the Padres.
Why the Padres make these deals
You rarely ever see teams go as quickly into a rebuild as the Padres. As of this writing, they've traded two outfielders (Melvin Upton Jr. and Kemp), four different starting pitchers, and their closer. The most significant pieces coming back are right-hander Jarred Cosart and first base prospect Josh Naylor. Make no mistake, this particular move is just like all of the other particular moves: it's primarily about money.
This could be nowhere more obvious than the deal that sent Matt Kemp and some cash to the Braves for Hector Olivera. Not even 24 hours later, the Padres announced they would designate Olivera for assignment when he is eligible to come off of suspension. The difference between his salary and what they save on Kemp is 25.5 million dollars. Heck, going back to the Craig Kimbrel deal in the offseason, the Padres have saved a ton of money and have added quite a few prospects.
Why the Braves made their trade
Hector Olivera had been suspended for most of the season and with the Padres picking up 10.5 million of Kemp's contract, the Padres essentially got a free agent at a fraction of the cost of his actual deal. Essentially, the Dodgers and Padres are kicking in a combined 21 million dollars over the next three seasons. Kemp goes from a 21 million per year player down to a 14 million per year player.
Granted, Kemp has his issues (primarily fielding and lack of patience) but he has been a consistent run producer and the Braves could certainly use all the power they can get their hands on. Moreover, Kemp gives them a big name to hang on the wall when they try to coax fans into their new ballpark next season.
Why the Marlins made this trade
This one is a lot simpler, the Marlins fancied themselves as contenders and when you look at their roster, their biggest need was starting pitching. Unfortunately, Rea went down with an injury less than four innings into his first start, so they still might be in the market for more pitching. Cashner gives them a steady back of the rotation presence at the very least, and if he ever harnesses his stuff, he could settle in behind Jose Fernandez in the rotation.
What these deals mean for you
With Rea getting injured, the only two players worth discussing are Andrew Cashner and Matt Kemp. Both deals are mixed bags in fantasy terms. On the one hand, going to a contender will help Cashner in terms of wins and losses. Heck, he might even enjoy some better fielding behind him in addition to the run support. On the other hand, he is moving out of perhaps the best pitcher's park in baseball and his numbers weren't great to begin with. His 6.23 road ERA has to scare some people off. It's always tempting to look at a seemingly decent pitcher moving from a bad team to a good team. I'd let that pitch go by in the dirt.
Kemp is another issue entirely. He is moving to an equally bad team that might actually be worse in some respects. He has 15 of his 23 home runs on the road and a far superior slash line. What is concerning is that Kemp's value comes in his ability to vulture RBI even though his overall numbers are somewhat alarming. He is on pace to surpass 100 RBI for the second season in a row and the fourth time in his career. This is the same team where Freddie Freeman has 42 RBI in 446 plate appearances and with 18 home runs. In fact, Freeman is a better hitter across the board and somehow has more than 20 fewer RBI. Sure, Freeman could be the worst clutch hitter on the planet, but it is more likely that the RBI opportunities simply aren't there. Kemp could put up better percentage stats and still not be as valuable because of the lack of opportunities.