Two to Add two to Dump: Shortstop Edition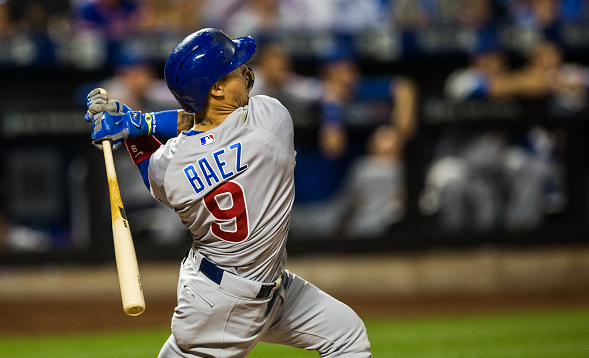 We are continuing our series of looking at each position and the batted ball data. Looking at batted ball data affords us the opportunity to look at whose numbers are outkicking their coverage and which ones should do better from here on out. We are ignoring the conventional numbers for now as we want to look inside the numbers at what I lovingly call process data. Those metrics include contact rates, chase rates, hard hit ball rates, and home runs per fly ball. Fangraphs has a ton of information at your fingertips and you could go into a deep dive if you really wanted to.
I like these four metrics because they tell us most of what we need to know about a hitter without getting too bogged down. What we are doing at each position is taking all of the qualifying players and comparing their rates in each of these four categories. We find the median rate for each of the four categories to give us a frame of reference to go on. At that point, we can easily look at a player's BABIP (batting average on balls in play) and determine whether it should improve or get worse.
Contact: 76.9%
Chase: 32.1%
Hard Contact: 39.4%
HR/FB: 12.0%
BABIP: .313
Two to Add
Dansby Swanson– Atlanta Braves
Yahoo: 67%
Contact: 77.2%
Chase: 27.0%
Hard Contact: 45.5%
HR/FB: 18.2%
BABIP: .274
I am a big believer in process. It comes from having a wife that is a scientist. When you focus too much on results you can end up chasing your tail. Fantasy sports is a lot about balance. You have to balance the here and now with playing the long game. Swanson is not a brilliant offensive player, but he has turned into a better than average one. As people often say, you cannot have an all-star at every position. So, if you are punting shortstop you could do a whole lot worse.
Like with many of our other players, you might have to fool one of the guys in your league to get him, but might be able to upgrade another spot and get decent production at shortstop. His OPS+ is over 100 and he is on pace to hit nearly 30 home runs this season. Shortstop is a deep position, but that's hard to beat. The only cause for concern is that his home run per flyball rate is higher than the position (and league) average. So, he might not get to 30 home runs this season, but he should be able to hit at least ten for the rest of the way and could hit about .280 or .290 from here on out.
Brandon Crawford– San Francisco Giants
Yahoo: 3%
Contact: 71.4%
Chase: 31.7%
Hard Contact: 42.0%
HR/FB: 12.5%
BABIP: .261
This is the third Giants infielder we have profiled in the add categories so far. That seems whacky given their struggles, but bad batted ball luck probably explains part of it. The other part is that they just don't have enough talent to keep up. They won three World Series titles in the previous decade. These things always happen to teams. Father time is undefeated. Guys like Brandon Belt, Joe Panik, and Crawford are good enough to help another team get over the top, but they aren't good enough to lead a team to anything. This is especially true when all you have to go on is an aging Buster Posey.
Similarly, Crawford is not a starting quality fantasy shortstop. He probably never has been, but he was close a few seasons ago. He is a great bench option if you can get it. He is a guy to monitor as we get closer to July. You have to think the Giants will start selling at some point. A few teams could use a Brandon Crawford and if he left the spacious confines of San Francisco he could start surging offensively.
Two to Dump
Javier Baez– Chicago Cubs
Yahoo: 99%
Contact: 65.4%
Chase: 43.3%
Hard: 46.7%
HR/FB: 28.6%
BABIP: .399
This is about process. Baez is a mixed bag. He hits the ball hard when he hits it, but he doesn't make enough contact to sustain a workable average. Some of you may not care about all of that. As long as he continues to hit home runs (also with a higher than normal home run per flyball rate) he is still valuable. The difference is that some people see him as the MVP runner up, but he probably isn't quite that good. If you can trick someone into thinking he is that MVP guy then you can get a good deal for him.
Winning fantasy leagues is about treating your assets as assets and not as members of your family. Baez is a good baseball player, but if someone is going to treat him like a great baseball player you can get excellent value for him. You can maybe deal him for a Swanson and an upgrade at another position and end up coming out ahead. He cannot sustain that BABIP, so the average will drop.
Adalberto Mondesi– Kansas City Royals
Yahoo: 98%
Contact: 67.3%
Chase: 41.3%
Hard: 37.7%
HR/FB: 9.7%
BABIP: .363
Again, this is about process. There is nothing in what we see above to justify a .363 BABIP. Yes, he's faster than the average bear, but he should be around .310 or .320 at best considering his batted ball data. This is about getting the best value for your guy at the right time and someone in your league will look at the 20/20 potential of Mondesi and go nuts. I'd love to get a Swanson for Mondesi offer straight up if I were a Mondesi owner.
One of the keys is that the Royals will be in sell mode. Sure, Mondesi isn't going anywhere, but anything not bolted down there might get moved. If that happens there will be fewer run producing options for all of the guys left behind. Obviously, the power and speed is too good just to give away, but you can afford to be patient and take about $1.25 on the dollar.