Why I Love Kyle Seager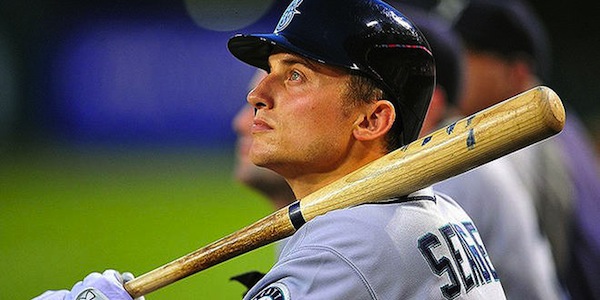 I was really high on Kyle Seager entering the year, drafting him in almost every league I could and being really happy about how late I was able to grab him. After he put up a 108 wRC+ in his first full year with 20 homers, 13 steals, and 86 RBI he seemed like a great late draft acquisition at second base. Unfortunately, he was not eligible at second in every league and in some I had to keep him at third, which concerned me somewhat but I was confident that I would get value out of him – at least something like 17 homers and eight steals.
[am4show have='p4;p7;p3;' guest_error='Front Office' ]
Seager has greatly exceeded my expectations in the first half, as he currently has a 134 wRC+ and has already matched his WAR from last year. From a fantasy only perspective, he has hit 14 homers in just 395 plate appearances and could easily surpass his 20 homer total from last year. Unfortunately his steals have been less frequent and less effective, as he is just 3-6 and will mostly likely fall short of double digits.
He has made some notable improvements to his game to show that not only was last year not a fluke, but it was just the start of things to come. His batting average is 30 points higher, his on base percentage has jumped to .352 from .316 and his ISO has shot up to just under .200 instead of just over .160. That also comes with an improved walk rate and decreased strikeout rate, two tremendous signs for keeping a high average and higher on base percentage.
Because of these signs, I am even higher on Seager now than I was before. In dynasty and keeper leagues, he is absolutely a guy you have to be looking to hold onto. Even though he will lose any second base eligibility that he had, he is still going to be a quality third baseman who could at his peak hit around 30 home runs and steal 15-20 bases. Now those are lofty numbers and they should not necessarily be expected, but they are attainable given his career trajectory after what is essentially two full seasons.
Right now I am buying Seager as I am not sure everyone is convinced he is real yet. I am in experts leagues that at the start of the year thought he was a droppable player, and I am not sure one half has completely changed industry-wide perceptions about Seager. His performance has certainly helped solidify him among reliable third base options, but many still have some doubts around Seager. Because of this, I am aggressively targeting Seager in any league I do not already own him and recommend anyone struggling at second or third to do the same. In keeper and dynasty league formats I am looking at Seager even more, and if I am out of the running to win the league then I am definitely trying to stockpile guys like Seager.
He is no world beater but again, this first half proved that last year was no fluke. Even though he is in a bad ballpark, on a bad team, and in a bad lineup, he still produces and is very valuable commodity due to his ability to help a team in several facets from a non-dominant fantasy position.
[/am4show]