Monday's DFS NBA 3/10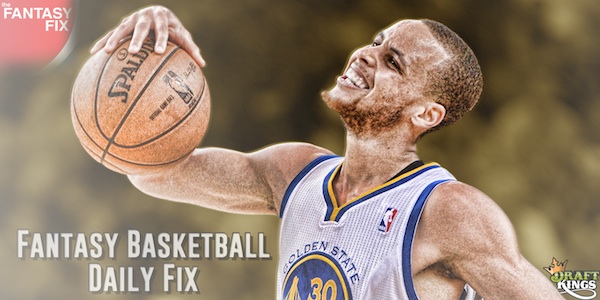 I posed the question "Write up NBA picks or take a nap?" and got a bunch of responses for the former, so here I am. Monday gives us another seven gamer to choose from with a lot of bad teams to pick from. The Bucks, 76ers, Jazz, and Knicks are amongst the teams playing tonight. There are enough good players to go around though.
Guards
Michael Carter-Williams is always in play when facing the Knicks. He's done very well against them in two games this season (15/9/7/2). He's not shooting very efficiently, so avoid him on efficiency sites, but him putting up a ton of shots every game is nice. He's averaging just under 15 shots per game and only 12 real points per game. MCW against the Knicks should see a better scoring night against a much differently sized Raymond Felton.
Gerald Green was hot last night and it paid off for those that used him. He shot 50% from the field and 60% from three. He even added six rebounds. Green is another great play tonight against the Clippers with Crawford and Redick out. Barnes is a good defender, but he'll be logging a ton of minutes tonight so probably won't be able to keep up with him all game long. In two games this season, Green is averaging 19/5/2/2/1 while shooting 50% from behind three-point line.
Forwards
Carmelo Anthony has the pleasure of facing the 76ers tonight, so load him up. The 76ers are terrible defensively. There is no need to harp on that. Anthony has scored 26 real points in four straight games with at least four rebounds, and two steals in those games. He's even adding assists (5 per game in last 4), so feel safe using him tonight.
Matt Barnes is going to see a ton of minutes tonight with Crawford and Redick out. He's shooting great and is making threes like it's his job, which it kind of is. He's 14 of 31 for three in his last four games and that's partially why he's averaging 19 points per game. Add in seven rebounds and two steals in those games and you can see why he's a great play.
Paul Millsap has a big revenge game tonight against the Jazz and it's a good matchup already. He posted a double double against them earlier in the season and Millsap is back from that injury that has crushed my season league in my playoff run. He posted five steals in his last game, so if he can do that again then you're looking at a big game from him against the Jazz.
Amar'e Stoudemire is a guy you really have to look at hard tonight. His matchup against the 76ers is great and he had the day off to rest up off a 17/12/4 game on the 8th. I really like him to get another double double and 28+ minutes. He's a solid discount on most sites and that should mean that his 14/6/1/0/1 in his last six games should be enough to hit value.
Center
Tyson Chandler marks my third Knicks' player tonight, but with good reason. Chandler should eat up big time against a 76ers team that doesn't even have Spencer Hawes at center anymore. Chandler is playing much better offensively scoring 15 or more in three straight game and is an obvious great rebounder. He has posted double digit rebounds in ten straight games. ***** NOT PLAYING
Al Jefferson had a rough game his last time out, but I really like him against the Nuggets. They are clearly weak against big men and even though Kenneth Faried has been playing like a monster recently, I think Jefferson scores a ton tonight. Against them earlier this season, he had a stat line of 35/11/2/0/2 in 32 minutes.